During the lockdown period, people are continuously sharing dare WhatsApp questions, emoji questions, funny status, etc. These kinds of messages are for time pass and put a group of people to an active stage a certain period of time. Once you post this question in a dead WhatsApp group, members start messaging each other. They fill find out the answers one by one and you can see many hilarious answers.
Guess Alcohol Names emoji is now an interesting question on WhatsApp. You will see 12 different alcohol names in emoticon format. All you have to do is to connect the emoji to the relevant alcohol brand. These types of questions are popular among people who love drinking.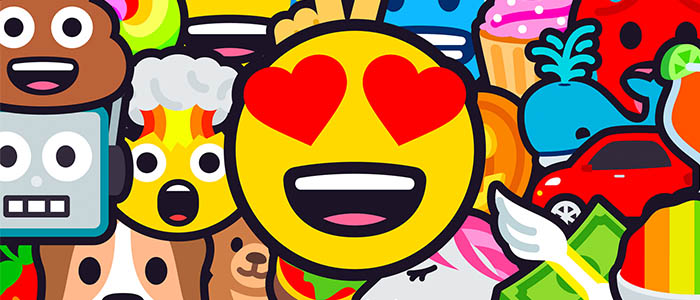 Guess Alcohol Names Emoji Question
Here is the alcohol name question. You can copy the text and share it if you want.
Guess alcohol names???
1.👑 🐠
2.⚫ 🐕
3.👴 🐵
4.☕ 💺💺
5.👵 🚗 D
6.🕗
7.👑 🐬 💪
8.🔵 🎀
9.🇬🇧 💊
10.🎒 🎷
11.🎤 ✌ 👴
12.👩👌🔵

🍻Drunken Masters, please answer this
For those who want it to share as a text message, can make use of the below image to share.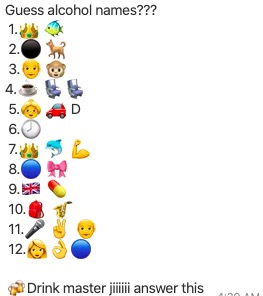 Answers for Guess the Alcohol emoticon Names
1. Kingfisher:- There is a crown of a king and fish emoji. This means the answer is KingFisher.
2. Black Dog:- First emoji is black color and the second emoji is a dog. So the answer is straightforward.
3. Old Monk:- First emoji shows a face without hair. Guess it as old and second emoji is a monkey. In combination, it makes old monk.
4. Teachers:- There are tea emoticon and a couple of chairs in the end. You can read it as Teachers.
5. Bacardi:- One of the popular brands of Alcohol. The car and D symbol is straightforward.
6. 8 PM:- The clock emoji is at 8 PM.
7. Kingfisher Strong:- Similar to the first question. You can see a muscular hand which makes the answer kingfisher strong.
8. Blue Label OR Blue Riband Jin
9. Jack Daniel:- COMMENT IT BELOW
10. Bagpiper:- Bag emoji and pipe emoji makes it BagPiper.
11. McDowells:- COMMENT YOURSELF
12. Imperial Blue:- It is well clear from the emoticon itself.
Conclusion
Similar to this question, there might be many other alcohol-related questions on WhatsApp. If you know any other questions, please share it below. Also if you are looking for answers to other questions, you can post it below. We have experts who can find out the answers in a few moments.
We also have a couple of other WhatsApp dare questions, can you find the different one question, etc. Please have a look on them.