Are you looking for Lightroom replacement that has many useful photo editing and management features? I have found the top 10 alternatives to Lightroom that can completely or partially replace it. Some of them have a trial version, while others are available absolutely without payment, which is nice news if you are interested in free software.
Top 10 Lightroom Replacement in 2020
1. Luminar 3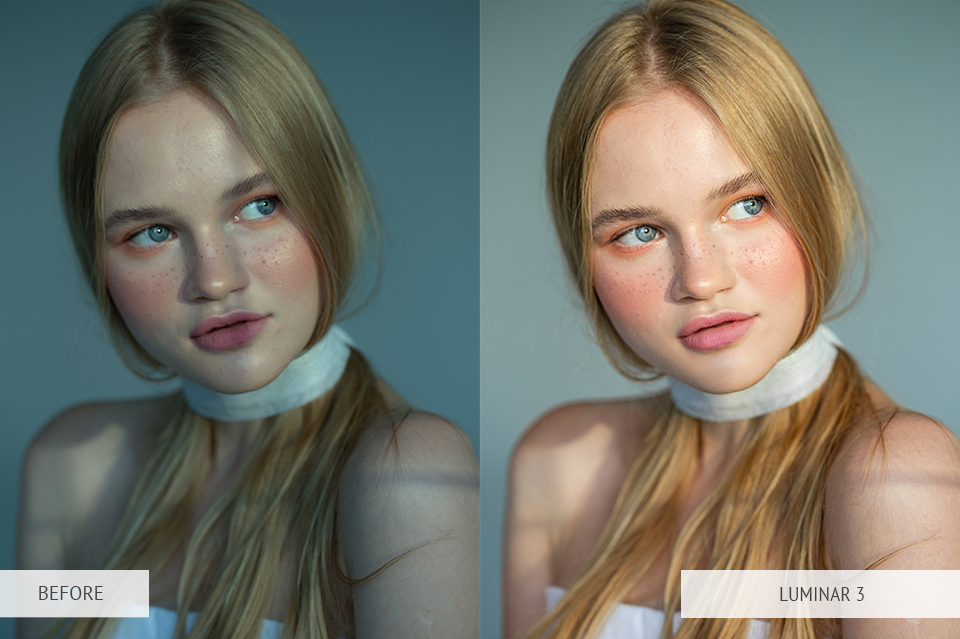 Price: 30-days free trial or $69
Platforms: Mac OS/Windows 
If you need a very simple but efficient application that allows you to systematize files on your hard drive (without the need to import files) or professional filters/presets and support of the latest RAW file formats, Skylum Luminar 3 is probably the best option.
Luminar is even more intuitive than Lightroom. You don't need to examine dozens of tools, trying to set the color and tone manually. The program has about 60 free professional presets, as well as Accent AI, their 'secret weapon', so to say, which analyzes your photograph and applies changes to make it look stunning without any effort.
I should also mention layers, which are its special features. They are just like the ones you have in Photoshop.
The main disadvantage is the time needed to edit large files. With a couple of dozens of RAW images, Luminar will show worse performance than Lightroom. Unless you are a professional photographer/retoucher, this shouldn't be a problem.
Read More:- Software like After effects
2. ON1 Photo RAW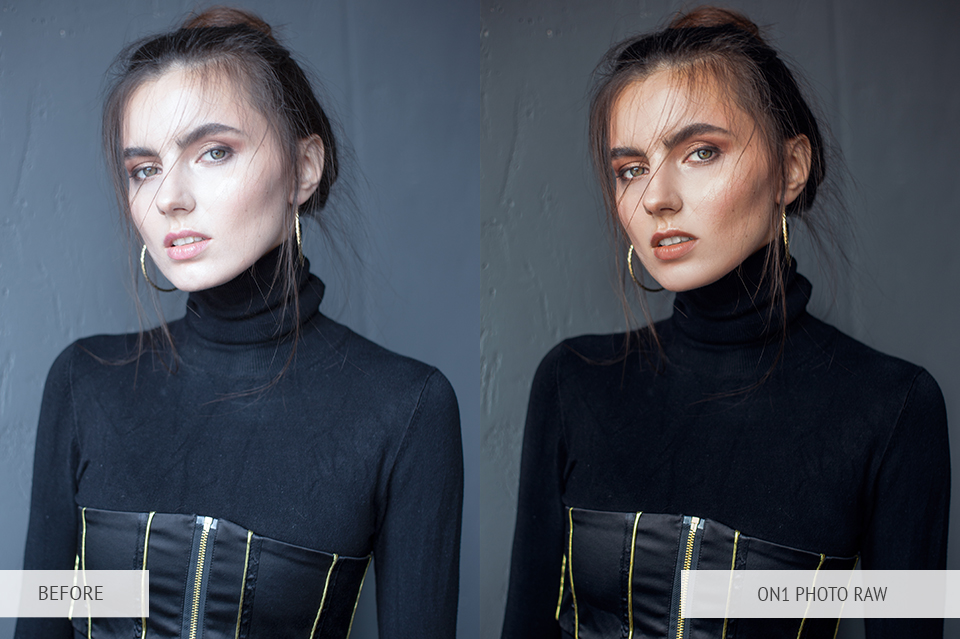 Price: 30-days free trial or $99.99
Platforms: Mac OS/Windows
ON1 Photo RAW combines the best tools for managing images with fast RAW photo post-processing. Together with layer support, similar to Luminar, it has such tools as Content-Aware Fill, Mask, Cloning, and many more.
ON1 includes all the standard lighting tools: Exposure, Contrast, Highlights, Mid-tones, Shadows, Blacks and Whites. The Structure tool corrects micro-contrast to add brightness. You can save your settings as a preset for use in the future.
Another interesting peculiarity is the ability to transfer files with editing settings in RAW from Lightroom module to ON1 for new or further editing. 
The main problem with this software is a rather cluttered UI, because of many features added to this platform. This, unfortunately, maybe very confusing for beginner users. 
3. Capture One Pro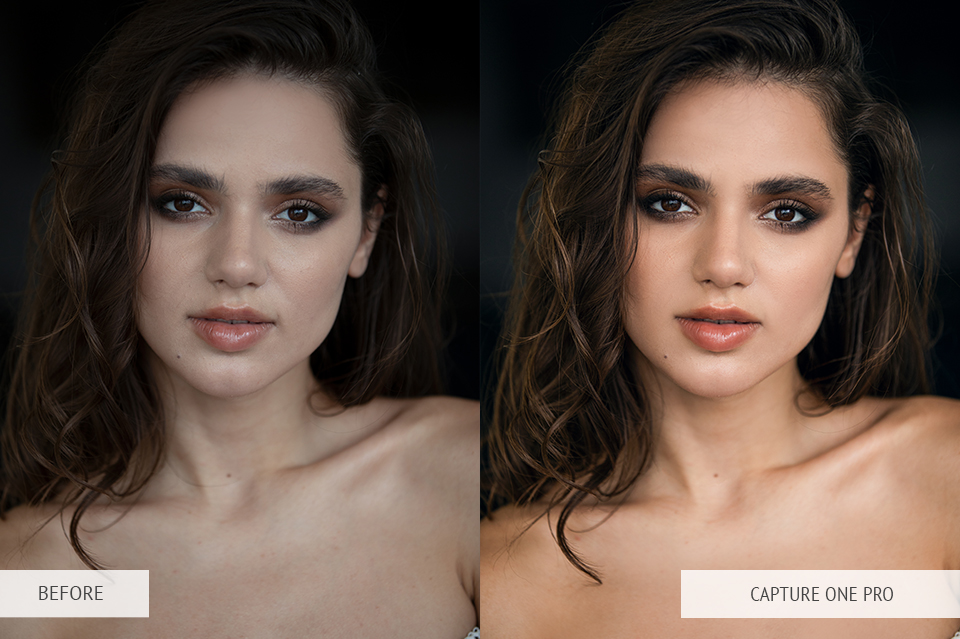 Price: 30-days free trial or $20/month  
Platforms: Mac OS/Windows
While Lightroom is advertised as a simple but advanced program for editing and managing RAW images, which is great for both pros and newbies, Capture One Pro aims at professional photographers/retouchers exclusively. 
After all, it allows you to do more advanced edits as well as photo retouching.
All the tools, starting from simple Shadows and Exposure sliders to White Balance or HSL, work in layers. This allows you to regulate the opacity of every layer. 
It's worth mentioning that Capture One is not limited to an 8-color HSL panel, its Color Picker tool selects any color or color spectrum in your image. You can set the color range, shade, saturation and brightness there.
A steep learning curve is the only major drawback. However, I should definitely mention an extensive collection of video tutorials, reviews and forums dedicated to Capture One Pro. If you need professional photo editing software like Capture One, view more free Lightroom alternatives.
4. ACDSee Photo Studio Ultimate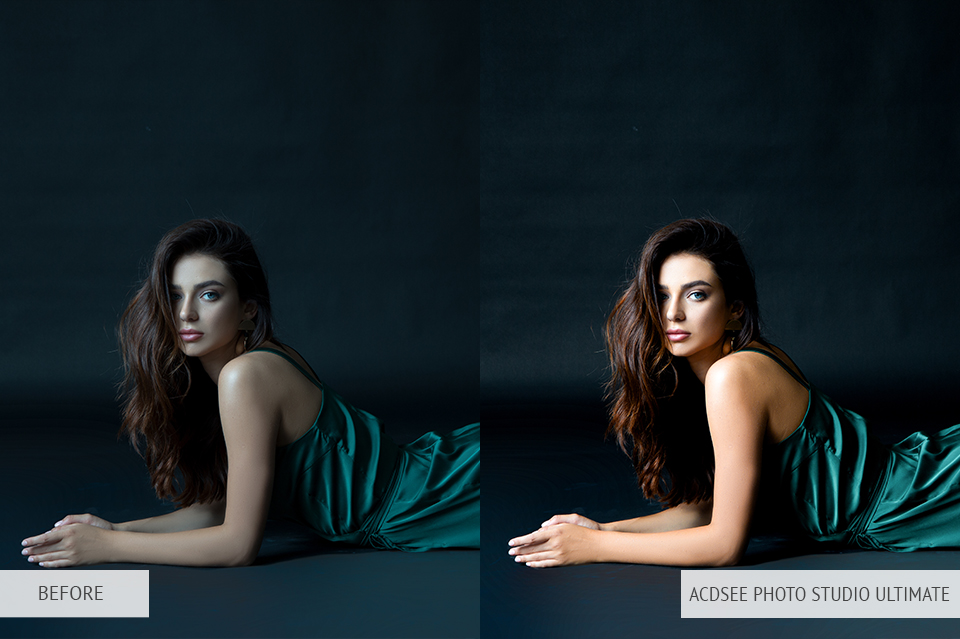 Price: 7-days free trial or $99.99
Platforms: Windows  
ACDSee can be truly called a great photo editor like Lightroom. This program is good not only for post-processing but for photo management.
It's similar to Lightroom in the terms of how its interface is subdivided into modules, however, the way they work is a bit different. While in Lr by opening different modules, you get different sets of tools, in ACDSee you will open a separately developed interface. It is definitely more convenient but the speed of work is slower.
There are two image editing modes: Develop and Edit. Develop is similar to Lightroom because it only offers sliders for Color Correction, Exposure, Contrast, and Saturation, that are offered alongside Brightness and Sharpness. 
In the Edit mode, you get access to pixel-level tools, which are text overlay, picture retouching, and watermarks adding.
Among the disadvantages, I would point out the steep learning curve and the fact that it's a Windows-compatible program. If you are a Mac OS user, read on.
Check out:- Illustrator similar tools
5. Darktable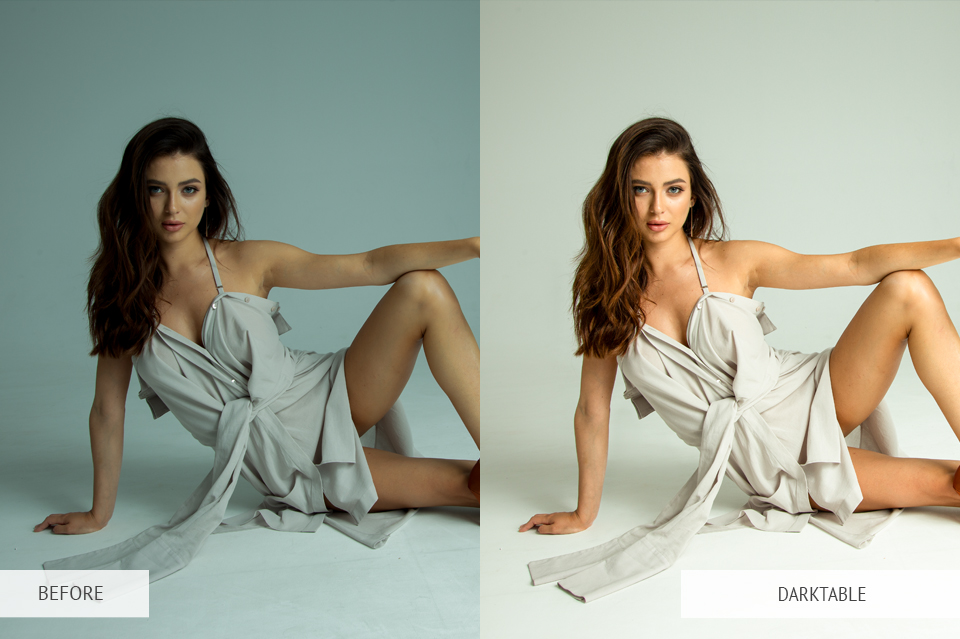 Price: Free
Platforms: Mac OS/Windows/Linux
If you are not ready to spend a lot on Capture One Pro, the best Lightroom replacement you can get for free is Darktable. It's a cross-platform professional tool that combines advanced color correction and a great number of image editing tools. 
This program supports RAW editing for more than 400 cameras and has tools that are not available in Lightroom CC (split toning and curves).
It can be used equally effectively for both advanced color correction and simple picture editing. It has a module for stain removal, the ability to create irregularly shaped areas, and a cloning tool.
The main problem is a cluttered UI, it can be overwhelming for beginners.
Actually, we have a  complete DarkTable review, read it if you are mainly interested in this program.
6. DxO PhotoLab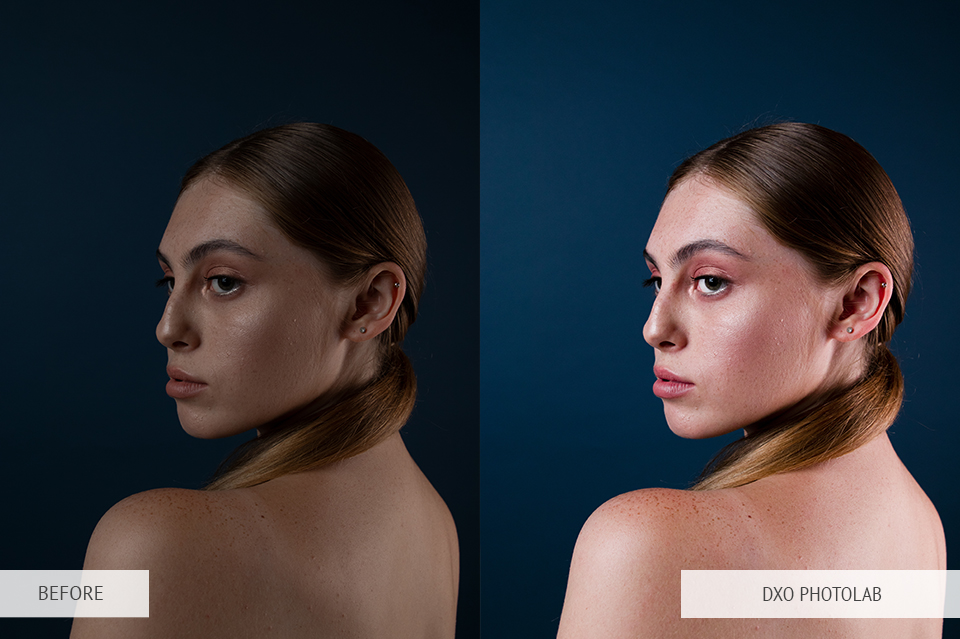 Price: 30-days free trial or $129
Platforms: Mac OS/Windows
DxO differs from most programs for photo editing in the way it does auto-correction. It is based on the settings of the lens, camera, and exposure used. 
If auto-correction doesn't work, the program setting mode allows you to change exposure compensation, contrast, and color or use a preset. 
DxO PhotoLab has the noise reduction tool known as Image Enhancement (this feature is only available for RAW files). It means that you can shoot in low light conditions or with a higher ISO and still preserve the sharpness and details.
Among other tools, I recommend trying ClearView which can effectively remove haze from a landscape photo. This tool will save you the trouble of creating masks for different parts of your image that you will need to set independently.
Despite that DxO has literally the best de-noise tools, complete image editing can take up to an hour of your time.
7. RawTherapee
Price: Free
Platforms: Mac OS/ Windows /Linux
RawTherapee is a cross-platform open source app for color correction. It is the best choice for Linux users.
An interesting peculiarity of this program is that RawTherapee uses non-destructive image editing, which means you can go back to the source file at any time. As in Lightroom, you can use downloaded presets or create your own filters to enlarge your collection.
Among standard tools, you can find the following: noise reduction, sharpness, color and exposure correction, shadows, white balance, etc. I should also mention that the graphics editor is optimized even for the weakest PCs, which makes it a great Adobe Lightroom replacement.
As for the disadvantages, I must say that there are practically no tutorials, which is definitely bad news for the beginners.
8. AlienSkin Exposure X5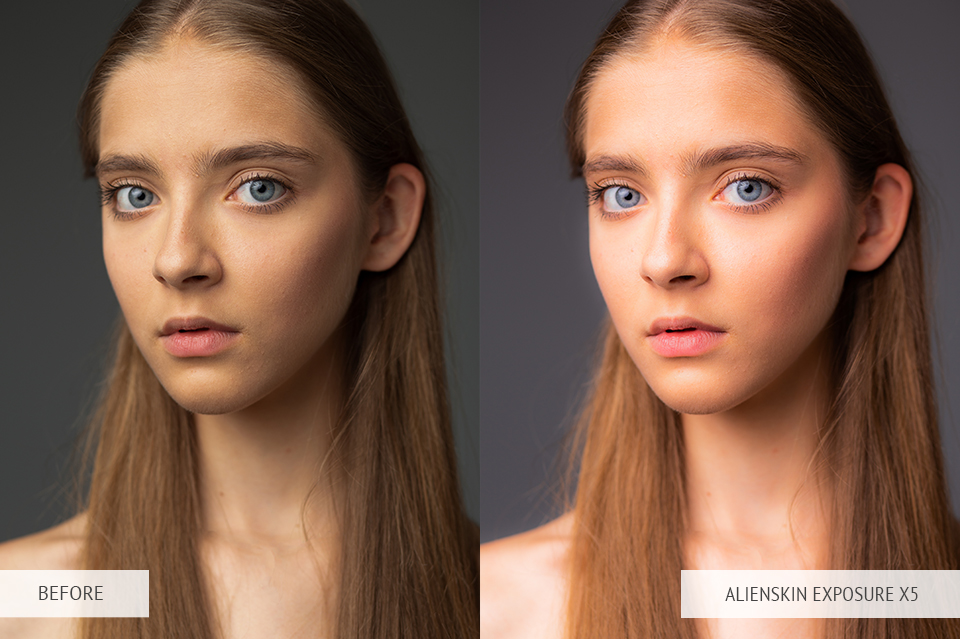 Price: 30-days free trial or $149
Platforms: Mac OS/Windows 
AlienSkin Exposure X5 has embedded features for image management and post-processing, although its file management system looks like a hybrid between a browser and a catalog.
The basic exposure panel is almost identical to Lightroom: you have sliders for Exposure, Contrast, Highlights, Shadows, Blacks and Whites. There are also three sliders for Clarity, Vibrance, and Saturation. 
The greatest difference is the absence of auto-correction.
This program is known for an amazing collection of analog film presets, which includes 10 presets for color films, 9 for black and white films, with effects like Graduated Filters, Lo-Fi, Portrait Touch Up, Bokeh, Cinema, etc.
As for the disadvantages, compared with Lightroom, AlienSkin Exposure X5 has a weaker lens correction, it basically does nothing.
9. Corel AfterShot Pro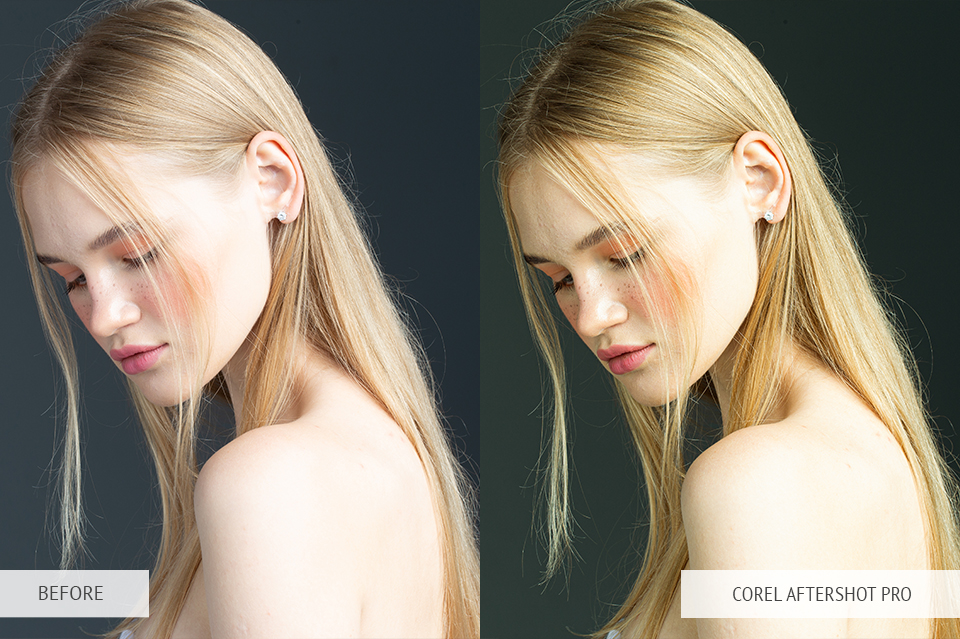 Price: $99 
Platforms: Mac OS/ Windows/Linux
Corel AfterShot Pro claims to offer fast photo editing workflow without you having to spend hours tweaking various settings.
It's a complex program that helps you perform culling, photo editing and printing. Exposure, white balance, saturation and contrast, sharpening and noise reduction, adding metadata are all just a few tools that this image editor has.
I find the Enhanced Highlight Recovery tool to be the most fascinating. With its help, you can restore details and tones in your overexposed photographs. Despite it being automatic, the results are really stunning.
What I don't like, is a very strange image import procedure, which doesn't actually transfer your files onto the drive. It also doesn't support PNG files.
10. Zoner Photo Studio X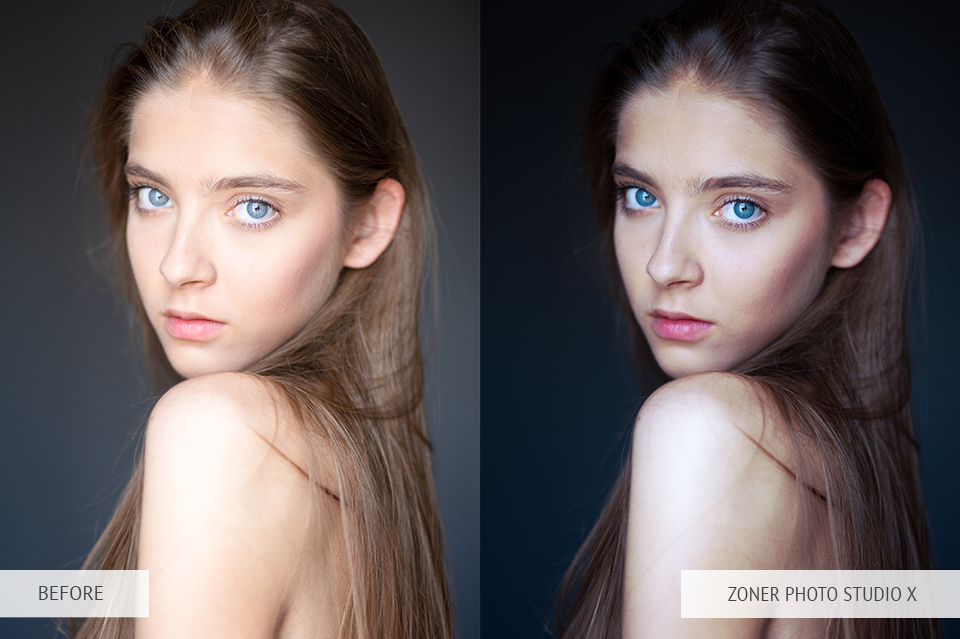 Price: 30-days free trial or $4.99/month 
Platforms: Windows
Zoner Photo Studio X offers a variety of photo editing tools, which will be easy to use for newbies but will also work great for experienced specialists. Its image management system allows you to navigate your photos easily.
In addition to basic tools, Zoner Photo Studio X offers more advanced instruments to professional photographers. With the Cloning tool, you can remove stains or other unwanted objects from the background. 
You can also create HDR images and panoramic photos, use mask layers to completely transform your images. You can create slideshows with music and special effects.
There are also Dodge and Burn tools, sharpness, correction layers, and photo book layout editing.
As a weakness, I can name the absence of a user forum where you can ask a question or find an answer.