Hero Indian Super League (ISL) is the top football league from India which includes 10 teams from various locations. The 2019-20 season of ISL had started on September and the finals are scheduled to be on 2019 March. The league has started in 2013 without an official recognition from the Asian Football Confederation and later earned the accreditation. ISL is similar to the premier league and La Liga where the clubs can include players from other countries. The quality is not up to the mark but has been improving every year.
Hotstar is the online partner of Hero ISL season 6 2019-2020 and claimed that millions of people are watching every ISL matches through their service. But due to copyright stands, Hotstar is available only in India and people outside India can't access this service. There are no other online partners to broadcast this service outside India and it is so hard to watch the matches online outside India.
Today, we are adding some methods to watch 2019 – 2020 ISL from the USA, Canada, Australia, European Countries, GCC countries through your PC and mobile.
Hotstar Premium to Watch 2019 ISL from the USA, Canada, Australia or any location outside India
Star India's digital video platform Hotstar is the official ISL 2019 online streaming partner. You can watch all the ISL 2019 games through Hotstar using the premium service. But the problem is that Hotstar has the rights to broadcast the live action only in India. If you try to access the service outside India, it will show Hotstar is currently not available in your region warning message. This can be easily done using a VPN software which has its server in India.
Personally, I always recommend using IPVanish for getting Hotstar outside India because, its rich with multiple servers from India. So if there are hundreds of people using the service at the same time, you won't feel lagging or buffering. There may be other VPN tools too but for getting HD streaming try using IPVanish. Here is the guide to access Hotstar outside India using IPVanish VPN.
Step 1:- Go to IPVanish website and choose a plan. See the below image to get a brief idea about IPVanish plan and pricing.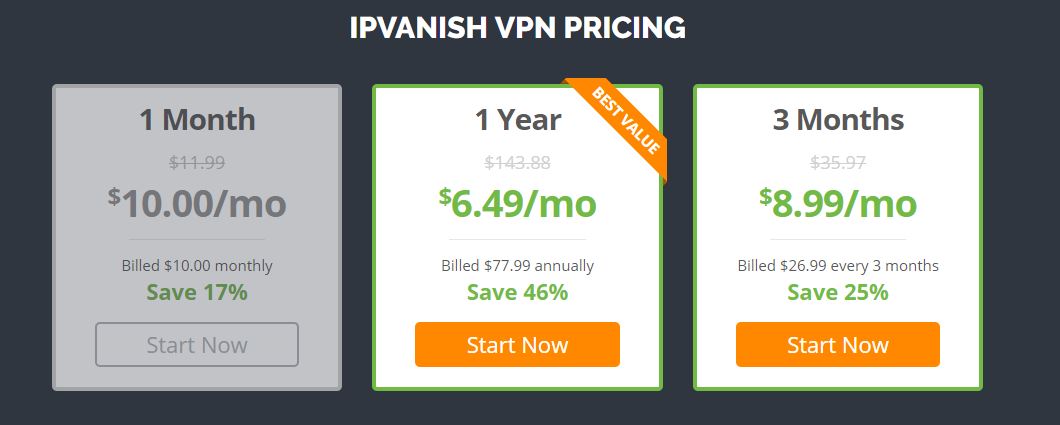 Step 2:- Connect with an Indian server. You will get the best server if you try Quick connect.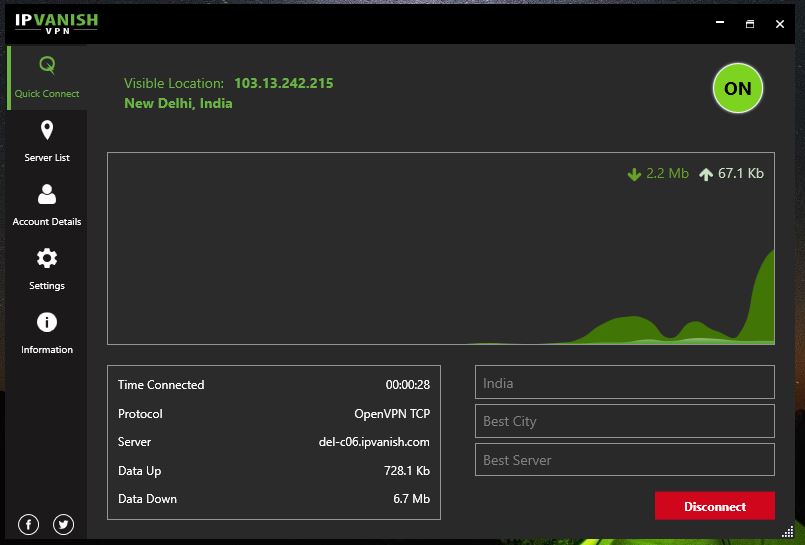 Step 3:- To watch ISL on Hotstar, you should have a Hotstar premium account. It will cost ₹999 per year and will be less than US$ 15. Even though you are outside India, I hope you may have an Indian debit card / Credit card or Paytm to make the payment. You can't make the payment using other country cards.
Once you have done the payment using any Indian cards or Paytm, you will be able to watch the matches. For 2019 ISL matches, Hotstar supports different commentary language options. You can hear the commentary in English, Hindi, Bangla and Malayalam language. So If you are a serious football fan and wish to spend a little bit amount to watch the stunning ISL matches, go with this option. Otherwise, read the following instructions.
Watch ISL from the USA, Europe, Australia, Canada using Livetv.sx

This is another way of watching Hero ISL 2019 outside India. You may have heard about livetv.sx website. We had posted some interesting tutorial about livetv.sx at the time of 2018 WorldCup. If you don't know anything, let me give you a brief idea about livetv.sx.
This is a free live sports streaming, score updating, and sports forum website. You will able to catch live actions of football, basketball, tennis, cricket, volleyball, racing etc in all formats of quality. In case of football, you will get direct links of Premier League, Italian League, German league, Spanish league, ISL and all country wise matches. Also, there will be acestream links of popular games posted by the users before each match begins.
Since this website is working without following any copyright stands, this site is blocked in several countries. If your ISP blocked this website, you can use any VPN to unblock it. On the homepage itself, you can see what all live matches are currently going on. So just click on the link and you will able to obtain direct link as well as P2P links.
Watch Hero ISL 2018 using Unofficial Mobile Apps
There are several unofficial mobile apps which always stream TV channels and sports events without any proper authorization. GHD sports is one among them.
GHD Sports is an unofficial mobile application to stream Live TV contents. Using this Android app, you can enjoy almost all channels from India anywhere and anytime. Since they don't have any rights to list the channel links, this app is not available in play store and need to download externally.
From the name itself, it is clear that the app is mainly intended for sports lovers. If you are a cricket or Football addict and currently not staying in India, you can make use of this application to watch Live sports events. The team behind the app is active each moment so that, they will replace the dead links and channels with an active one.
This is the best app for watching ISL outside India. If you are staying in the US, UK, Canada, Australia or in any European or GCC countries, this app will definitely help you.
PROS
There is no geographical restriction like JIO TV or Hotstar. You can access the app from any country.
There is no premium subscription or paid membership. All the channels and events are available for free.
CONS
GHD Sports is also stuffed with advertisements. Means, if you want to play a channel with a live event, you must see some advertisements.
This is not an official application. Also, this is not available in the Play Store. So if there is an update to the app, we will not understand what sort of codes are added. I mean you should use this app under your own risk.
There are some other apps mentioned here to watch ISL on your mobile. Please have a look if you are interested.
Conclusion
Watching ISL outside India is a tedious job as there are no official online streamers available. However, you can make use of Hotstar, Indian streaming partner to watch ISL matches in countries like Canada, USA, Australia, Europe, Gulf etc. All you have to do is to install a VPN and do a paid subscription to Hotstar. If you are not interested in doing a payment, you can use unofficial services like livetv.sx and mobile apps like GHDSports.
If you have any doubts regarding streaming ISL from the USA, Canada, Australia or any other countries, please comment it below. We will reply you as quick as possible.