The name Hotstar is well known among Indians, which is a digital platform for streaming media and also an entertainment hub. It was launched in February 2015 by Star India for bringing all Indian entertainments for Indians. Within 2 year of launching, Hotstar is one of the leading source of home entertainment and Sports broadcasting. Just like how Netflix doing in other countries.
Like Netflix, Hotstar is not available all over the world. The access to hotstar is limited within India. Means, If you want to watch hotstar outside India, it is not possible directly. While trying to access the platform, you will receive a warning showing "Hotstar is currently not available in your region". Also there is country based content filtering started on hotstar. You can enter the website with contents that have permission to see in your ISP country. For example USA. Hotstar now available in USA with a warning message "Videos on www.hotstar.com are not available in U.S.A. To watch videos available in U.S.A go to us.hotstar.com"
How to unblock Hotstar and bypass "Hotstar is currently not available in your region" message?
Hotstar is the only option to watch almost all Indian games like Indian Premier League, Indian Super League and other sports games which are conducted inside India. Unlike Cricket, these games are not broadcasted on any other TV chnnels or websites outside India. So the limited way to watch IPL, ISL, cricket games and other fans based games are through Hotstar. Again there is another problem. You can't watch Hotstar outside India directly. For that, you need to do certain steps. So let's look how you can access hotstar in US, UK, Canada, Australia and other gulf countries.
Acess Hotstar Outside India – The General Logic
The general login behind unblocking hotstar is by using proxy tools. A proxy is a third party platform between the person who browse through Internet and the website from which he access contents. All the information passing in between these two entities are forwarded through the proxy server. For many reason, the desired website is blocking traffic from your location. Here in our case, hotstar blocks all traffics outside India due to copyright stands. Means, they allow visitors with IP location only from India. To beat up the geo-based filter of any website, selecting a proxy based in that desired country is necessary. You can use VPN tools for tunnelling your internet to 100% encrypted mode.
Unblock Hotstar on your Computer – Use VPN tools
You can easily unblock hotstar on your computer using VPN softwares. There are hundreds of VPN tools available on internet. Among them less than 10 is price worthy. IPvanish, hidemyass, tunnelbear, expressvpn are some of them. I personally use tunnelbear for all my tunneling purpose.  So this guide completely depends on bypassing website using TunnelBear VPN.
Anyway it is not mandatory to use Tunnelbear. You can choose any of your favourite VPN tools for bypassing hotstar.
Step 1:- Go to Tunelbear website and download the latest version.
Step 2:- Register your account on tunnelbear to access the VPN tool. You will get 500MB data every month for free and there are a few upgrade option too. Choose the best one that suits your needs.
Step 3:- Now you will option to connect with different countries. You should choose India for accessing all services that are broadcasting from India.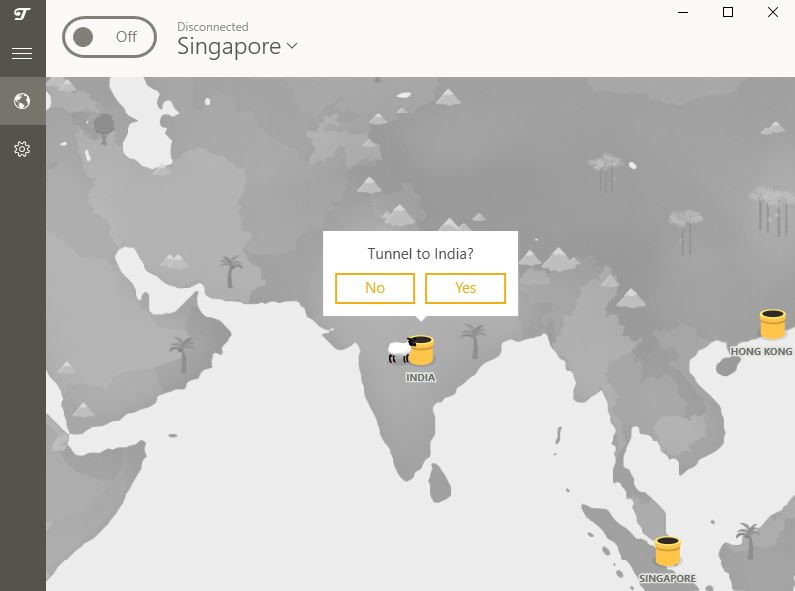 Step 4:- After Connecting tunnel bear to India, you could see the UI changes to greenish color as below.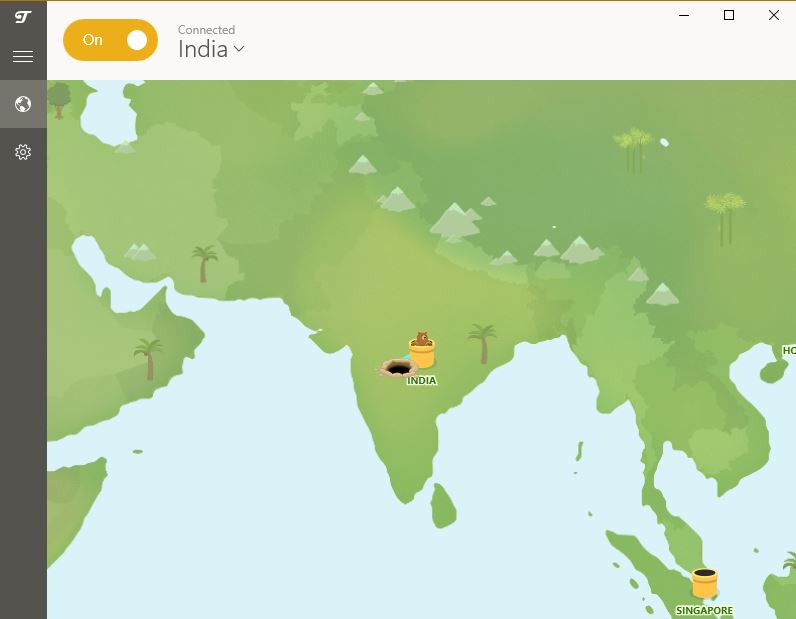 Now you are accessing Internet from India and all services that are available only in India is accessible from any country.
Once again, Tunnelear is just one of the VPN software in the market, you can choose any VPN tools that is convenient for you.
Unblock Hotstar on your Android Mobile – Using VPN tool
Here also the method is same as what we do in PC. Using VPN tool.
Step 1:- Go to Play Store and download the Tunnelbear app.
Step 2:- Install it and complete the registration process.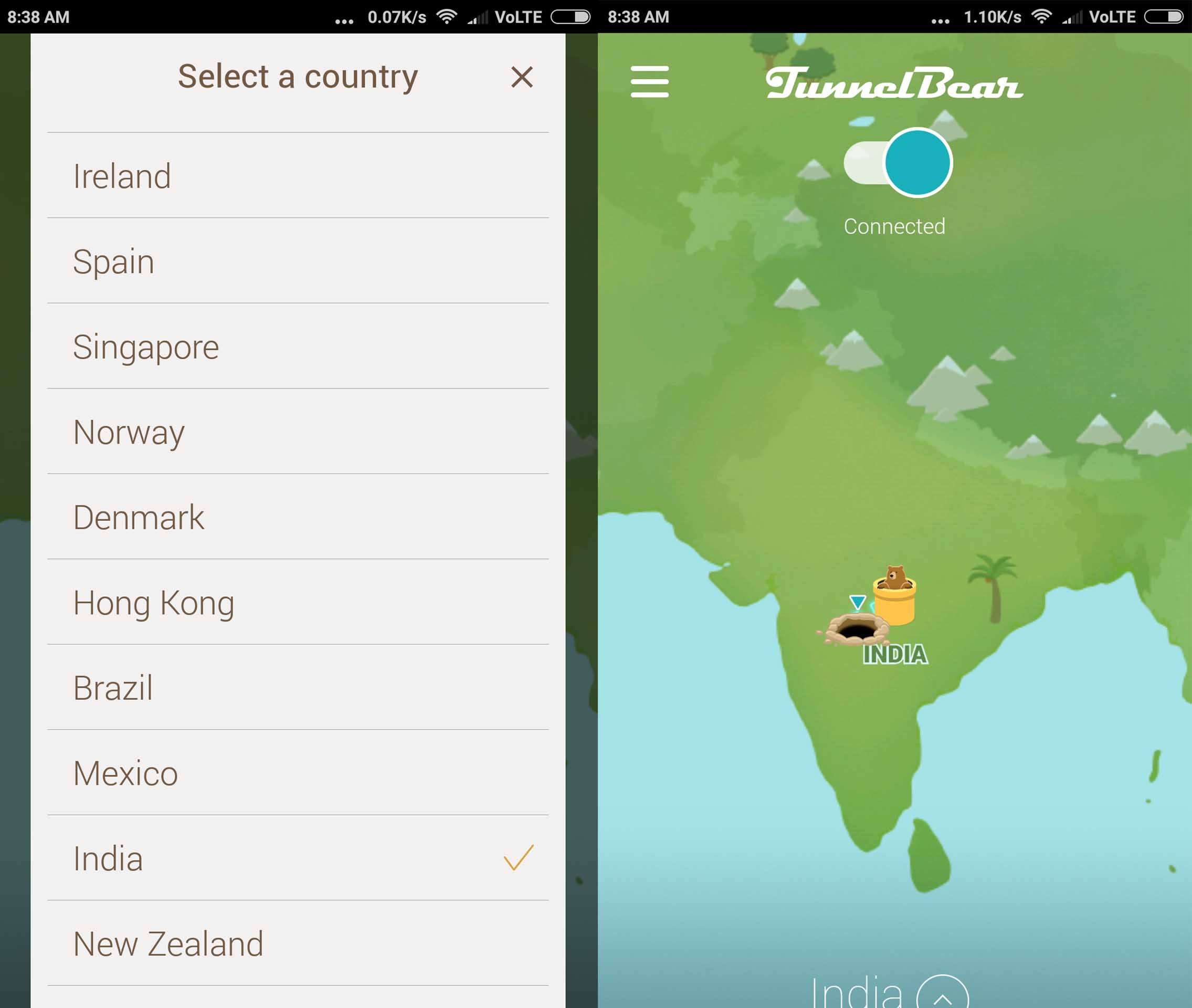 Step 3:- Now from the country list, choose India and connect. You can see the bear moves from your country to India and connect your network from India.
Now open hotstar app and enjoy streaming movies and events which shows "Hotstar is currently not available in your region" message.
There are a lot of other VPN apps available in Play store which do the same process. You can try whatever convinient for you. There may be free VPN apps which connect you through India. Try those free apps if you are not willing to pay anything. Anyway, there is no other way you can unblock hotstar outside India other than VPN and proxy. So try the above steps and leave your feedback below.