If you are reading this without any difficulty, light is what makes it happen. As we all come across in our day to day life, exposure to light can be beneficial as well as harmful to health. When we go through the complete electromagnetic spectrum ranging from gamma rays to radio waves, a 300 nm to 500 nm range shows the blue light. As mentioned, these high energy part of visible light can be very dangerous when a threshold is reached. Stepping outdoors to sunlight, switching on your mobile gadgets and other electronic devices results in yourself getting displayed to a variety of visible and invisible light rays which certainly includes blue light. Now, let me describe some facts about this part of a visible photon which can bring you some danger.
Since the major source of blue light is the UV radiation from sunlight, no doubt this high energy radiation is present everywhere in the universe. One has to note that, the display screens of computer, tablets, mobiles etc emit a sufficient amount of blue light. Moreover, it is important to note that your eye is not very good enough in shielding blue light. A small fraction of blue light present in UV radiation reaches the light-sensitive retina of your eye and a long exposure can cause adverse effects.
Prolonged exposure can cause your retina damage and henceforth might result in disease resembling those of macular degeneration, and can lead to permanent eye vision loss. Additionally, when you are looking into a computer or any other electronic gadget screen for a longer time, the scattered, unfocused blue light noise can easily contribute to digital eye strain. So I hope you all are now aware of the harmful effects of very long exposure to blue light while using electronic gadgets. Now, is there anything that can reduce the harmful effects if you are an IT professional or other jobs of the same kind. Yes, there is!
The blue light filters available for electronic devices can very well selectively obstruct this high energy part of visible rays by blocking it. It can prevent the significant amount of blue light passing through to your eyes without affecting the clarity of the display. Some can also protect your device screen from scratches. There is much software available in the market which acts as blue light filters for your PC. I am here to explain the best apps rolling in the market that can protect your retina from exposure to blue light.
Best 4 Blue Light filter for Windows
#1 CareUEyes – Bluelight Filter and Screen Dimmer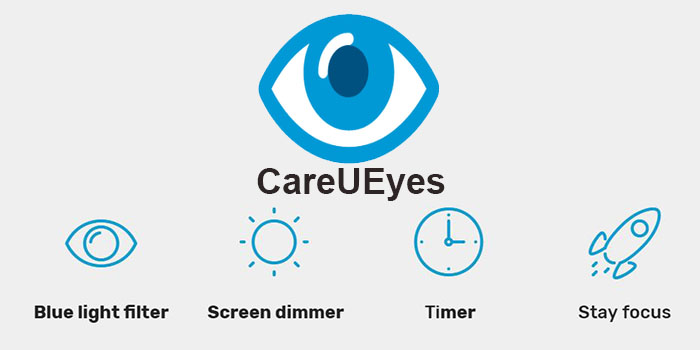 This is going to be my first and favorite pick when we deal with a blue light filter and screen dimmer software. CareUEyes which is available on Win10/Win8/Win7/Vista/XP can automatically filter the blue light presence on your Laptop/Desktop monitor. There are many built-in presets such as movie, custom, night, office, game, edit and read which helps to adjust the screen temperature and brightness, and to prevent eye strain. It can automatically control the screen brightness of any computer screen based on your work environment (dark or lighter) without damaging the device.
CareUEyes Timer feature helps you to take a break at a certain interval of time. Means, the tool remind you to give rest for your eyes every 45 minutes. You can reduce the time to 20 minutes if you want. There is another interesting feature known as 'Focus' option, which let you customize the transparency and size of the reading area. This helps you to easily read contents like text, tables, and spreadsheets on your screen.
#2 IRIS Blue Light Filter For Windows & Mac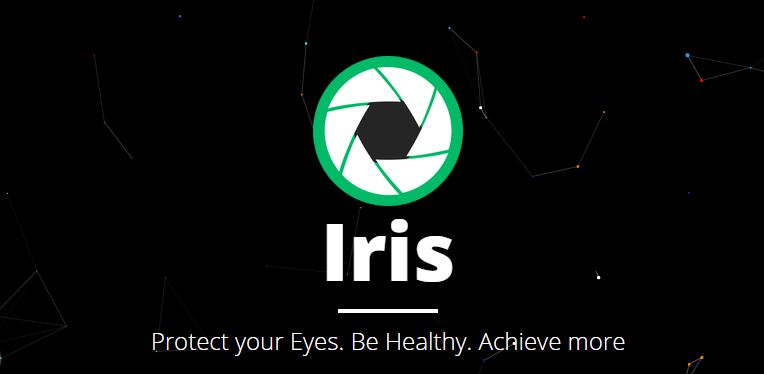 This is going to be my second pick when we deal with blue light filter software's. Iris software optimizes screen vibrations by administering the brightness without Pulse Width Modulation (PWM). Thus the software prevents the eye strain and one can use their electronic gadgets much longer time without having any headaches. The software comes with a technology that can match the brightness of the computer screen with the light surrounding you. Different presets the Iris software has automatically adjust the screen of your device. Thus it reduces the eye pain and now you may feel you are reading a book while using the device.
Iris software works even on docking stations and monitors connected with USB with the use of my custom high-level color API and has got a high level of blue photon filtering when compared with other alternatives. The models like Iris and Iris mini are free but there are other pro versions which come at some cost. Iris can efficiently regulate blue rays both day and night and thereby helps your body to produce more amount of melatonin. This can make you sleep deeper at night. The software has both free and paid versions if you want a try. The lifelong license for Iris is about $10. The link is provided for you.
https://iristech.co
#3 F.lux Blue Light Filter for Windows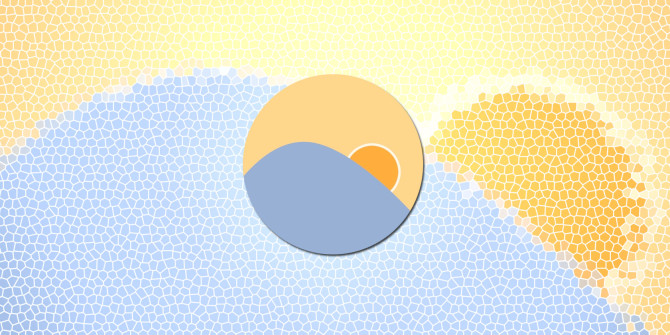 This is my next best selection and note that f.lux is completely free for use. Only permission required is to access location. With the help of your location, it approximates your sunset time and works accordingly.  When sunset comes, the screen will mimic nature and blends in a much better manner with the surrounding light. It has been the idea, to adjust the color temperature of your screen in accordance with the time of the day, for years now. The recent updates only added certain features and now you can adjust brightness with Alt + PgUp or PgDn and is interesting for a desktop user.
The Darkroom mode feature completely takes care of your screen, shading everything in dark, reddish hues. Additionally, f.lux has also got movie mode, which allows you to watch movies without having everything tinged red. Here the color tones are controlled for 2.5 hours for a good movie experience. One can also disable f.lux for one hour or for next morning while doing some photo editing works. If you are a beginner and uses computer overnight, kindly try f.lux and the link for which is provided.
#4 PC Sunscreen Filter for Windows PC
PC Sunscreen is my final choice when we come across the best blue light filters in the market. It is a very powerful blue light filter software app for Windows 7 or above, which automatically adjusts the monitor color to the surrounding light. The software gradually increases the blue light content on the screen from morning to noon and afterward reduces the same thus helps you to have a good deep sleep. It allows you to set your own bedtime and wake time and the screen color will be varied automatically. This means that the software will be ideal for those having shift works and unusual sleeping patterns. Moreover, PC Sunscreen sets different color schemes for sundry monitors to recoup for dissimilarities in color replication.
The interesting feature which got my attention is that the software allows adjusting the size of the color filters to tinge the full screen or a part of it. This allows the user to have an area which is not shaded, for color sensitive uses. Within in a click of a button you can turn the screen filter on and off and thus users can enjoy full control of daytime and evening screen colors and the timing of the transition. It cost almost Euro 6 and the link for the same is provided.
Wrapping Up
You people might be thinking about what sort of stuff a blogger like me using to avoid the adverse effects of blue light. Personally, I use CareUEyes tool to customize the color temperature and brightness of my laptop screen to reduce eye strain. Don't take it as a final verdict as my PC and laptop only have CareUEyes software. Turning down the monitor brightness will help to a great extent, but it is not the only thing that causes eye damage. It is the color temperature which is very tough to deal with and very tedious to adjust. I wish your eye to be safe even without using these filters, but if inevitable go for any of the listed light filters. Stay safe and be healthy because it is not only your eye, the whole family sees through it.