If you are reading this, you have been one of the users of Admitme TV which had stopped its service recently. Admitme was a streaming service that streams TV shows and movies in HD quality for a cheap price of $3 per month. Most users were not bothered about the small subscription fees since Admitme offered reliable and high-quality streaming.
Things have changed a lot and the copyright rules are very strict across the world. When you access the website, you will receive a message
It is with heavy heartstoday that we announce that the end of Admitme. We wanted to take a moment to thank all of the incredible members that have made this experience such a pleasure for us and we are very thankful for the opportunity that you have given out throughout the years.  However the time has come for us to close this chapter, and we hope you will look back fondly at the time you have spent on Admitme.
Like Hulu, Amazon Prime, Hotstar, Netflix, etc, Admitme.TV is not a legally approved streaming service. It always had a threat of being seized down if some sort of actions were taken by the Officials. Finally, it had happened. Just after iStreamItAll, another popular streaming service was taken down, Admitme was officially closed its service.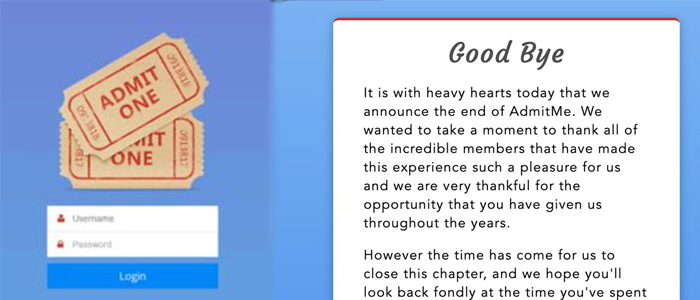 Admitme.TV Alternatives to watch TV Shows and Movies Online
As you know, Admitme is an entirely different service and currently, there are no other websites working exactly like Admime.tv. However, there are other websites that offer TV Shows, Animes, and Movies for free. Here are some of our suggestions to access the latest movies and shows in HD quality.
#1 Gnula.nu
Gnula is one of the best websites to watch movies online and free. It was created in 2013 and since then it has greatly improved its quality and service. Most of the films are in HD quality, and it is possible to watch them in several languages. There are subtitle options if a suitable language is not available for you.
#2 Pelis24.app
A highly recommended website for excellent quality movies and a variety of TV Shows. On their website, you can find different filtering options, such as movies in the original language, classic movies or recent releases, The most Voted, Most viewed, etc. These filtering options are really useful if you don't have a movie name in your mind to watch.
#3 Popcornflix.com
Another popular website at the top list of best online movie streaming websites. With a lot of content, little publicity, and unique quality, Popcoprnflix is still the best choice for millions of people across the world. Along with movies and TV shows, you can also enjoy Viral videos through the website. You can access Popcornflix on Apple TV, Fire TV, Roku, Xbox and on all devices that support Android apps.
#4 Cinecalidad.to
This is a great website to find feature films in Spanish, Portuguese and English. You can get movies and TV series in the best HD quality and in Blue Ray. This website has different filtering sections and can genres under drama, adventure, science fiction, etc. Although it is possible to find advertising before every movie and it is not that much irritating.
#5 Xmovies8.tv
Xmovies8 is a renowned website that focuses on entertainment. It is listed on the top of the websites for streaming HD movies and TV series. Although the design of the page is no big deal, its functionality is excellent. It is possible to find both movies and television series. We have already written more about Xmovies8.
#6 Snagfilms.com
Another best website to watch online movies that has a good design and UI. The website is designed so that it is compatible with many screen sizes. SnagFilms has over 2,000 movies in different languages and categories and also has many TV shows to watch. A free mobile app is available for iPhone, iPad, and Android devices.
#7 Cuevana3.io
Cuevana is a leading movie streaming website in the Spanish language. Most of the movies are available in the Spanish language. You can filter movies based on Latin, Spanish and English. There are many other features like filter by Genre, A-Z, Most watched one, etc. You can also access the website through other mirror websites with different URLs.  The site was created in 2009 and it is still one of the most visited websites in Argentina with around half a million page views daily.
#8 123movies Now movies123.email
123Movies, GoMovies, movies123, etc are interlinked streaming services operating from Vietnam. Motion Picture Association of America (MPAA) once tagged these networks as the "most popular illegal site" since it allows users to watch movies for free. Most of the domains were taken down by 2018 but still, the service is available in other domains.
#9 Viewster
Viewster is a nice platform for film and TV show lovers. Even though famous for its movie contents, Viewster does not compromise for anime videos too. Above all, the website delivers everything for free. In other words, all licensed shows are available at no cost in the Viewster website. We have already written about viewster and its alternatives. You can check it out for more details.
#10 movie4k.is
Another online web streaming website that is highly recommended for film lovers of a variety of genres. This is an amazing website to watch online content for free. It is one of the biggest movie streaming websites in the world. Moreover, users can watch videos easily on this platform. Movie4k.is provides a great collection of movies of all time. All the popular movies are available with just a few clicks.
#11:- Cinebloom.org
The website has a lot of features similar to AdmitMe so that, it makes a suitable alternative. First and foremost, I am very much impressed with the user experience UX and UI of the website. It is a free and easy to use platform that offers plenty of movies. There are mainly three categories on the homepage. The top portion is dedicated to new releases. The middle section is for the latest movies and the down space is filled with new episodes. Moreover, users can expand these categories to get the full list. Unlike Hubmovie.cc, this website has a genre collection. Here you can find everything of your interest.
Conclusion
There is no other website working exactly like Admitme.tv. So it is hard to accept the truth. You can still make use of the alternative websites mentioned above to watch free movies and shows.
Also, if you know any other similar sites, comment below. We will add it to the list.