Yes, videos are a great way to communicate with people, clients, students or any other target group. But sometimes these AVI format videos are not playable which means they are corrupted in some or other way. You people might be wondering, what the stuff is going on! Honestly, I also encountered the same issue many times before. It might be annoying most of the times, but we all solve the issue by buying the same movie from the nearby rental shop. Think of case when you can't buy it, that is if it is a homemade video of your valuable and precious memories such as your wedding day, child's birthday etc. How to watch these corrupted videos? Now, this is possible with video repair software.
Before going into detail, let me highlight those reasons that may lead to a corrupted video. This happens basically when there is an abrupt shutdown or sudden system crash. Additionally, this also happens when files are saved on bad sectors or may be due to a virus attack on your device. Least case, it can also happen if you remove USB without soft eject. Now we are going to solve this most disgusting issue with the help of video repair software and the listed ones can help you in achieving this goal.
Best Video Repair tools for Windows in 2018
#1 Stellar Phoenix Video Repair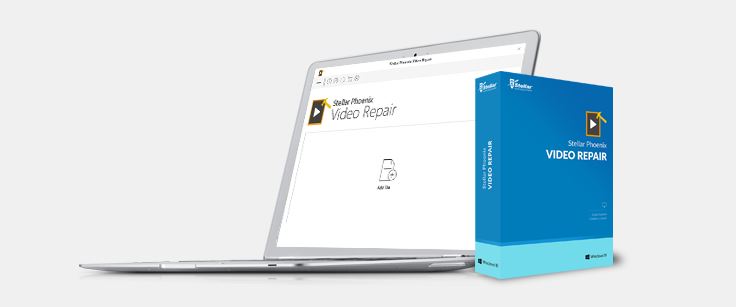 Stellar Phoenix video repair software is one of the best and my first pick if you face the problem to run corrupted videos. It can repair corrupt MP4, MOV, M4V, 3G2, 3GP, WMV, ASF & F4V files on Windows and it does the same for videos stored on Hard Drives, Memory Cards, & other storage media. Also resolves errors found in video frames, sound section, header, movement of videos, and video slider and can serve as the complete video repair software. It also enables you to repair multiple videos simultaneously in a much faster way.
The software has simple and easy to use user interface and hence users don't need any technical expertise for repairing the corrupted videos. In a few mouse clicks, you can renovate the distorted videos. 'Quick look viewer' feature allows you to create a preview of repaired videos before saving it to exact location. You can also save the repaired files to the desired location and you also get a confirmation message with the location path of the file. Try the software from the below link.
#2 Remo Repair
You can now repair broken, corrupt, unplayable AVI files with Remo repair software. A corrupted video can result in discolored or erratic playback, desync of audio and video, artifacts etc and with this particular software, the powerfully built in algorithm skilfully splices and demultiplex the broken bits and you get a seamless playback. The software works on a read-only concept and the scanning module separates audio and video streams from AVI file, then fix the case. The software will be handy if you have a header file corruption, no syncing between audio and video and when AVI plays either audio or video.
Without modifying the original videos, the software repairs the corrupted /damaged AVI, DivX and XVID video files. Moreover, this software repairs the video irrespective of its location, whether be on HDD, external hard drive, SD cards, memory cards etc. The trial version of the software allows you to evaluate the repair before purchasing it. After the successful fixing of the file, a prompt seen allows you to preview the repaired file. Then register the software and save the file to the desired location.
#3 Yodot AVI Repair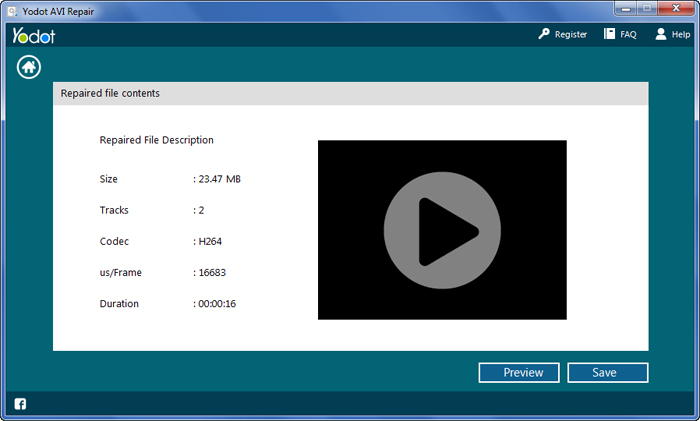 Yodot AVI repair is yet another video repair software of your kind. Now repairing corrupted files is no longer a difficult task and the software instantly repairs  AVI, XVID and DIVX video files on Windows. An AVI file of larger size, no matter truncated or broken, can also be repaired with this software. It is a highly compatible software as it runs on all latest Windows versions and also repairs files from different storage drives like mobile, camera and other multimedia players. The easy to use interface can amuse any newborn computer user.
Within a few mouse taps, one can use this software to mend corrupt AVI file. It also allows you to make a preview of the repaired file after the haste completion of the process. If you are satisfied with the demo version, then you can purchase the full version to repair the corrupted files. Moreover, the software has got 24*7 technical support team to help you in any matters related to it. Check Yodot  AVI repair software from the given link.
#4 Digital Video Repair
Repair the broken AVI video files within a few clicks with Digital video repair software. With this software, it is quite easy to fix broken broken MP4, MOV & AVI files encoded with Xvid, DivX, MPEG4, 3ivx and angel potion codecs, helping achieve a flawlessly smooth viewing experience. The software carefully repairs AVI files and re-encode bad segments to ensure smooth, uninterrupted playback. Digital video repair can easily detect the missing segments in an AVI file and can reconstruct the partial file into a playable video stream.
The software also fixes the fast forwarding problems if found that the original index was damaged or has corrupt data. You can be very sure that with this software installed, your video will no longer freeze after playing some seconds. The software itself finds the broken pieces and carefully manipulate them while maintaining sync with the sound and audio. It has got non-destructive file recovery feature which means that the program won't make any changes to the original file and henceforth you can keep a copy of the repaired one.
#5 Repair Video Master
Now there is no need to discard corrupted or damaged video, Repair video master can recover it for you with full potential. This software can be very useful those files which cannot be played for fast forwarded. It supports repairing damaged AVI, DivX, Xvid, MPEG-4, RM, RMVB, ASF, WMV, WMA, AC3 files. There is no damage done to the original one but instead makes its fixed copy. An excellent performance and high-speed reconstruction are guaranteed with this software.
At a glance, I can say this particular software can overhaul files that can't play properly, files that truncated, broken, corrupted or damaged in some way, files froze when playing, files that won't rewind or fast forward properly, files that fail to completely copy from CD, DVD or other source and more. It has got an easy to use interface and has got a super simple control panel. It supports batch pair and even very large files greater than 2 GB for repairing. Tap on the link below to enjoy Repair Video Master.
Conclusion
Some special moments are captured in our mind or some as videos to re-live and revere. And when you try to play these videos, sometimes it won't work as expected. Mostly you end up frustrated and get annoyed of thinking what had happened. Now using this listed software, control your tears and keep yourself and beloved ones entertained. So if you choose your favorite one from the list, comment it below.