Today we are dealing with one of our reader's query. This is nothing but about the latest trending Smart TV recently released in India. Xiaomi has introduced three different models of Mi smart TV in 2018 with the size of 55 inches, 43 inches, and 32 inches. Even they implemented good hardware features for their TVs, there is lack of software features. You won't get entire features of these smart TVs until they roll out stable software updates. Today we are dealing with such an issue. The query rose from one of our fellow reader and we tried to give him a positive feedback.
Let's take a look at the email we received from Gautham Menon who had bought a Mi TV 4 and facing some issues with 4K playback.
Hi, techiestechguide team.

I was looking for some forums to ask some queries about Mi TV 4. I didn't find a place to shout my queries and try to contact the Mi Customer care. They were also not able to help me. Also I tried Mi's official website to post my question but it was rejected. After doing a deep search, I found you guys had posted some intereting articles and guides related to Xiomi Mi 4 TV. So I hope you can help me to solve this. This is my issue.

I bought Mi 4 on the second flash sale and before getting the product on hand, I downloaded some 4K videos from Youtube. This is for testing the TV performance when the Jeeves support team reach my hope for installation. But something went wrong. I was able to see the files I downloaded in my USB. But the video was not properly playing. It took a few minutes to open the video and while fast forward, the entire system went slow. So I converted the video to 1080p and finally it got worked. The video format was MKV and I am sure it is supported by Mi TV 4. This is not exactly what I was thinking about Mi TV and if you can help me to resolve this, it would be very helpful. Thanks in advance.
Why Some 4k, BlueRay, and 1080p Video lagging in Mi TV 4?
Simply telling, this issue is completely related to software. Mi TV is using Patchwall OS for their Smart TV and there are many software incompatibilities. The built-in apps inside Mi TV are not efficient enough to produce the maximum effort. After checking the default apps, we found that there is no Play Store app in Mi TV and YouTube app won't support High-quality videos especially 4K. You cannot play Videos above 1080p in your Mi TV. There are no browsers, Quality video players, Netflix or any other music streaming apps.
So my point is, you need to install a third party Video Player app to solve all video playback issues on your Mi TV. As most of the Android users choose, I prefer MX player over all other video players. You can fix video lagging issue on your Mi TV using MX player. As I mentioned above, there is no Play Store on Mi TV and you need to install MX player from an unknown source to make it work. Just follow the steps to install MX on your TV.
How to install MX player on your Mi TV?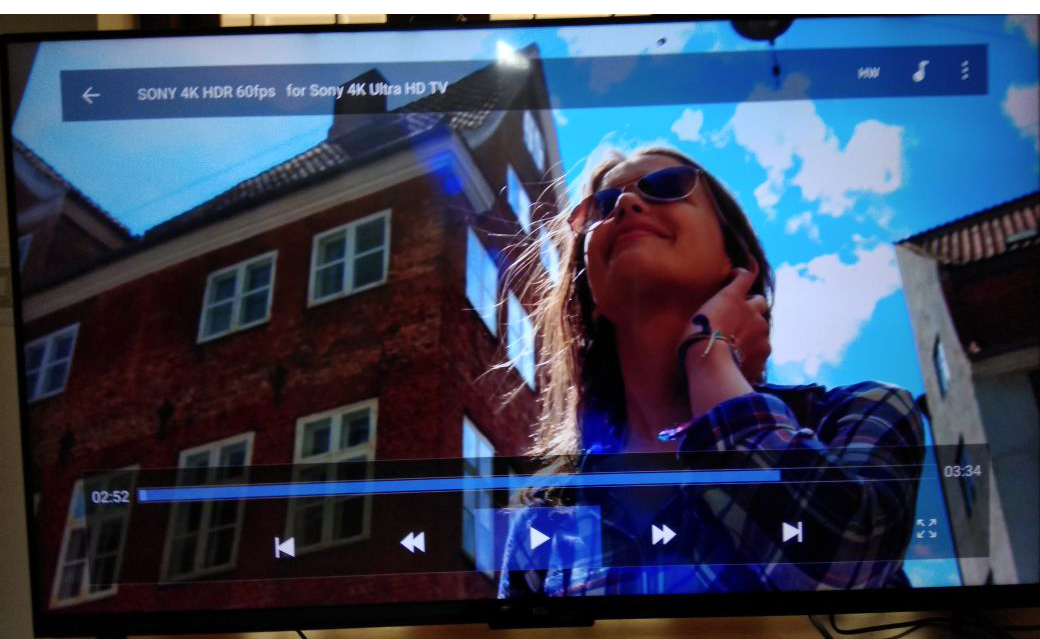 Since there is no Play Store installed in Mi TV by default, you need to download the apk file and install it on your Smart TV. Similar to mobile devices, you need to check "Install from unknown Sources" before installing apk files outside of play store. So follow the steps to install MX player on your smart TV.
Step 1:- Download the Suitable MX player apk for your smart TV. Make sure you have downloaded the one supports your TV. There may be different architecture apk files and you can try installing this version of MX player. If this doesn't work, try some other architecture.
Step 2:- Allow "Install from Unknown Source" before installing the downloaded apk. For that, Go to Settings –> Security–> Allow Unknown sources.
Step 3:- Now Open the apk file from File Manager to install MX player on your TV.
Once you Complete installation, Open MX player and everything seems normal like your mobile. Just refresh to see the complete list of video files on your device.
Thank You, Gautham for asking this question. This will definitely help hundreds of other people using Mi TV 4. Not only Mi TV 4 but also helpful for other smart TV users. Many manufacturers have these software incompatibilities. You can overcome most of them using external apps. Also if you have time, take a look at our article to safe eject USB from Mi TV. If you have any queries regarding this, please comment it below. Also, ask any other doubts related to Mi TV and we are here to help you.