It is only less than one week since the game Red Dead Redemption 2 released for PC users. However, gamers are not really happy about the way the game is developed. Right after the release, many game forums are flooded with errors and bugs related to this new game. Major among them is the "Error Red Dead Redemption 2 exited unexpectedly" which also has a description "Please click Retry below to enter the game again or click safe mode to launch the game with reduced graphics settings. If you continue to have problems playing the game, please contact RockStar games customer support at https://support.rockstargames.com.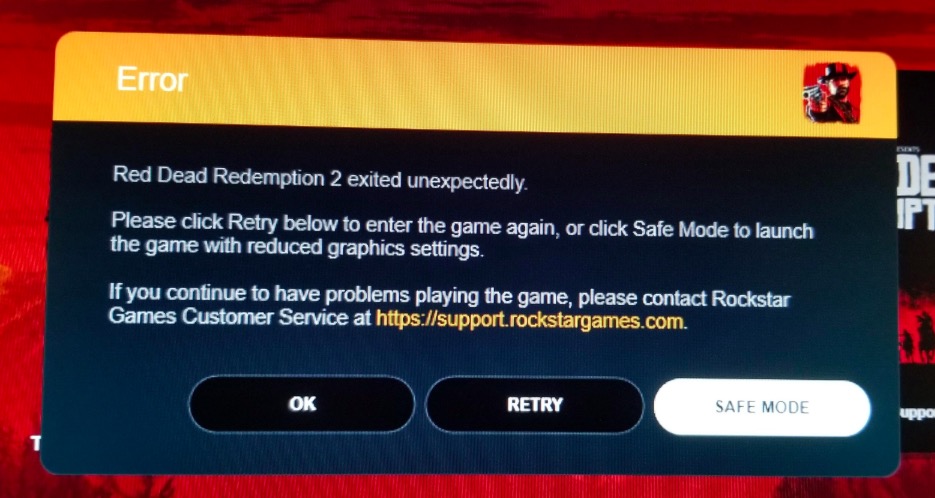 Some of the Working solution to fix "Red Dead Redemption 2 exited unexpectedly" error
#1:- Update Graphics Drivers
This is the first thing you have to do to fix this issue. The error clearly mentions that there is some issue with your graphics and you have to reduce graphics settings. Even if your graphics drivers are compatible enough to play the game in full graphics settings, it may not have the right graphics drivers. Note that the game is a new one and may have the latest graphics settings and you should use some new drivers to work with it. So the right way to upgrade your card drivers is by using the official driver updater tool. For Nvidia users, you can try installing Nvidia GeForce Experience and upgrade the driver.
#2:- Switch from DirectX 12 to Vulkan in settings
Red Dead Redemption 2 supports the latest API like DirectX 12 and Vulkan. You can choose either DirectX 12 or Vulkan from the advanced settings to run the game. This kind of switching is what many gamers wanted for a long time. Both the APIs has its own graphical performance. So if you are running on DirectX 12 by default, you can try changing it to Vulkan in the advanced settings. Thus you might be able to resolve "Red Dead Redemption 2 exited unexpectedly" error forever.
#3:- Using Avast Antivirus? disable avast shields and have a look
Personally, I don't know the logic behind this solution since I have taken this solution from a game forum. One of the gamers reported that the error is due to Avast shields and when he disable it, everything goes fine. Since this is a worth free solution, you can try this and run the game at least once. If the solution worked for you, you can keep playing like that or revert the antivirus settings to the default one.
#4:- Switch the sound device from the Windows sound control panel
Few gamers had mentioned this as a solution to fix Red Dead Redemption 2 exited unexpectedly error. Your computer might have sound output to the monitor speakers, Bluetooth speakers, headphones, etc. So if you have headphones or external speakers connected with, try changing them one by one before launching the game. Maybe at some point of time, you will be able to play the game without any issues.
#5:- Wait for the Official Patch
If none of the above methods work for you, this is the one and only one solution. You have to wait until Rockstar Games release an official patch for existing bugs and errors. Most of the errors and bugs will be reported directly to the team and they will monitor them and find the solution as soon as possible. Once they figure out the issues, they will release a patch and you can fix this issue by installing the new patch file.
Conclusion
Most of the games, when releasing for the first time, will have full of bugs and errors. We have already seen some issues with the apex legends game when it was released. All such issues will be taken seriously by the developer team and they will fix it as soon as possible. You can try the above-mentioned solutions to fix exited unexpectedly error in Red Dead Redemption 2 or you can wait for an official patch file.