Mi has introduced its brand new smart wrist band known as Mi band 4. It has many advanced features than its competitors like Infinix Xband 3 and Galaxy Fit e bands. Among those features, alarm customization is a remarkable one. You can setup Alarm on Mi band 4 using the Mi Fit application and customize it in many ways. Vibration customization is a unique feature which is not yet introduced by any other wrist bands.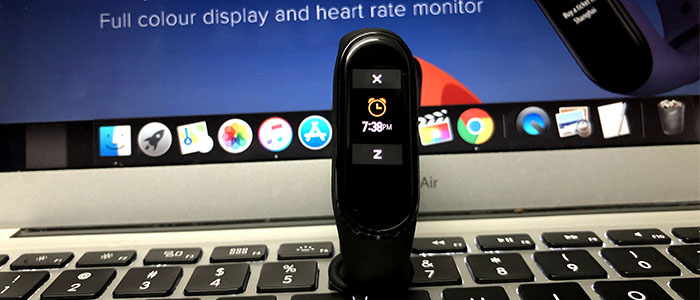 Step by Step Instructions to Setup Alarm on Mi band 4
Step 1:- Open Mi Band app on your Android phone or iPhone. In the bottom side, you can see 3 menu options. Workout, Friends, and Profile. Click on the Profile option.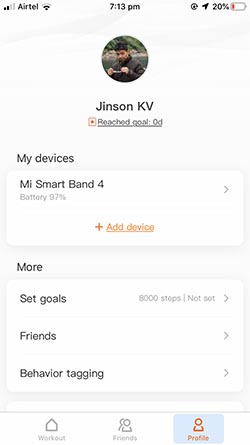 Step2:- There you can see your profile details. Under the My devices section, you will see your wrist band name. Since we are dealing with Mi Band 4, you will see Mi Smart Band 4 there. Just click on that.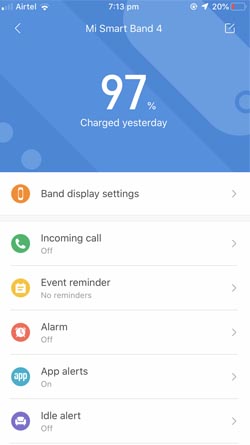 Step 3:- After clicking your band, you will see many options. Band display settings, Incoming call settings, Event remainder and finally the Alarm. Click on the Alarm option.
Step 4:- When you click on the Alarm option, you will see a "+" option to set up a new alarm. Click on the + icon.
Step 5:- Now you can set the time for the alarm. Just scroll to the desired time. You can also set the frequency as Once, Every day, Monday to Friday and custom timing. Once you set up everything, click on the Save button.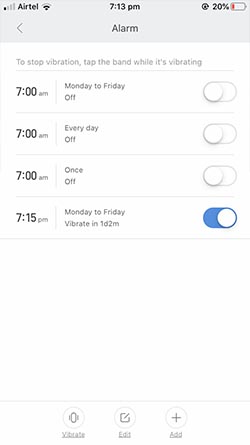 If you have successfully made the changes, you will see the alarm is turned ON as shown in the above image. This is all you have to do to setup Alarm on Mi band 4.
FAQ about Setting up Alarm on Mi Smart Band 4
Following are some of the frequently asked questions about setting up an alarm on Mi band 4. These questions are added by other fellow readers. If you have similar questions, please add it in the comment box and we will reply to you as soon as possible.
#1:- Can I set up alarm sound on Mi Band 4 during alarm?
NO. Not only Mi band 4, but other similar bands also don't have this feature. If you want sound, just add the alarm on your mobile. Mi band 4 only provide vibration and a screen notification during the alarm.
#2:- Can I snooze alarm on Mi band?
YES. Mi band has the feature to snooze the alarm. For that, you have to touch on the snooze icon "Z".
#3:- Is it possible to change the snooze timing on Mi band 4?
No, you can't. By default, Mi band 4 has a snoozing time frame of 10 minutes. In the Mi Fit settings, there is no option to change the snooze time frame.
#4:- Is it possible to change the vibration mode during alarm?
Yes. There is an option to create a custom vibration mode on Mi band 4. Just go to alarm settings and customize your vibration. If you set up an alarm with more vibration, it will affect your Mi band battery back up.
#5:- Alarm options greyed out and showing syncing inside Mi Fit application.
This is because you have not paired your Mi band with mobile properly. Check out how to pair Mi band with Android and iOS devices properly.
Conclusion
Alarm feature on a wrist band is a great feature. You can easily set up an alarm on Mi band through Mi Fit application. However, I wish Mi should add the alarm setting feature in the band itself. This helps the users to set up alarm without accessing the Mi Fit application.