By introducing a few Smart bands, Samsung also started its competition rally against leading Chinese brands. Among the trackers, Samsung Galaxy Fit e is the cheapest one which has the ability to track sleep, blood pressure, and heart rate. Since Samsung Fit bands are new in the market, many people don't know how to connect it with their mobile phone for accessing its features. This article shows how you can connect Galaxy Fit e Band With iPhone and Android devices.
How to Connect Samsung Galaxy Fit e Smart Band With iPhone?
It is pretty easy to connect your Galaxy Fit band to your iPhone. First of all, make sure that your Band is turned on and have enough battery charge. You can connect it with the charger to turn ON the device.
Now the next step is to download the iOS application for Galaxy Smart Band. You can either search for "Samsung Galaxy Fit" on App store or use the link below.
Step 1:- Once you download the application, open it. Make sure that your "Galaxy Fit" is turned on by connecting to the charger.
Step 2:- The first permission the app will ask is to use the Bluetooth. You should allow the permission otherwise the smart band won't work for you.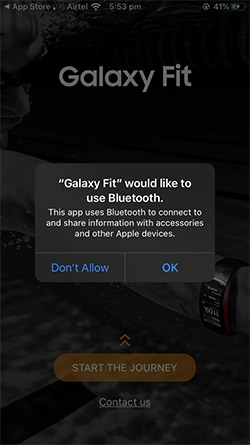 Step 3:- Once you provide the Bluetooth permission, your Galaxy Fit application will search for the nearby Samsung Band devices. Once a device is nearby in the Bluetooth range, you will see it inside the application.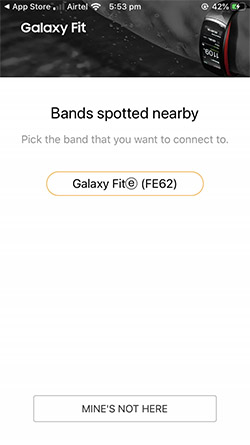 Step 4:- Now click on your device from the search result for pairing. Now you will see a Bluetooth pairing request in your application. Click on the Pair button for a successful pairing.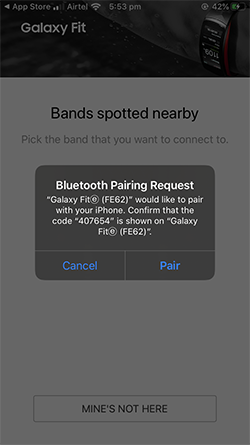 Step 5:- Once the pairing is successful, you will get a Welcome message showing some user agreements and privacy policies. Just agree with all of them to continue.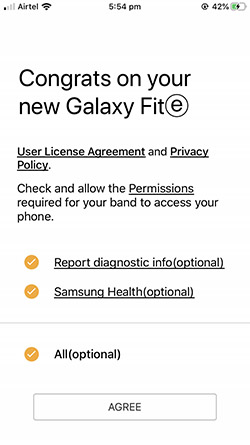 Now the Galaxy Fit app will open up and you can access all the features of your smart band. You can see the battery percentage, reset and restart, Setup alarm, Configure Weather settings, Change band faces, etc. Follow the same steps for Samsung Gear Fit2, Gear Fit2 pro, Galaxy Fit, and Galaxy Fitⓔ bands.
How to Connect Galaxy Fit e Smart Band With Android Phone?
Connecting your Galaxy Fit Smart band with Android devices is similar to that of the iOS device. You should make sure that your band is ON by connecting it with the charger.
After connecting it with the charger, download the Android application for Galaxy Fit band. You can search for "Galaxy Wearable" on Google play store or use the link below.
Unlike the iOS application, you need to install the additional plugin for Fit Band. This is available on the play store. You can search for "Galaxy Fit plugin" on the Google play store or use the link below.
You also need to install the Samsung accessories application.
Step 1:- Download all the above three applications. You need to install all of them for a successful connection with the smart band.
Step 2:- Once you open the application, you will see the option to pick your device. Select Galaxy Fit from the options.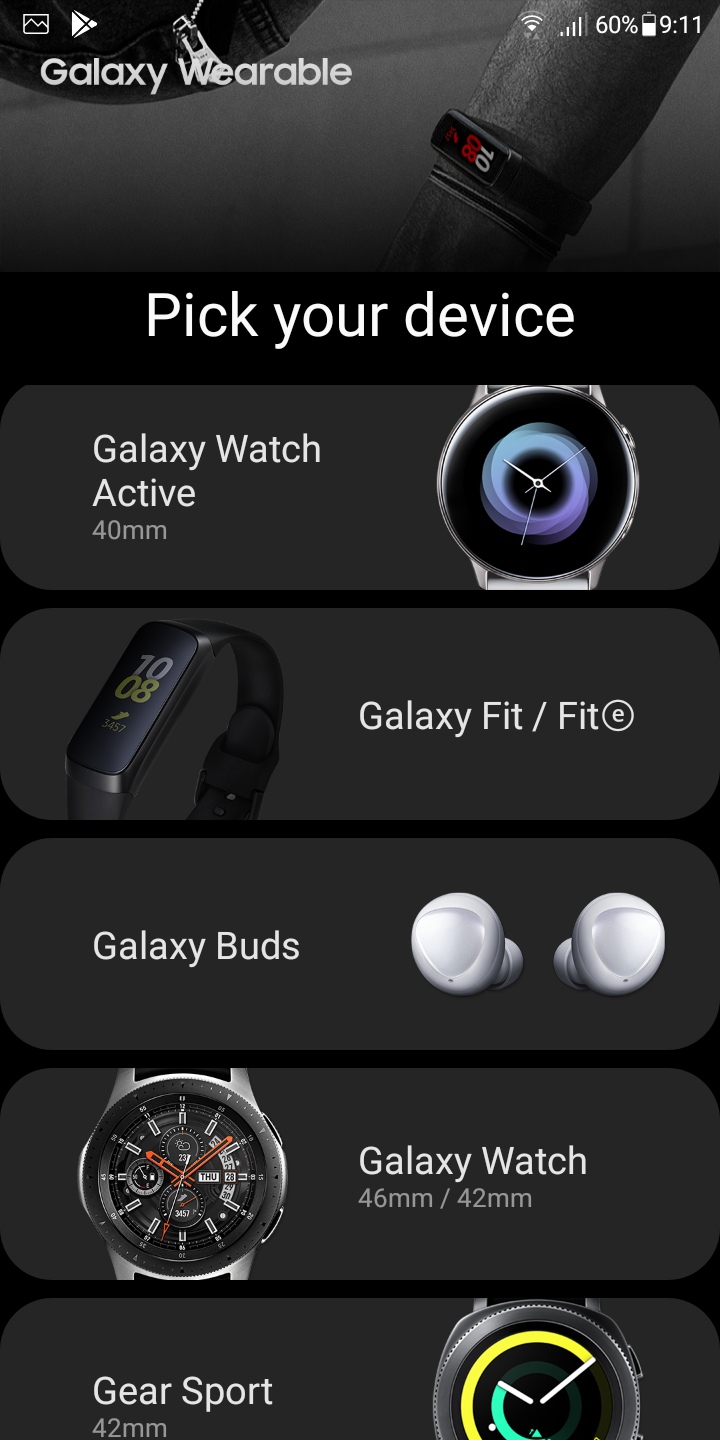 Step 3:- Now you will see a screen asking various permissions. You should provide Location, Storage, Contacts and Phone permission for the application to work accordingly.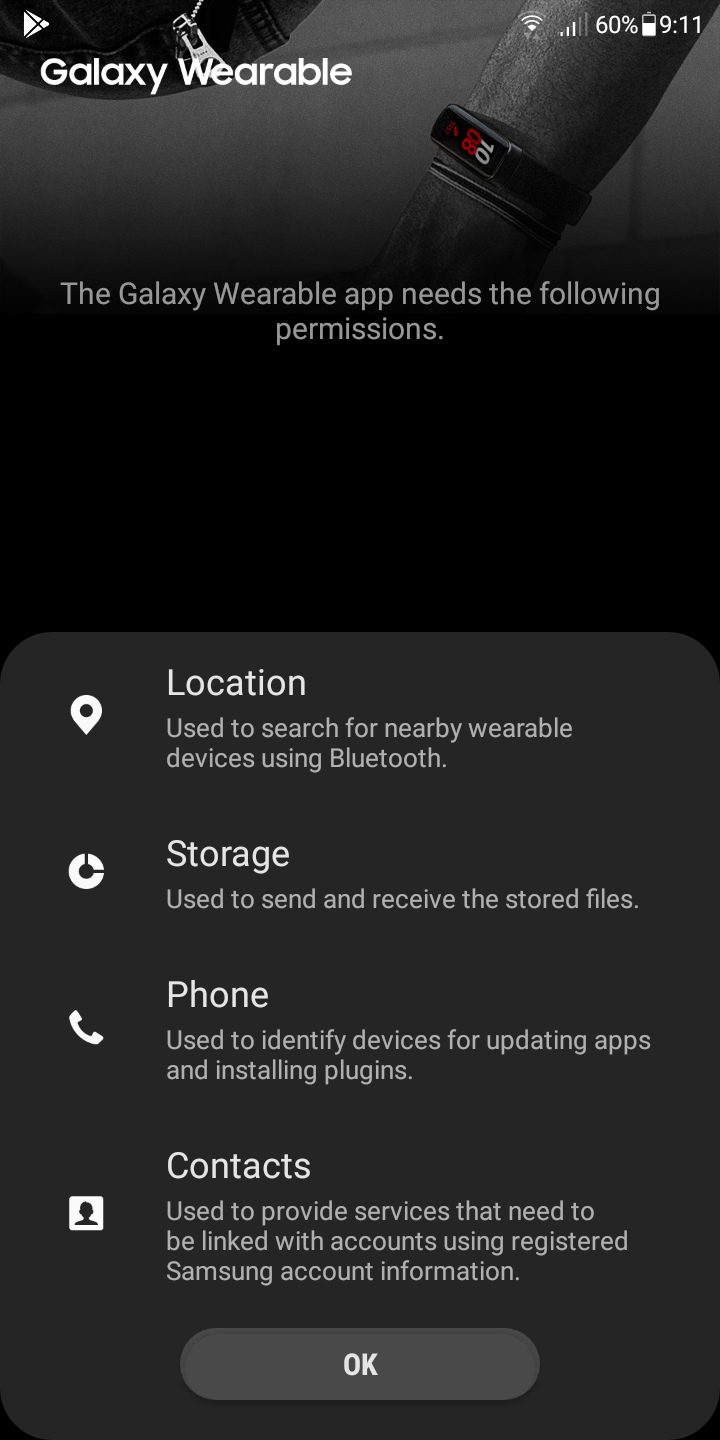 Step 4:- Now if your Bluetooth is OFF, a new window will pop up and ask you to turn ON the Bluetooth of your phone. Turn it ON for searching for nearby Fit devices.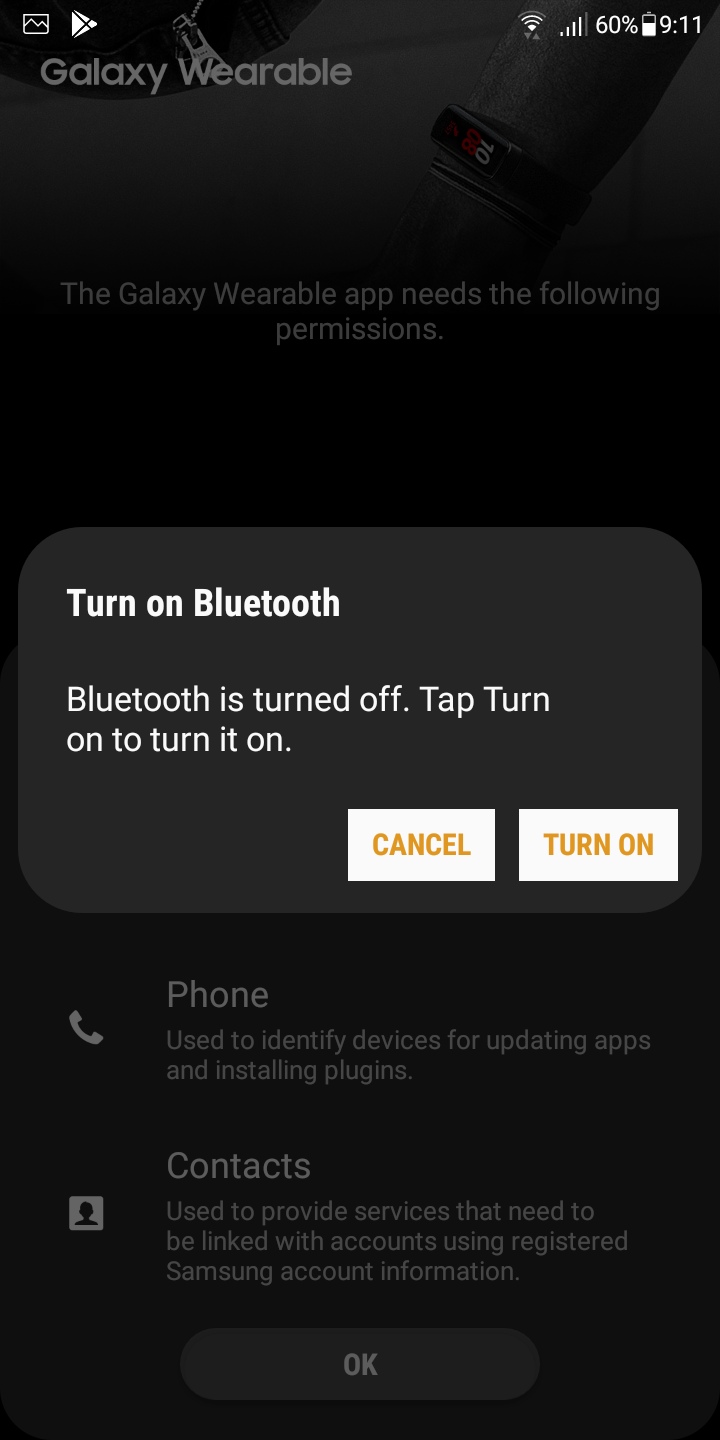 Step 5:- Once you turn ON the Bluetooth, the application will look for nearby Galaxy gadgets and once anything is found, it will be shown inside the app. If your band is not shown on the list, make sure it is turned ON or not connected with any other devices. When you see your device on the screen, click on it to pair.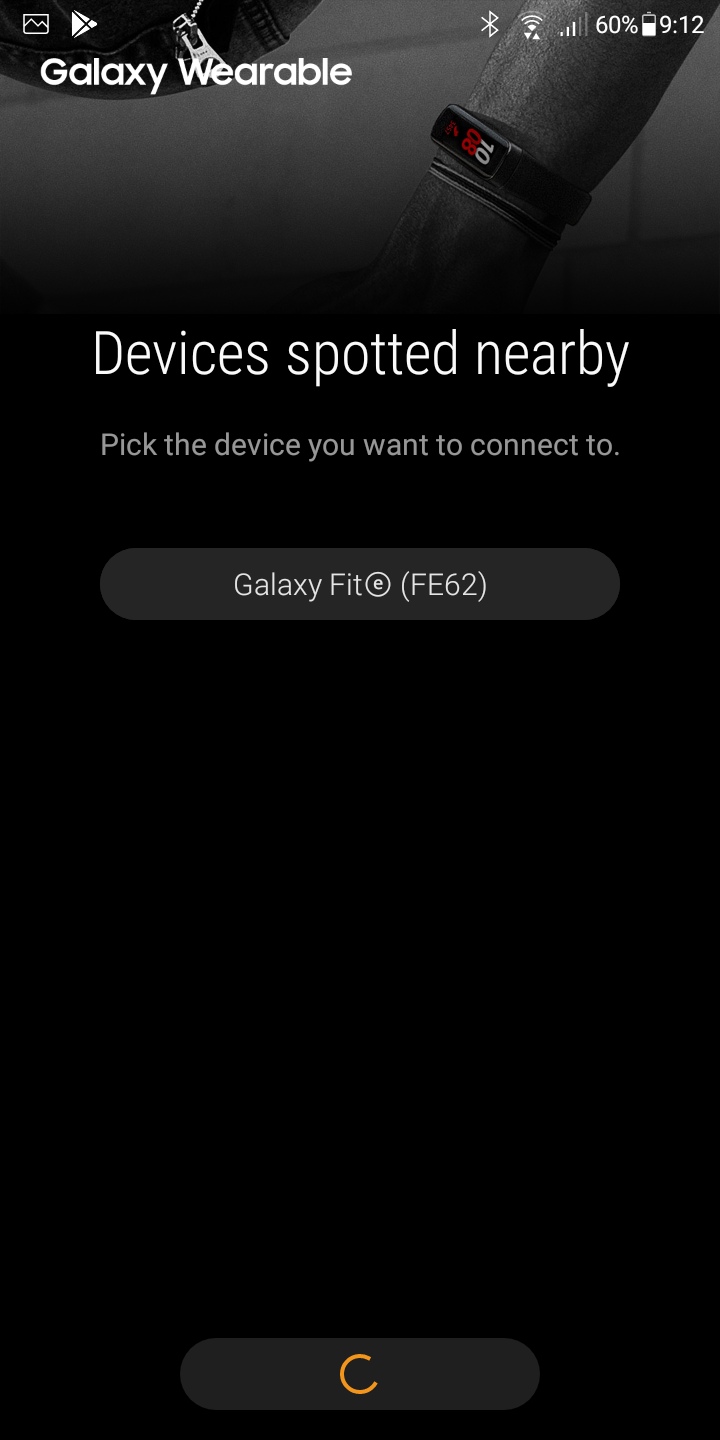 Step 6:- You will see a pairing code on your mobile and you see a prompt to double click on your watch screen. Double click on your Watch screen for successful pairing.
Step 7:- Once you connect both the device, you will see a Privacy policy and Licence agreemnet page. Agree them to continue.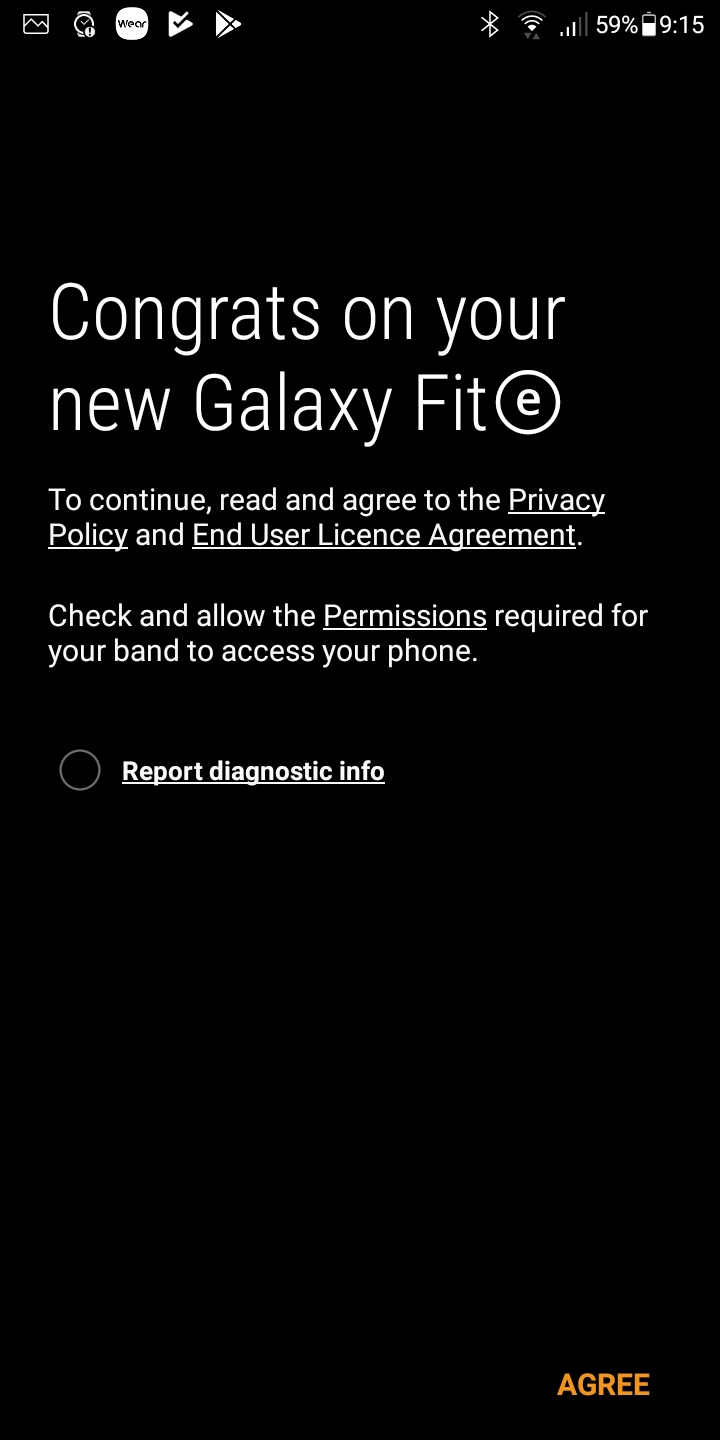 This is all you need to connect your Smart Fit Band to android device. Upon successful connection, you can Setup alarm, Change band faces, Configure Weather settings, etc. You can follow the same steps for Samsung Galaxy Fit, Galaxy Fitⓔ bands Gear Fit2, and Gear Fit2 pro, etc.
Conclusion
To connect any Galaxy Fit Band with android or iOS device, you need to download the corresponding mobile application first. The mobile apps are available on both the Google Play Store and the Apple App store. For Android devices, you can also download the app from the Samsung Store. Even though the Fit app is available on Play Store, you need to install additional plugins.
If you have any queries related to Samsung Fit devices, please comment it below. We will try to solve it as soon as possible.