The popularity of smart bands is increasing nowadays. Based on the Forbes report, wearables sales will grow by an average of 20 percent each year in the coming 5 years. The last couple of years, many new manufacturers started making smart wearables. Among them, Xiaomi had made a remarkable contribution. Recently, they have launched their brand new smart band known as Mi band 4.
Mi smart band 4 has a lot of advanced features than its competitors. Among them, custom band face is an important one. While most of the bands provide only a few band face, you can download hundreds of custom band faces for Mi Band 4. Not only pre-built band faces, but also you can create your own band face with photos you like.
How to change Mi band 4 faces with officially announced faces?
Before looking for the customized band faces, let me tell you one important thing. By default, Mi band 4 has many customized displays which are officially announced. You can look for your favorite faces on Mi Fit app and change it accordingly. This is very easy even if you don't have any technical knowledge. Follow the instructions below.
Step 1:- Make sure you have paired your Mi band 4 with your Android phone or iPhone. Then inside the Mi Fit application, you can see 3 menu buttons. Workout, Friends, and Profile. Click on the Profile option.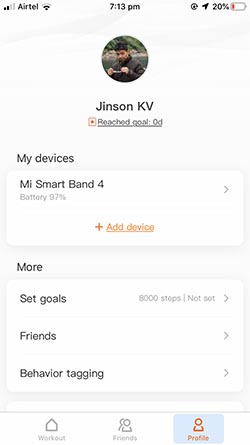 Step2:- Inside profile, Under the My devices section, you will see your wrist band name. Just click on the band name Mi smart band 4.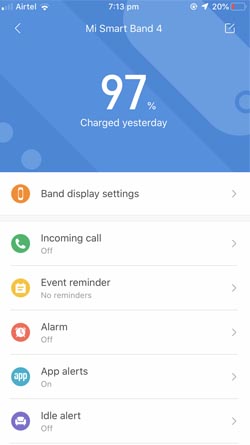 Step 3:- After clicking your band, you will see several options. Among them, the first option is Band display settings. Click on that.
Step 4:- There you will see more than 30 Mi band faces. These faces are available online and you have to download and sync with your Mi band. Just click on your favorite one.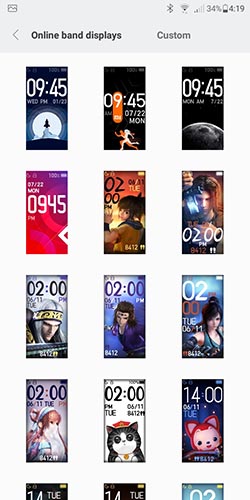 Step 5:- Once you click the face, you can see an option "Sync watch face". Click on that option and you will see that particular watch face is being downloaded and sync to your Mi band.
This is the right way to change your Mi display face. You can check out the following methods to download custom faces and to create your own watch faces.
How to Download and Install third-party Custom Band Faces for Mi Band 4?
There are many websites out there to provide custom band faces for Mi Band 4. You can download them and install it on your Mi band. But this is not directly possible. Mi Fit app doesn't allow you to upload new band faces directly. Instead, you can perform some tweaks and install third-party band displays. Follow the steps below.
Step 1:- First of all, you should install a new official custom band face on your Mi band 4. Just read the above section to change your band face. We are doing this step because then only a new folder called "watch_skin_local" will be created inside the Mi Fit app data folder.
Step 2:- Now open the File Manager application on your Android phone. Go to the Internal Storage –> Android –> data –> com.xiaomi.hm.health –> files –> watch_skin_local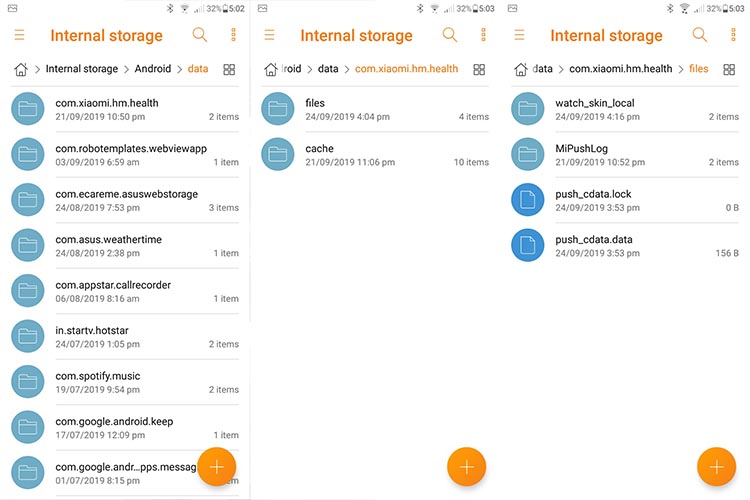 Step 3:- Inside the watch_skin_local folder, you can see the official watch faces you installed through Mi Fit app. Just open the folder to see the preview image to understand the faces better. Along with the preview image, you will also see a couple of other files. One is infos.xml file and the other one is a .bin file with a long name.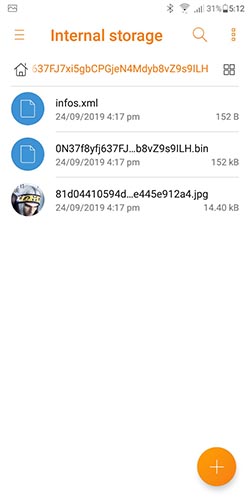 Step 4:- Now you have to download your favorite band face. There is a website providing many customized watch faces. Check it out. You can download corresponding .bin files of every Mi band faces.

Step 5:- Once you download the .bin file, copy it and paste it inside the watch face folder which we mentioned in step 3. Now there will be 2 .bin files inside the folder. Copy the file name of the old .bin file and delete it. Then change the file name of newly downloaded .bin with the old one.  (These steps are quite easy if you are doing with a computer connected with your mobile through USB. Also possible without compter using the file explorer.)
Step 6:- Now open the Mi Fit application and Go to band display settings. There you will see the old watch face in which we have just changed the bin file. Just open it and sync it. (Even the preview image is different, you will have the downloaded watch face after sync)
NB:- GUYZ Mi HAVE REMOVED THIS FEATURE  IN THEIR LATEST FIRMWARE UPDATE AND YOU WON'T BE ABLE TO CHANGE WATCH FACE THROUGH THIS METHOD.
How to Add your own Photos as Mi Band 4 faces?
In the latest update of Mi Fit firmware, Mi provides the option to add your own photos as your band face. You don't need to download or install a third-party tool to access this feature. Follow the steps below.
Step 1:- Open Mi Fit app on your iPhone or Android phone. Click on the profile button and then click on "Mi Smart band 4".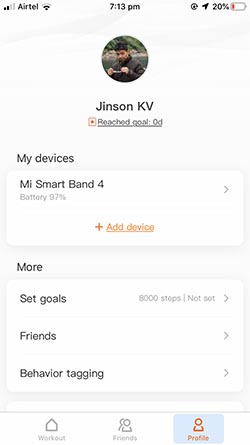 Step 2:- There you will see an option called "Band display settings". Click on that.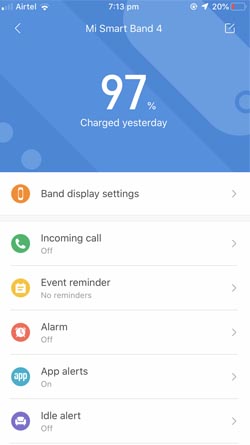 Step 3:- Now there will be two options. One is Online band displays and the next one is Custom. Click on Custom.
Step 4:- From the list of custom band faces, choose your favorite one. There you can see the option to Change background. Click on that.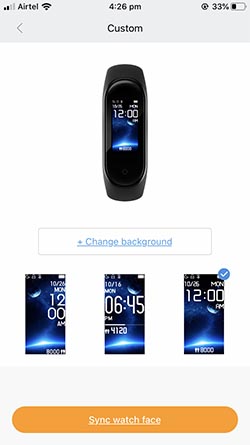 Step 5:- You can either choose your favorite picture from your gallery or take a new photo as band face.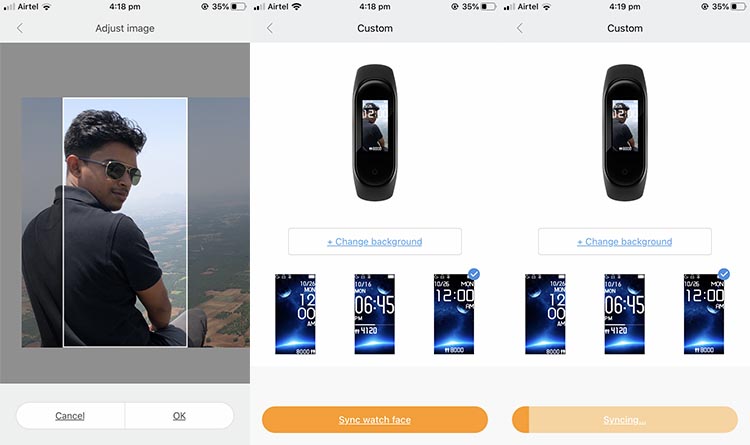 Step 6:- Crop the photos and sync the newly created band face.
This is all you have to do to change the Mi band 4 face with your own photo.
Conclusion
So these are the instructions to download and apply new face for your Mi band 4 and to create your own customized band face. If you are a design freak, you can create your own band faces with extra look and feel. It is also possible to add your own photos as your Mi band 4 face. If you have created stunning band faces, don't forget to share it with other fellow readers. Just put the link in the below comment box and we will add it on our list.
If you have any doubts or queries regarding custom band face on Mi band 4, feel free to comment below. We will reply to you as soon as possible.