Both screenshot and screen recordings are a very important feature of any gadgets that have a display. These features help us to save and share the contents which are currently showing on the display on devices like Mobile phones, tablets, computers, TV, etc. These contents can be later useful in different ways. For example, A company can show how their product runs on a device by recording the screen. A YouTuber can create tutorials based on screenshots and screen recording. Gamers can record their game activities and stream it over YouTube, DailyMotion, etc in realtime. Additionally, there are many more advantages of taking screenshots and screen recordings and we are not going to the details. Here is the quick guide to take Screenshot and Screen Record on Xiaomi Mi A3.
How to Take ScreenShot on Xiaomi Mi A3?
Like all other Android phones, you don't have to install a third-party application to take a screenshot on Mi A3. You can press and hold the Power button + Volume Down button for a second to take the screenshot. These screenshots will be there on your gallery or Google Photos album.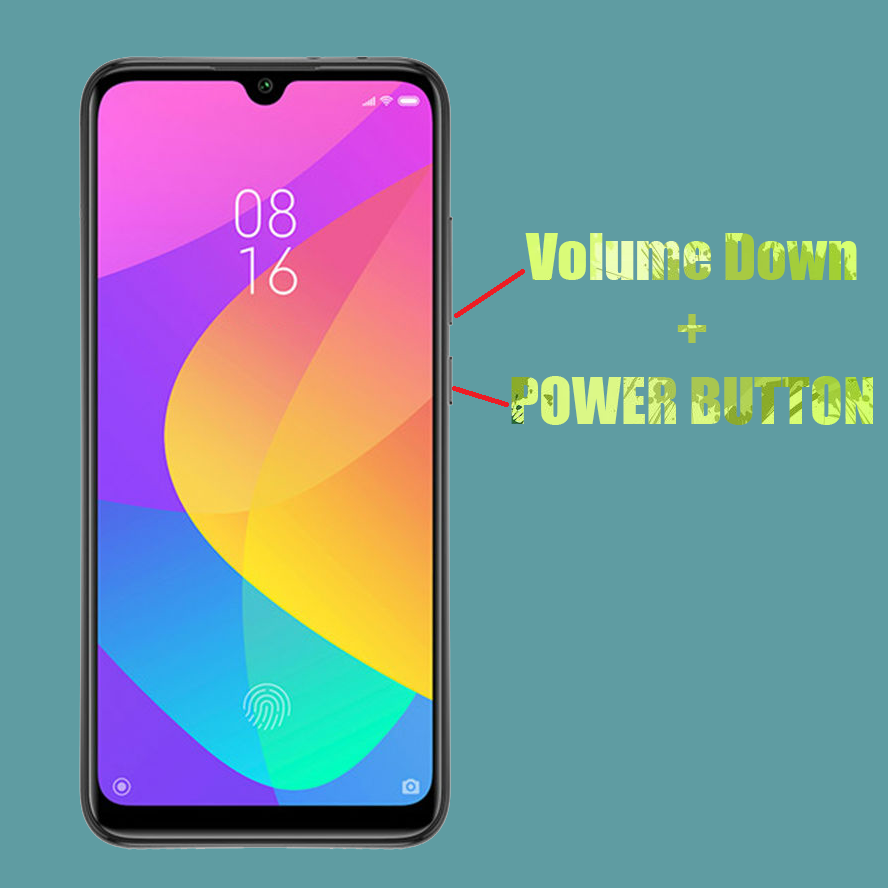 How to do Screen Recording on Xiaomi Mi A3?
By default, there is no option to record screen on Xiaomi Mi A3. Since is comes with Android One UI, utility tools available on MIUI are also not preinstalled. Even there is no option to record screen even if you have enabled the developer option on mi A3 or unlocked the bootloader. So the next option is to download an application that supports screen recording from the Google Play Store. Everyone knows that there are thousands of screen-recording applications available on the play store and most of them are filled with adware.
Today, we are introducing an application which helps you to record a mobile screen without any advertisements or popups. However, they offer additional features if you buy the premium version for a small price. The application name is Screen Recorder – No Ads which is available under the developer Kimcy929. You can download the app by going to the link below.
[appbox googleplay com.kimcy929.screenrecorder]
Screen Recorder – No Ads Features in a Glance
#1 Supports a wide variety of resolutions
You can record your mobile screen in many resolutions. It supports the least resolution of 426×240 (16:9) to the highest resolution of 2288×1088 (18:0).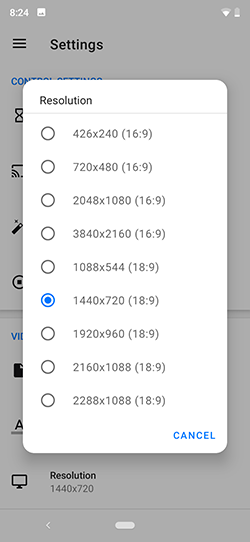 #2:- Adjust the time delay before recording
This is a great feature if you want enough preparation time before recording. You can instantly record the screen and delay the recording up to 20 seconds. If you set it to 20 seconds, there will be 20 seconds count downtime before the actual screen recording.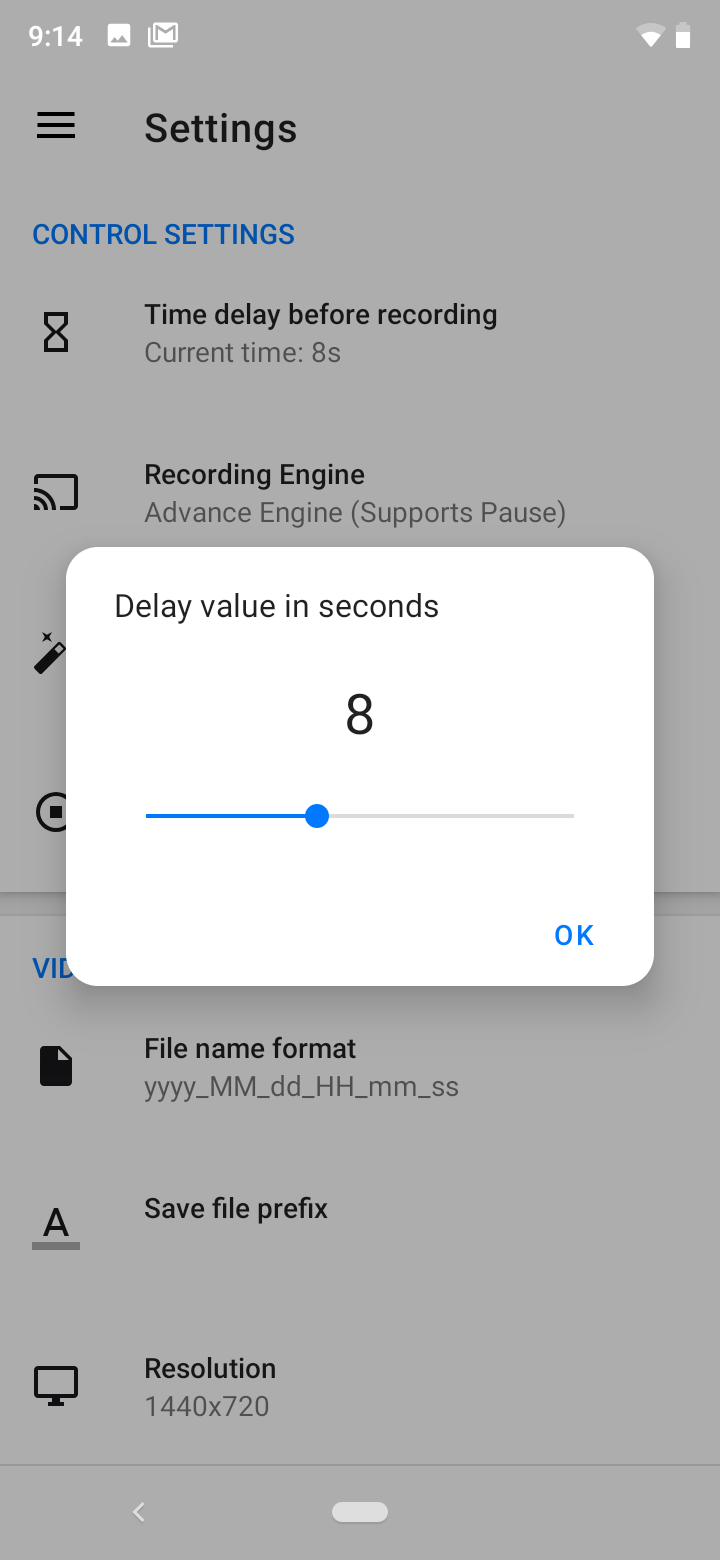 #3:- Magic button feature for gesture control
Using the magic button feature, you can control the recording by using gestures. Single tap for stopping and resuming, double-tap for pause recording, Swipe left or right for opening draw panel, etc.
#4:- Bitrate and Frame rate adjustings
Both bitrate and framerate decide the quality of a video. By default, the bitrate of recording is 8 Mbps. You can increase the value up to 24 and reduce the value up to 2 Mbps. Also, the framerate value is 60 fps by default and you can reduce it up to 24 fps.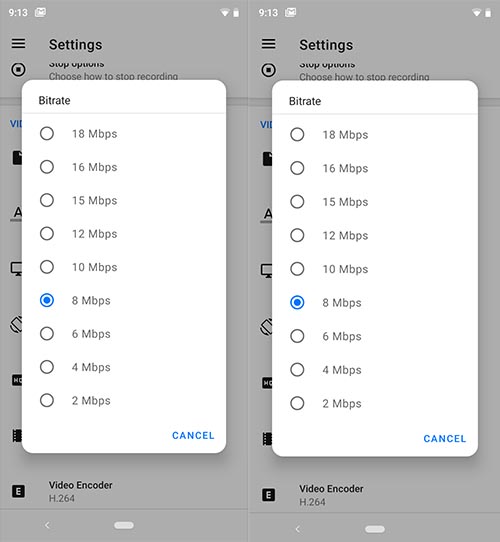 #5:- Banner Text and Logo Image for Watermark
There is an option to add a banner text and a logo image while recording the screen. This helps you to enable watermark during recording.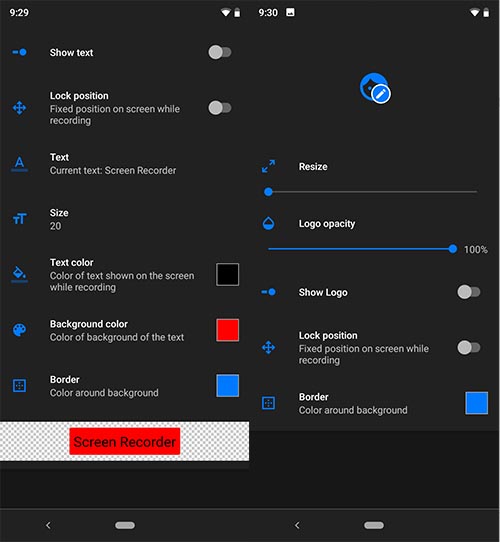 These are just the basic settings of this screen recorder. There are many other features too. Just run the app on your mobile and enjoy the full features.
Conclusion
Unlike other Xiaomi devices which comes with MIUI, Mi A3 doesn't have a built-in screen recorder application. However, you can download third-party apps from the Google Play Store to access this feature. there are hundreds of similar recording apps available on Play store but most of them are filled with adware. After long research, we have found Screen Recorder – No Ads which is available under the developer Kimcy929 is the best recording app for Mi A3. You can also take screenshots by using this app.
If you have any other queries related to taking screenshot and screen recording on Mi A3, please comment it below. It will help thousands of others looking at this page.