There are a number of advantages for LED notification feature on a mobile phone. Basically, it is designed to communicate with the user, when the phone screen is turned off. There are mainly three different types of notification available through the mobile LED. A continues red notification means the mobile is out of battery and need to charge it as soon as possible. Then comes the green light, which indicates the mobile is charging. Finally the blinking blue light. It means, there are some notifications on the screen which is not yet read by you.
Most people use the LED notification feature to know about the notifications like Missed call, SMS, Whatsapp Facebook messages, etc. Without opening the mobile, they were able to know whether a notification received or not. If you want to enable or disable the led notification feature on Mi A3, follow the instructions below.
How to access the LED Notification option on Xiaomi Mi A3?
It is pretty easy to access the LED notification option on Xiaomi Mi A3. Just follow the below instructions.
Step 1:- Go to settings and click on Apps & notifications.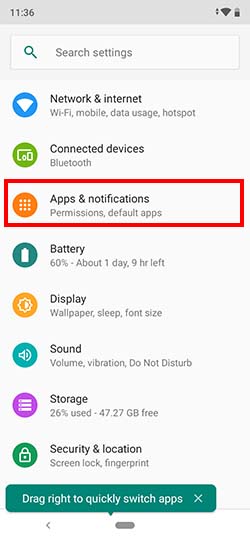 Step 2:- Go to the bottom of Apps and Notifications. There you will see "Notifications on for all apps". Just click on that.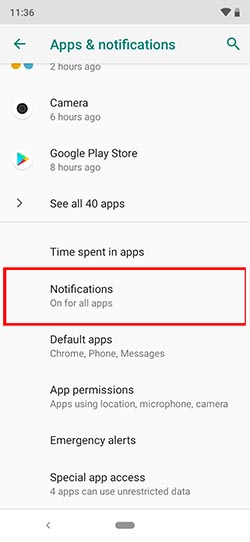 Step 3:- Under the notifications, you will see the option to turn on and turn off Blink light. Just turn it ON to enable Led Notification on Xiaomi Mi A3 or turn it OFF to disable Led Notification on Mi A3.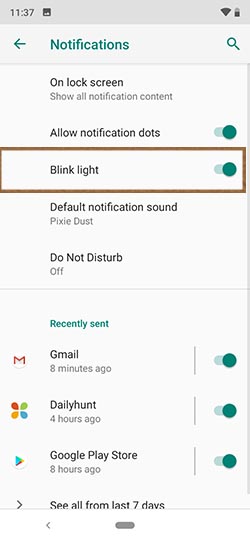 This is all you have to do to enable blinking notification on your Mi A3. If you have any further queries, please comment it below and we will reply to you as soon as possible. Also, check out how to screen record and unlock bootloader in Mi A3.