Have you ever tried playing a cracked version of PUBG Mobile? Then you had done something wrong. Unlike other simple games, PUBG is a client-server game. That means each and every action you made in the game will be updated on its server. If you have installed a modified version or if you do some changes in the game code or if you use any tricks to bypass emulator detection, your account has a high probability to receive a ban. As per one of the reports by a Reddit user, a sum of 13 million PUBG Mobile accounts has been banned for violating various policies since 2017 June. If you violate any of Tencent policies, you will receive a notification as shown below.
Please download the PUBG MOBILE client app again from App Store or Google Play. You will not be able to log in and may be penalized if you use a cracked version. Unlocks on date xxxx-xx-xx tt:tt:tt. Customer service email: PUBGMOBILE_CS@tencentgames.com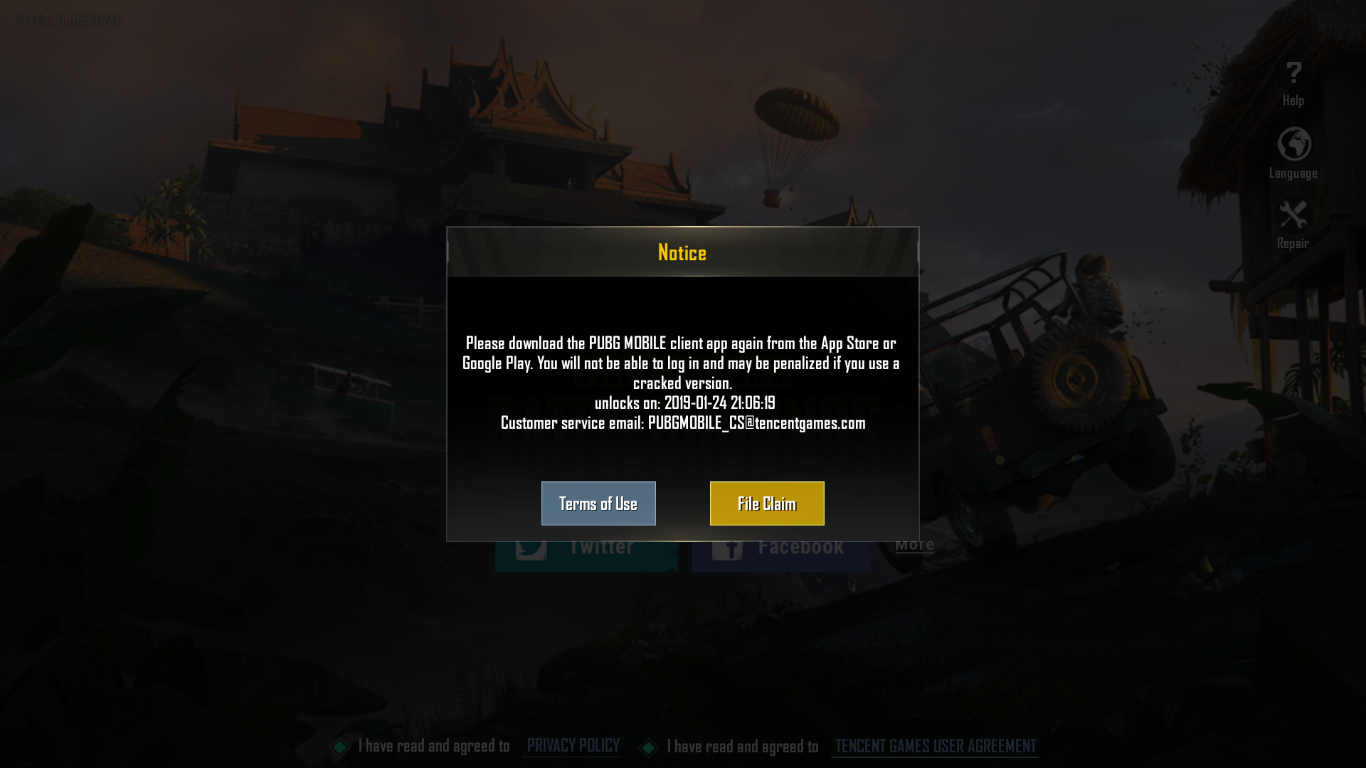 Possible Reasons why your account get banned
After getting banned, many people still don't know the exact reason why their account gets banned. One and only one reason behind the account termination is the policy violation. Here are some of the common policy violations.
#1:- Use Emulator Bypass Codes
This is why most Pubg Mobile gamers receive an account ban. PUBG Mobile has an official emulator called Tencent Gaming buddy to play the game using PC. During the gameplay, you will match only with players or teams who are using an emulator. While the game initially loads, you will see a warning message showing you are using an emulator and you will be paired with players using emulators.
But many gamers use cracked apk version or edit the emulator code to bypass this detection. So this makes them connected with mobile gamers and easily finish Chicken Dinner. This is not a fair approach and the developers started catching players who bypass emulator detection. The same also applies for those who bypass using unofficial PUBG emulators like ldplayer, Nox player, Memu player etc.
But I think, you won't get a permanent ban for this. You may get a ban until the current season ends. So if you ever tried using such tweaks, no need to go for an appeal. You won't get your account back until the ban period gets over.
#2:- Using AIMBOTS for accuracy
While using Assualt Rifle guns with long scopes, you will definitely have seen the recoil. While you shoot a target in burst mode, the aim will change due to recoil. You won't see this by using a sniper gun because they have the least recoil and burst mode is not possible.
AIMBOTS are being used in PUBG Mobile to reduce the recoil and if you shoot a target with 6x scope using an AR gun it won't recoil. That means you can shoot a long distance target using a 4x scope or 6x scope without getting recoil same as you do with a Red Dot or a 2x scope.
I don't think Tencent have a soft corner for these hackers and the result will be a permanent ban. If you have used any aimbots, no need to go for an appeal because you won't get your account back.
#3:- Using Wall Hack for seeing Enemies
This is yet another hack that will result in a permanent account ban. This trick is used to find the hidden enemies behind a wall, people laying down in the grass, hiding behind a tree etc. In normal condition, for eg: at the final circle, there will be many enemies hiding in the grass. It will be very difficult to detect them until they make a firing sound or any sort of movement.
But using this hack, you can see enemies in red color even if they hide behind a tree or hide inside a room. You can finish them easily using this tweak. Many Reddit users have reported that they have received a 10-year ban (almost lifetime ban) for using this trick. You won't get your account back if you have used this at any point of the game.
#4:- Using Antenna Hack
This is another hack similar to Wall Hack. This trick is also used to find hiding enemies. While using this trick, you will see a long antenna attached to enemies head. So instead of searching for the enemy, just look above and you will see long antennas moving.
This trick will also result in a permanent ban and you won't get a positive reply if you go for an appeal.
Conclusion
To maintain fair play, Tencent team started following strict actions against the cheaters and hackers. They are temporarily or permanently banning players who violate their terms and conditions. During every Royal Pass season, they gather information about the latest hacks and patch them in the next update. Players who follow the old tricks were the prime target.
Once you receive a ban notification, there is nothing more to do. Only possible solution is to go for an appeal. But this won't give you a positive reply if you ever tried any of the above mentioned cheats.