PUBG which is expanded as PlayerUnknown's BattleGrounds is an interesting game which took attention of audience recently. It is an online multiplayer royale and it has made youngsters spend their time gaming. All most every young generation is behind the exciting game of adventure and battle. The game has crossed the best selling figures during these days. No matter in which platform the game is being played, it brings an exquisite experience of gaming. PUBG is simply loaded with exciting features. Breathtaking graphics, superior quality or its first-rate features, PUBG is the complete totality of all these things. Interestingly, every potential PUBG delivers are of outstanding quality. Hence there is no room for doubt regarding its wide acceptance.
Playing PUBG in mobile allows you to enjoy gaming anywhere of your busy day. But, it brings a seven-heaven experience while you are gaming on a personal computer. We all know technology and gaming industry goes hand in hand. The introduction of emulators is a good example of this. With the aid of emulators, one can play the games in widescreen. Different emulators have different functions and features. You have to make some compromise in certain emulators. On the other hand, some emulators completely support every control. I have made your work easier and simple. Here in this article, you can get the best 5 emulators for PUBG mobile.
Best PUBG mobile emulator With Smooth graphics and advanced controls
#1:- Tencent Gaming Buddy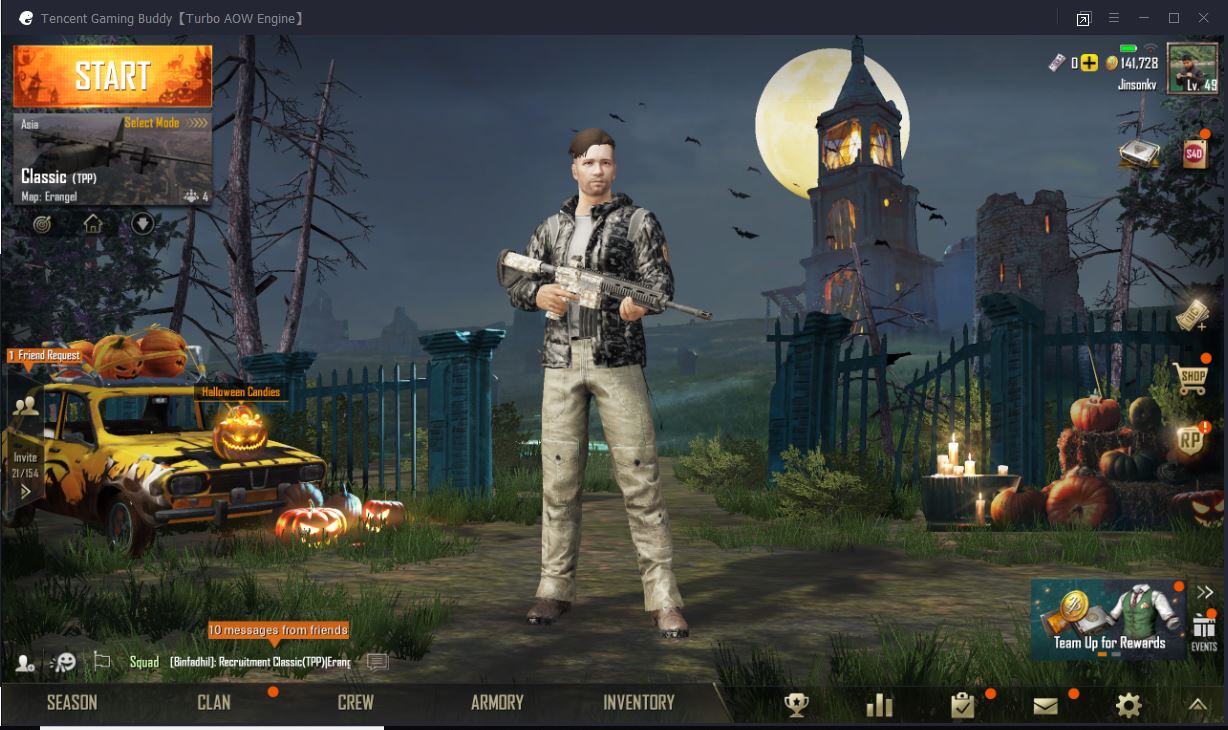 The Tencent company bring the exciting PUBG mobile emulator. It is called Tencent Gaming Buddy. This is going to be my first pick from the market. The emulator enables users to play games easily on their devices. Moreover, it will work flawlessly with mouse and keyboard controls. Additionally, the use of the tilde button helps you in a great way. It is now easy for players to move back and forth from the direct controls. If you don't know the keyboard command, you can easily shift to the mouse pointer. This will enhance the gaming experience for sure. At the same time, users have to fiddle around to choose the best layout of their interest.
The performance of the emulator is astounding. It plays under 60fps in greater settings for certain. At 1080p graphics, users will get an amazing experience of Tencent Gaming Buddy. Altogether, the framerate quite acceptable at this stage. Even though there are areas of a little janky, you certainly get the best experience of gaming through this emulator. In addition to this, one can select the settings and configurations. By doing so, a stunning experience of gaming is achievable. It replicates the feeling of playing PUBG on mobile. Just a difference; a bigger screen is always present to excite you.
This emulator comes in the top because this is the official PUBG mobile emulator. Unlike other emulators, it won't use 100% CPU or RAM.
#2:- LD Player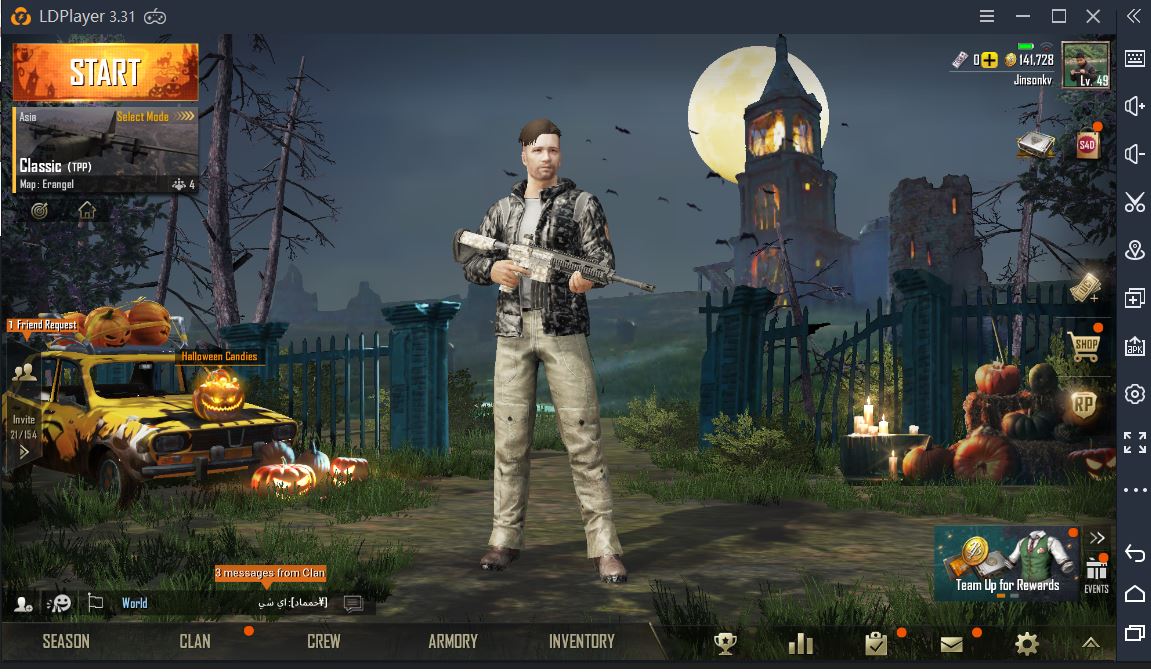 LD Player is the new PUBG emulator and is the fastest of its competitors. It uses kernel-technology which is world leading. LD player has the greatest stability and enhanced performance in contrast with other emulators. The operating speed of this particular emulator is very haste. The emulator brings utmost comfort while you are in the driving seat. Now it is easy to enjoy gaming with mouse and keyboard. Besides this, LD player operates smoothly and conveniently. You are now a seckill warrior with the aid of LD player emulator.
Moreover, the multi-windowing ability of LD player is also amusing. One player can play different games at the same time without any restriction. The wayward feature is also impressive. It can be treated as a new King of performance. Although the emulator suits best for PUBG, one can also enjoy various other games. Hence, the compatibility is also outstanding. Users can get a wonderful experience as the emulator is stable in operation. Smooth control and well-organized operation are quite bewildering for PUBG lovers. For a wider screen and swift operation, this particular emulator is a great blessing.
Personally, I use LD Player instead of Tencent Gaming buddy. This is because it is possible to bypass emulator detect warning using LDplayer and we can match with mobile gamers. It also provides almost all features that Tencent gaming buddy provides.
#3:- Nox Player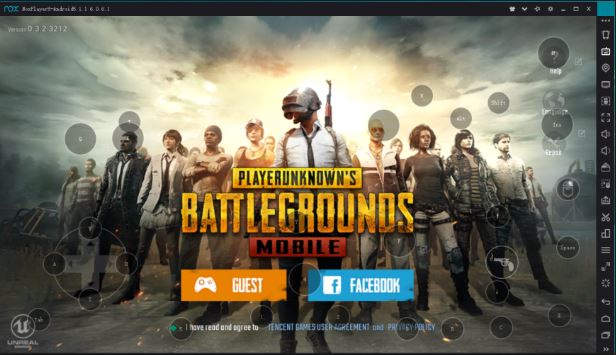 Nox Player is yet another emulator which enables you to play PUBG. A stunning experience is achievable by using Nox Player as an emulator. One can play PUBG mobile on the computer with great comfort. It provides an outstanding Android experience on your PC. This is the perfect Android emulator to play warrior games. Users can enjoy a smooth gameplay by using Nox Player as an emulator. Moreover, it has strong compatibility and exclusive skins. Additionally, this stuff enables users to map out the keys to perform android functions.
Besides all these, the Nox player uses the stock version of Android to enjoy gaming. You might be knowing this version is just intended for gaming. The emulator is fast, stable and reliable. Interestingly, the emulator supports gamepad, script recording, and keyboard. You can find these features in the toolbar. Everything is possible with Nox player. One can use all the listed features simultaneously. The multi-instance feature offered by this emulator is mind-boggling. I can say Nox player is one of the best if you love to enhance your PUBG experience.
#4:- Memu Player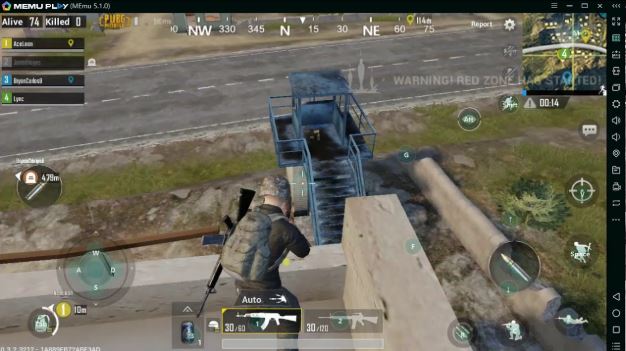 According to its CEO, Memu player is the stable and most reliable emulator to play PUBG. One can take numerous features of PC gaming with this emulator. It is the latest version of Android emulator. A plethora of features is there for this emulator. As an example, users have the choice to use 'F' to do multiple things. They can pick a weapon, throw a grenade or even drive with a single key. There is an option to switch to DirectX for advanced users. Additionally, the great mapping features are also quite remarkable. Besides this, Memu player enables users to view games on a wider screen.
The battery life is notable and players can have a great time on this emulator. Moreover, users can enjoy gaming in multiplayer mode. They are also allowed to log on to different accounts at the same time. What's more, users enjoy different games simultaneously. Furthermore, players can have a better gaming with unique keyboard mapping. Joystick mapping is yet another feature of this emulator. The third party benchmark software proves the highest performance of Memu Player. On top of that, precise and accurate gaming can be done with Memu emulator. There is no question about the features. Hence, this will not be a bad option for my dear PUBG lovers.
#5:- BlueStacks
BlueStacks is the most common emulator for game lovers. Quality and reliable service are always the assets of BluStacks. Now it is easy for users to get a wonderful experience of playing PUBG. However, there are complaints regarding its performance in recent times. But there is no question about stunning features of BlueStacks. Most of the Android games run on this emulator swiftly. This might depend on your Android specifications. It mimics the interface of Android device with ease. BlueStacks will run your PUBG game smoothly.
Besides this, users can download installed APK files and Android games. Thus the emulator has the greatest compatibility for games and applications. Moreover, it enables the integration of gamepads. Hence users can incorporate gamepad features in BlueStacks. Meanwhile, the BlueStacks comes with both free and paid versions. As expected, free version annoys users with ads. But paid stuff has hardly any ads. The emulator increases accuracy, reliability, and smoothness of playing PUBG. Additionally, this stuff is compatible with Windows and iOS. You are never left behind while using BlueStacks.
Using Bluestacks as a PUBG mobile emulator is not highly recommended. This it is still in beta stage and you won't get a good control over the game like other emulators. Anyway if you are interested, please do a try.
Conclusion
The list I have mentioned can deliver you utmost comfort. If you really wish to enjoy PUBG, you have to use any of these emulators. If you ask me for a final word, I would say Tencent Gaming Buddy is a great option. The speed, efficiency, graphics, and reliability always amused me. There are small bugs but can be neglected as we are getting a good meal with the same. I suggest my readers to comment names of those emulators which you are using. I will certainly have it reviewed. Why waste time, be a skillful warrior and enjoy PUBG!