Game lovers differ in their preferences, but anyone who will go as far as investing in a game room is definitely serious about their gaming. Setting up a game room means being able to find not just the right system, but also the best gadgets and technology.  
If you are looking for cost-effective ways to create a game room, it is advisable to look for the best game room accessories that would be efficient and long-lasting. There are many things to put into consideration and the first is your budget. 
Some game rooms cost as much as a hundred thousand dollars, but you can set up a game room on lower budgets as well. We will share on the average price for most game room necessities so that you can plan your game room accordingly.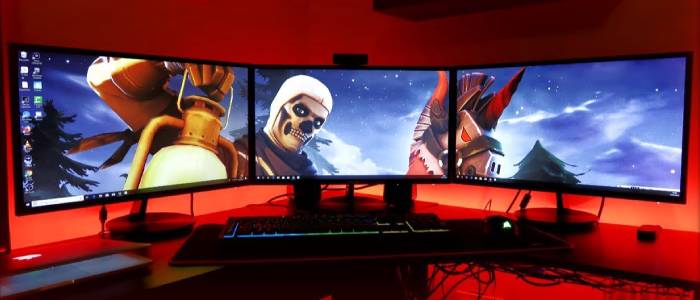 Consider Your Space For a Better Gaming Experience
You need a good space, wide enough to allow you to fit your system and other gadgets. This will also give you the convenience and freedom to play. While the price of the room isn't necessarily included in the cost of setting up a game room, you should consider how much space you have first and where you'll fit all your gear.
Game Room Gadgets and Cost Details
We'll break down the basics you'll need for a game room and the average price range of each, so you can plan your game room with a budget in mind. 
#1:- Gaming Computer 
Yearly, computer manufacturers churn out different models of computers with amazing specs and a variety of functionalities, however, not all are suitable for gaming no matter how perfect they look. What gives a gaming computer an edge over others is the graphics card, the RAM, and generally large storage. Some people using gaming laptops, while others use a gaming monitor and CPU set up. 
Computers considered top end for gaming must have high processors. In fact, that is one of the most important things to look out for in a gaming computer. Therefore, gaming computers with high core features such as the core i5 or i7 processors are ideal.  
The estimated cost of gaming computers ranges from $600 – $1500. If you are on a lower budget i4 or dual-core will serve you but might not give as much as the higher ones would. 
#2:- Gaming Router
If you're playing online, which most serious gamers are, you'll need a good gaming router. A standard internet router works fine for everyday browsing, but gaming requires extra strength and a strong internet connection to prevent lag that could be detrimental to your gameplay. The best gaming routers typically go for anywhere from $50 to $400, so there are great options regardless of your budget. 
#3:- Gaming Mouse
You need a mouse that has a very good grip. It should feel very comfortable in your palm. The most essential thing to put into consideration is the size, shape, and weight of the mouse. 
You should also consider speed as well; a mouse with good speed will prevent lag. The mouse differs and ranges from low, medium to high sensitivity and each works differently for game lovers. A quality gaming mouse typically goes for about 50 to 100 dollars, although good mice can be found for closer to $25 as well. 
#4:- Gaming Chair
Some game lovers can do with any office chair which does not do much in giving you that ecstatic experience of comfort. The gaming chair is ergonomic and takes it to another level. You have very good brands to choose from such as SecretLab, Omega 2020, and DXRacer, etc. The cost of gaming chair ranges from $120 – $369. Other game room gadgets every game lover needs include Mouse, headphones, and game controller.
#5:- Gaming Keyboard
A good gaming keyboard must have fast key actuation, and make typing feel great. It must not be stiff, else it would slow down the gamer's response rate. Some keyboards have RGB lighting and dedicated media controls which make them a good and make life easier. 
There are numerous gaming keyboard brands and some are, Corsair K63 Wireless, Razer Huntsman Elite, Logitech G513, and Cooler Master MasterSet MS120. The average price of the keyboard goes between $50  and $250.
Game Room Cost
Depending on your budget, your gaming room can be affordable or extremely expensive. On average, a gaming setup can cost approximately $1000 on a tight budget, but the average is closer to $3000. This is not considering the cost of the games themselves and other extras, but simply the cost of a computer set up, mouse, keyboard, router, and chair. 
You can choose to spend more or less on your game room depending on your personal budget, how serious you are about gaming, and other factors like your preferred system for gaming, tech needs, and more. Regardless of how much you plan to spend, we recommend checking reviews and making sure you buy quality gadgets – ultimately, it's better to splurge a little on a good piece of equipment that will last longer.