If you are a YouTube lover, you may have heard about YouTube premium. Every time you use a YouTube application, it will prompt you to subscribe for YouTube premium. YouTube premium was formerly known as YouTube red which allows you to access Youtube and YouTube music without any advertisements on any platform.
Following are some of the features of YouTube Premium.
No Ads:- You don't have to worry about the intermediate ads within a song, movie or playlist. By subscribing to premium, ads will be removed completely.
You can download videos:- It enables the option to download any video within your device. This helps you to listen or watch that particular video later.
Enable Background video play:- This is for mobile devices. You may have noticed that, if you minimize a playing video, it will pause automatically. By upgrading to premium membership, you can play any videos or songs in background mode.
Watch Movies and Series under YouTube originals:- There are thousands of movies and series under various categories and artists. You will get access to those videos using YouTube premium.
Even though YouTube provides these much of features in its premium version, many people still don't want to pay for it. So they look for offers and coupons codes for YouTube premium. There are many services providing YouTube premium coupon codes for 1 month to 12 months. Mostly it comes along with different products like Sandisk, Skullcandy, Flipkart etc. Whatever it is, many people are getting "Unexpected end of JSON input" while trying to redeem the code.
YouTube Premium Coupon Code Error "Unexpected end of JSON input" Reported to YouTube Forum
Hi,

This is regarding an error I received while trying to redeem a YouTube premium coupon received from Flipkart. I am a Flipkart Plus member and in exchange of Flipkart coins, I received a coupon code. As per the offer, I will get ad-free version of YouTube and YouTube Music for 6 months. It also mentioned that, the offer is applicable for new YouTube Red, YouTube Music Premium, YouTube Premium, or Google Play Music subscribers. After I received this coupon, I sign up for the premium version by connecting my Credit Card. Then I get a 1 month free subscription. After that, I went to YouTube Redeem page and enter my coupon code. When I provide my code, it redirect me to the same page which shows "free one month trial". I mean the one month trial period is not updating. If there is a solution please let me know.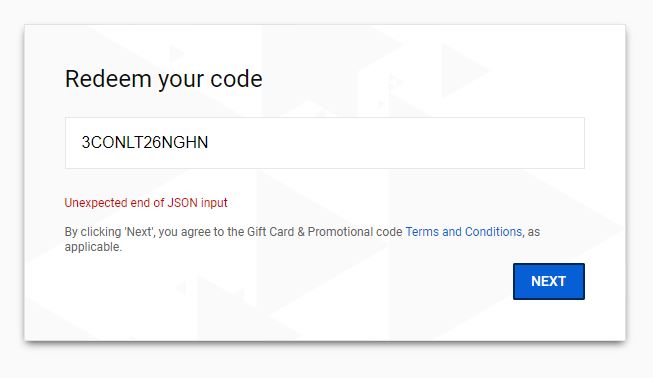 I waited for a couple of days but there was no positive reply in the forum.
Why YouTube Premium Show "Unexpected end of JSON input" error message?
The simple reason why people receiving an error when applying coupon code on Youtube is that they sign up for the 1 month free trial (currently going on) before applying the YouTube premium coupon code. If you read the Terms & Condition of the coupon provider, you will definitely see that "This coupon code should not be used with any other ongoing coupons, offers, discounts, cashback or promotions". But when you add your credit card before applying the voucher, you are getting 1-month free period which is an ongoing promotion.
So at that point of time, you will not get an extra 3 months or 6 months premium offer. So if you continuously try to provide the Voucher on the redeem page, you will redirect to the 1-month trial page. Then if you try to apply the code on another YouTube account, it simply shows "Unexpected end of JSON input" error message.
So one possible solution is to contact YouTube regarding the issue and ask them to do the needful.
Chat with YouTube representative regarding YouTube Premium Voucher issue

James C
10:28 PM
Hi! This is James C with the YouTube and Play Music Support Team. I'm reading over your request now.
James C
10:29 PM
Hi. I see this is about a promotional free trial for 6 months though Flipkart, but was only give one month. Is that correct?
Jinson KV
10:29 PM
Yes. i think because, i sign up premium using my card before using the Voucher.
James C
10:30 PM
I'm sorry this gave you a hard time. Let me help you with this.
James C
10:30 PM
Am I chatting with Jinson?
Jinson KV
10:30 PM
Yes
James C
10:31 PM
Hi Jinson. Hope your day is going well.
Jinson KV
10:31 PM
But after that, I go to redeem page and apply my Voucher. but it returns to the same 1 month free trial page. i got frustrated and canceled my premium.
James C
10:32 PM
Yes, I noticed that it was canceled.
Jinson KV
10:32 PM
I have the voucher with me now and I want to know is there any way I can activate 6 months premium
James C
10:33 PM
Give me 2 - 3 minutes to check this for you.
Jinson KV
10:33 PM
ok
James C
10:34 PM
Thanks for waiting.
James C
10:35 PM
As per checking on the account. Since this email account has already subscribe to YouTube Premium, this email is no longer eligible for the 6 months free trial.
Jinson KV
10:38 PM
I subscribed it on today without knowing the redeem procedure. During the sign up for premium, There was no option to apply the Voucher ( I expected that). Now the code is not working with other accounts. So I completely lose my money. I bought the code by exchanging coins on flipkart. Is there any way you can help me out?
James C
10:41 PM
I do apologize, I really don't have any control of this. The system already detected that your email jinsonkv10@gmail.com has already signed up for a free trial, so that means that email is no longer available for any free trials.
Jinson KV
10:41 PM
OK thanks. 😞
James C
10:42 PM
Wait.
James C
10:42 PM
Can you send me a screen shot of that?
Jinson KV
10:42 PM
screenshot of what?
James C
10:43 PM
The code that you receive from your email that was given to you from Flipkart.
Jinson KV
10:43 PM
yes
James C
10:44 PM
Great, I actually doubled check this with our product team so we can do something about this.
Jinson KV
10:44 PM
https://prnt.sc/ogwy37
Jinson KV
10:44 PM
Offer code 3CONLT26NGHN
James C
10:45 PM
Alright, thank you.
Jinson KV
10:45 PM
ok
James C
10:45 PM
Please hold Jinson while I do this for you.
Jinson KV
10:45 PM
ok
James C
10:46 PM
Thank you. Give me 3 - 5 minutes. I want to make sure you get what you deserve.
Jinson KV
10:47 PM
ok
James C
10:51 PM
Thanks for waiting.
James C
10:51 PM
I will go ahead and try to pull some strings here for you. But of course, there is no guarantee just yet. You will personally here from within 24 - 48 hours in regards to this matter.
James C
10:51 PM
Is this email jinsonkv10@gmail.com okay for us to stay connected?
Jinson KV
10:52 PM
yes
James C
10:52 PM
Great. Again it will be me to personally contact you about this.
James C
10:52 PM
Is there anything else?
Jinson KV
10:52 PM
Ok. Thanks for the support.
James C
10:53 PM
Thanks for contacting YouTube and Play Music. Have a great day.
James C ended the chat

I made a conversation between a YouTube Premium support member and here is the complete chat message. If you don't want to read the entire message, let me tell you the overall idea. The representative is not able to reinitiate the coupon. But he asks for 72 hours of time and will provide a reply. I am waiting for his reply and will update here once I receive it.
Finally Got My 6 Months YouTube Premium – Youtube Chat Support is Great
After 2 days, I got a reply from YouTube support team. They told me that, they have added an additional 5 months trial period for my premium account. Here is the email I received after 2 days.
Hi Jinson,

I hope you're having a nice day as you're reading my message. I'm Angel with the YouTube Support, and I'm chiming in for James because he's out of the office today. He made sure that I'll continue taking care of your case while he's away.

We reached out to our specialists about your concern and we're happy to extend your 1 month trial to 5 more months so that you can still get 6 months of free YouTube Premium! For us to apply the added 5 months, please sign up again to YouTube Premium using an Android device or computer. Once you have an active service again, let us know and we'll add the extra 5 months to your account.

If you have other questions, please feel free to reply and we'll assist you further.

All the best,

Angel L.
The YouTube Team

Conclusion
So once if you mistakenly apply the Youtube premium voucher, you will not able to retrieve it back. Even the YouTube representatives are not allowed to get back what you deserve. So if you get another coupon code in future, make sure you use it against a YouTube account which has not applied for Premium package before. Also, make sure you visit the redeem page before connecting your account with a credit/debit card.
You can ask your queries below and we will try to reply you as soon as possible.