If you are an Apple product user, you might have seen many errors and warning messages related to the Apple App Store. People who are using iPhone and iPad may get this "Your Account has been disabled in the App Store and iTunes" error message if there are issues with Apple ID. There may be many other reasons for this problem but here I am gonna tell you why I got this problem on my iPhone and how I fix this issue.
Why I received Your Account has been disabled in the App Store and iTunes error?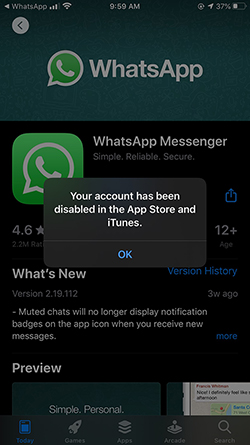 Most commonly, people get this error if they mess up with their Apple ID. Like trying the wrong password multiple times, issues with apple billing, etc. After having research I find out why I got this issue. For me, I was using multiple apple accounts. Let me clear it for you. A couple of months ago, I got some issues with my first Apple ID. Then I created a new Apple ID on the same device and started using like normal. But since the installed applications like Facebook, Whatsapp, etc are already linked with the first Apple ID, I got issues while updating them.
How to Fix this "Account disabled issue" on Apple App Store and iTunes?
#1:- Remove app & Reinstall from Apple Store
This is what fixed my issue. As I mentioned above, I was using an old Apple account when Installing Whatsapp, Facebook for the first time. Later changed the Apple ID which makes issues with the App Store. So I uninstall these apps and installed a new version from the app store.
Will deleting the apps delete the data?
Of course, it will remove the entire data from your device. You don't have to worry about Facebook, but for Whatsapp, all data are stored on your account itself. So If you uninstall it, every picture, videos will be deleted. To overcome this situation, the only possible option is to connect with the old Apple ID and have a backup.
#2:- Try contacting Apple Support Team
If the first method won't work for you, then the next option is to connect with Apple Support care. This is also the solution mentioned in the apple support forum. Just follow the steps below.
Visit Apple Support Forum.
Click Schedule a Call.
Log in with your Apple ID and Password.
After login, provide your mobile number to receive a callback.
In normal cases, you will get a callback within 2 minutes. Just tell them what's happening with your mobile. They will have a detailed checking and tell you what to do next.