The Lord of the Rings Online also known as LOTRO is a multiplayer online role-playing game. The game was developed by Turbine, Inc and is available on both Windows and Mac platforms. The game is available in a Massive Multiplayer Online (MMO) format where the player can move across the world and interact with other players. The character can improve skills by completing quests, defeating enemies and by equipping items.
Even after few years of the initial release, the game still stuck on its launcher menu once a patch update is available. Many users are still commenting about the "An update error occurred" error message while updating the game. They also see a warning message "PatchClientDLL::CheckDatfiles Failed. [Unable to decrypt and de-serialize the data" during the installation of the patch file.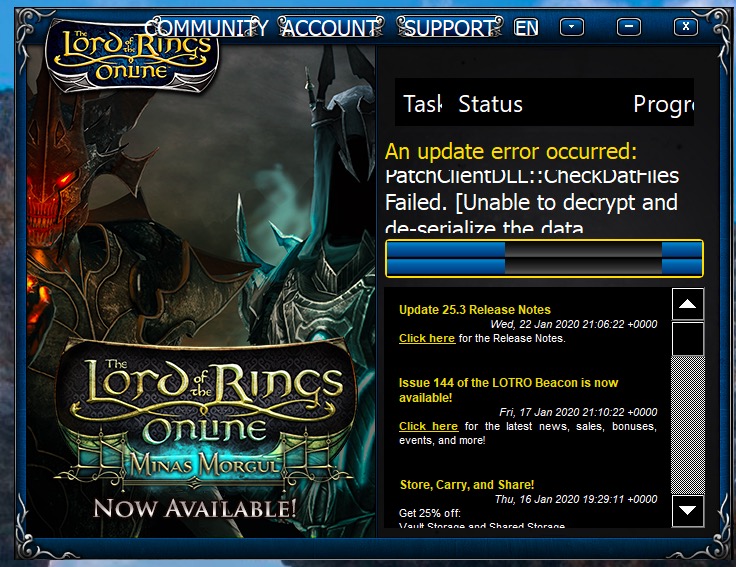 How to Fix "An update error Occurred" – The Lord of the Rings Online Game
We received an email from Jonathan regarding this error message.
I am sending this mail after seeing many error solutions mentioned on your website. I am a huge fan of Lord of the Rings books and the LOTRO game. After getting the January 22 patch update, I am not able to login to LOTRO game. Everytime, I launch the game, after some time, it is showing  "An update error occured" error message.

I posted this errors on Many LOTRO forum and lot of people are getting the same error. However, others don't have this kind of issues. I am playing this game for last couple of months and I am afraid whether I loss all my progressions. If you have any kind of suggestions or solutions, please add it on the website. I already have read through many suggestions from other websites but many of them seem dated or have not worked for me.

Following are my PC specifications

Windows 10. NVIDIA GEFORCE GTX 1650 

Lenovo Laptop Ideapad L340 Gaming 81LK00NRIN

Processor: Intel(R) Core(TM) i7-8650U CPU @ 1.90GHz (8 CPUs), ~2.1GHz

DirectX Version: DirectX 12
#1:- Do a clean reinstall
The amove mentioned error is not an issue for all of LOTRO users. So there will be no official notification or fix for this problem from the LOTRO team. All you can do is to perform a complete reinstall. From the error message, it is clear that you are having a problem with DAT files.
Also if you are installing the game using the steam launcher, please try it from the LOTRO official website. Many people have reported that they were able to play the game without any issues through the LOTRO website.
Do you have any other suggestions or tips to fix this error? Please comment it below and we will add it to this list.