Hi everyone, today I am with a new bug solution. This time its not for Windows but for the smartphone giant Apple. We had told yesterday that, Apple new OS is too buggy and not at all user friendly. Today I noticed that my iPhone 8 which I had updated yesterday running on 11.0.03 is showing some predictive text error. I noticed it after sending some serious message to my friend. Every time, I type "I", it is automatically predicted to "A [?]". Yesterday, I didn't take it seriously and I thought that, it may be other reason for such conversion and I thought that, it was only for my. unfortunately my friends don't have an iPhone 8 to check whether they have this issue. Finally checking for iPhone X reviews in Apple forum, I noticed the same issue was posted by another iPhone 8 customer.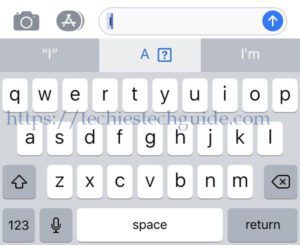 So this is not an issue for one or two customers. Most users with iPhone 8 running on 11.0.0.03 have this issue. Lets check out what others says about this.
I am having serious issue while sending email. Last day I send an official email and didn't do a proper check. All the letter "I" was turned to "A [?]". I noticed only after the mail is send. OMG, that mail was not too important. I have iMac with latest iOS version. Waiting for the reply from Apple representatives.

– Stephen
Working but difficult solution for "I" to "A [?]" – A with Question mark
So here is the one and only one quick solution. Try Gboard instead of default Apple keyboard. Google's keyboard, named as Gboard on Apple store, offers some features that are pretty useful and with some advanced features. This includes built-in search functionality, adding emoji and GIFs. Here's how to set it up and use it.
Go to App Store and install Gboard.
Go to Settings
Then General Settings
Click Keyboard
Then Click Keyboards
Add new Keyboard
Choose Gboard
I know this solution is what you were expected. But not only this one works for you. I had made a call to Apple Customer care and told them about this. They remind me that this bug has already been notified by Apple and they will roll out an update soon.
So guys what you wanna say about this? Just post your comment below. Thousands want to hear from you.