Physics loving gamers might have heard about Happy Wheels game. This is a physics-based browser game developed by the American studio Fancy Force. The game has several characters having a different or sometimes similar vehicle to move throughout the game levels. You have to play the game based on each character's features and how their vehicle performs based on physics. You can play the full version of Happy Wheels on the official website and can access the demo version on unofficial websites.
The game begins by selecting your favorite character. Wheelchair Guy, Segway Guy, Irresponsible Dad, Pogostick Man etc are some of the popular characters. Each of them has a default vehicle to play the game. Once the game is started, users can control the movement of the characters and the ultimate goal is to reach the finishing line, collecting tokens or activating a trigger that makes victory. Many reviewers had mentioned that the game exhibits graphic violence due to the character's death by shot and crush by game obstacles.
Unblocking methods of Happy Wheels game is similar to how we unblock Super Smash Flash 2.
Happy Wheels Unblocked – How to play the game if it is Blocked?
Since this is an addictive game, most schools, colleges, and offices block the access to this game on their network. Your network admin will figure out what games are usually playing on the network and block them one by one. If so, the website will not be available or show some errors. You can still access the game if it is a flash content issue or issue with a particular URL.
#1:- How to access Happy Wheels Unblocked on your browser if it is a flash issue?
Flash content issue is the main reason why most players getting an error while accessing the happy wheels unblocked game. As you know, it is a flash game that will run only on a web browser and your browser should support Flash in order to play the game. Most of the browsers including Google Chrome is withdrawing support to flash content since the popularity of flash player is diminishing day by day. Unlike a few years back, the default browser settings on Chrome won't allow you to run flash content by default. You have to enable it manually for every website in order to run flash games. Follow the steps below to unblock happy wheels by enabling flash support on your browser.
Step 1:- First of all, click on the "View site information" section in the address bar. This portion is right to the reload button and left to the URL section. If it is an HTTPS website, you will see a padlock icon and for unsecured HTTP website, you will see a not secure warning (In latest Chrome). Once you click on that portion, you will see a couple of options.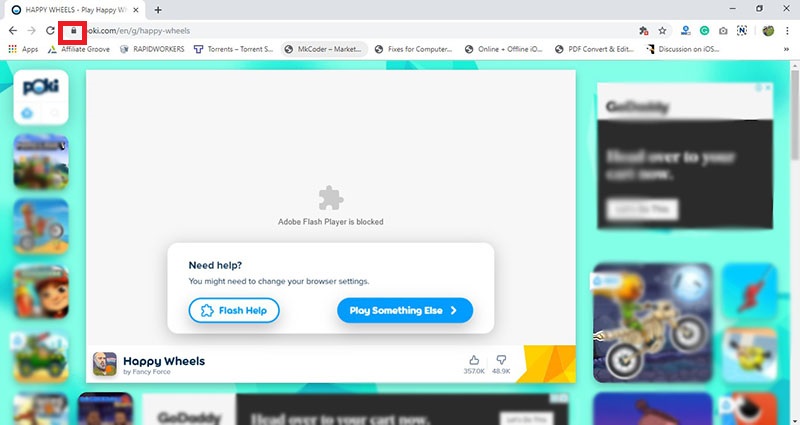 Step 2:- You can see site settings option on the pop down. Click on that.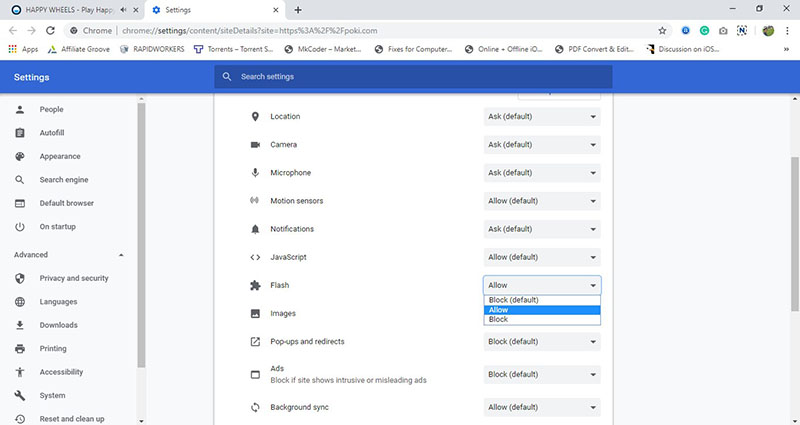 Step 3:- You will see the flash option under site settings. By default, it will be selected as "Block". Change it to "Allow". Open the game page again and reload the page to save the settings. Now you will be able to play Happy Wheels without any issues.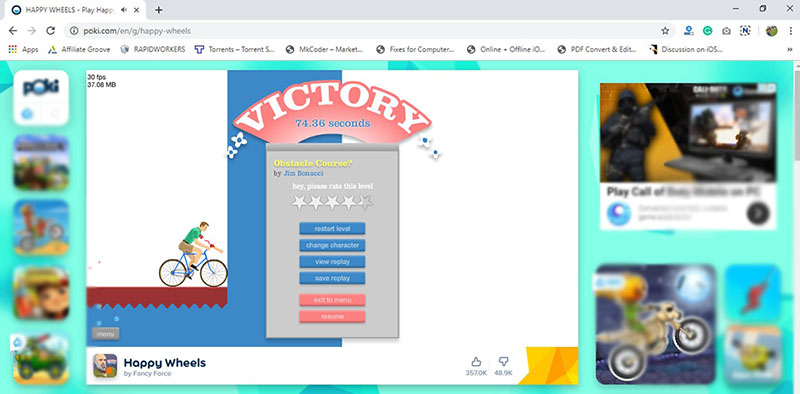 NB:- You cannot follow these steps for all kinds of blocking. It means this method will work only if you are not able to play the game because flash contents are blocked. There are other types of blocking procedures out there to block happy wheels. Read the following tips also.
#2:- How to play the game if the game Domain is not accessible?
If your network admin is clever enough, he will block websites that host happy wheels game. Means, if you try to load those URLs on your browser, you won't be able to open it or receive an error. There are many networking tools available for this. Even they can do this on a Wi-Fi router.
The following are some of the websites that have this game. You can try opening all the links mentioned below and check whether it works for you. In the following list, the first one is the official one and you can play the Happy Wheels Unblocked full version through that page only.
http://totaljerkface.com/happy_wheels.tjf
https://www.miniclip.com/games/happy-wheels/en/
https://poki.com/en/g/happy-wheels
https://www.crazygames.com/game/happy-wheels
Here we are adding a few other links where you can play the game. This is not an official one, but it still works for you.
https://sites.google.com/site/subgfyfs/happy-wheels
https://sites.google.com/site/tyronesgameshack/happy-wheels
https://fullhappywheelsunblocked.com/
https://happywheelsunblockedfull.net/
Conclusion
These are the two options to play the happy wheels game online. Currently, there is only one website providing the full version of the game. So if the official website is not available, then you can access the demo version only. If the official website totaljerkface is not available due to flash issues, kindly follow Method 1.
If you know any other unblocking strategies, please comment below.