As the name itself represents, Google Photos is a photo sharing and cloud storage service developed by Google Inc. Using Google Photos, you can upload your photos and videos and access them later. You can upload the media either in compressed quality and in original quality. If you choose to compress quality, you can upload any number of photos and videos less than 16 megapixels resolution and 1080p quality. If you choose original quality upload, it will take storage space from your Google Account.
Google Photos is available through the Web, Windows client, and also via Android and iOS apps. If you are on the web version, you can easily manage the photos using Keyboard shortcut keys. Here is the complete list of Google Photos keyboard shortcuts.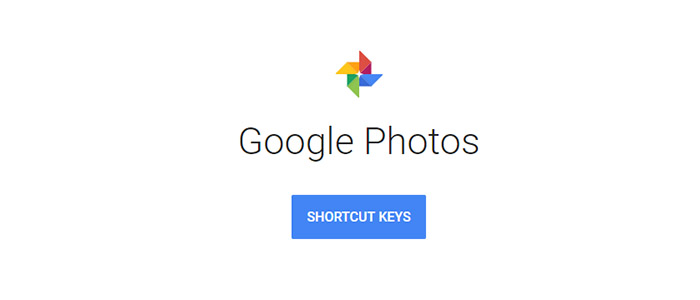 All Google Photos keyboard shortcuts – Complete List
Here are the general Google photo shortcuts. Unlike other shortcut keys, these are the most common and most useful keyboard shortcut keys while using the web version.
| Keys | Function |
| --- | --- |
| Left Arrow | Previous Photo |
| Right Arrow | Next Photo |
| X | Select Photo |
| / | Search For Photo |
| Esc | Back, close or deselect a photo |
| ? | Show Keyboard Shortcut Keys |
| o | Show Original Image |
| a | Auto-enhance photo |
| # | Delete Photo |
| e | Edit Photo |
| z,+,- | Zoom In |
| i | Show/Hide Information |
| f | Add to Favorite / Remove from Favorite |
| Shift+R | Rotate |
| Shift+D | Download |
| Shift+A | Archive / UnArchive |
While using the edit feature, you can crop the image instantly using the R button. That means pressing E followed by R will let you crop the image.
Google Photos keyboard shortcuts Explained
If you still don't know what these shortcut keys means, here is the detailed explanation. Just read it to under what function each key do.
#1:- Left Arrow and Righ Arrow
This is the most common using Keyboard shortcut key. This helps you to navigate between photos on Google Photos. For example, if you have hundreds of pics on your account, it is difficult to click and navigate between images. Instead, you can use Left Key to view the previous image and Right Key to view the next image.
#2:- Forward Slash (/) To search Image
Another important key is the forward slash(/). If you have hundreds of images on your account and want to search for a particular photo (You should provide some keywords to see in the search result), you can make use of this search feature.
#3:- Select Photo (X)
This shortcut key is used when you want to do a particular action on some photos. For example to download multiple selected images, To edit images, to edit location, to archive, you can use the Select photo shortcut key. You can deselect the selected photo using the same key X.
#4:- Esc Key
Esc Key do a lot of functions. If you want to deselect a selected photo, you can use the Esc Key. Also to go back from a photo, this shortcut can also use.
#5:- E for editing the photo
Google Photo is rich with so many filters and editing options. You cannot edit multiple google photos at a time. To edit a photo, simply press the "E" button. You can also adjust the color, Light, Pop, and crop the image using the editing tool.
#6:- (?) for getting the keyboard shortcuts
If you ever forget the keyboard shortcuts, you don't have to come here again. instead, press the ? icon on your keyboard which will list every shortcut keys and its features.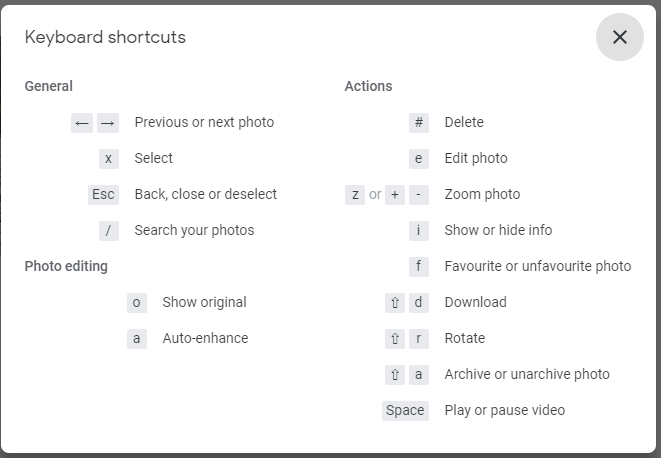 #7:- "a" to show original Image
Once you start editing your image, you can see the original image by clicking the key "a". Thus you can easily understand the difference between the two images.
#8:- Delete Photo using the # key
While navigating through your photos, do you want to delete some particular images? If so, press the # key and you will get a warning if you are deleting for the first time. The warning mentions, Items moved to the bin will be removed from the photo library, synced devices and shared albums.
#9:- i to hide/show information
To know more details about the image, press the "i" key on the keyboard. It will show details like description, photo date, photo size, resolution and the location where the photo was taken.
#10:- f key to add photos to favorite list
If you want to add your images to a favorite list, you can simply press the f button. This is a good tool if you are browsing through thousands of photos using the arrow keys. Later you can watch the favorite list and edit them if necessary.
Conclusion
Keyboard shortcuts are lifesaving inventions for hardcore computer users. Even it is for a small application, it saves a lot of time. Here in the case of Google photos, a user can save enough time by understanding the shortcut keys. Google Photos has no complex set of shortcut keys and the total shortcut keys are less than 20. You can learn them within 5 minutes.