Last day while trying to download an important song file from Google Drive, I got a warning message. The error clearly stats that, I can't download it because of the download limitation. Here is the full message I got from Google Drive while downloading that particular file.
You can't view or download this file at this time. Too many users have viewed or downloaded this file recently. Please try accessing the file again later. If the file you are trying to access is particularly large or is shared with many people, it may take up to 24 hours to be able to view or download the file. If you still can't access a file after 24 hours, contact your domain administrator.
There is nothing to deep think about this warning message. It is simple and straight forward. There is a limitation for Google Drive users to share their files with the public. If thousands of people download or access the file within a certain amount of time, Google will automatically block it. Probably for 24 hours. You can try downloading the file after one day.
But this is not the right solution. If the file is somewhat popular and linked to other portals, you may need to wait more than one day to access it. Sometimes you have to wait for a week to access it. Also, there is a chance for the file getting deleted by the owner for other reasons.
So today we are going to solve this google drive issue with a simple trick. A video is attached at the bottom of this article. It helps you to get a clear understanding.
[Solved] You can't view or download this file at this time – Google Drive Error

Step 1:- Go to Kiuna.net
Step 2:- Log in to Kiuna with your Gmail Account
Step 3:- Now Copy the id of Google Drive Link which you want to download.
For Eg: My target Google Drive link is
https://drive.google.com/uc?id=1SZJbfiQt4ckmqL7xtI5gGPiK3G5H8b8_&export=download and that red portion is the id of the link.
Step 4:- After login to kiuna, Click on its home page. There you can see the option to paste the ID as shown below.
Step 5:- Paste the ID from Google Drive Link along with the mentioned URL just after "Contoh"
Your Final URL will be like https://docs.google.com/uc?id=1SZJbfiQt4ckmqL7xtI5gGPiK3G5H8b8_

Step 6:- Click on the "Upload" Button.
Step 7:- On the very next page after clicking the upload button, there will be a link with the file details. Click on that.
Step 8:- now you could see the Direct Link of the file to download. Copy that Direct Link URL and paste it on your browser.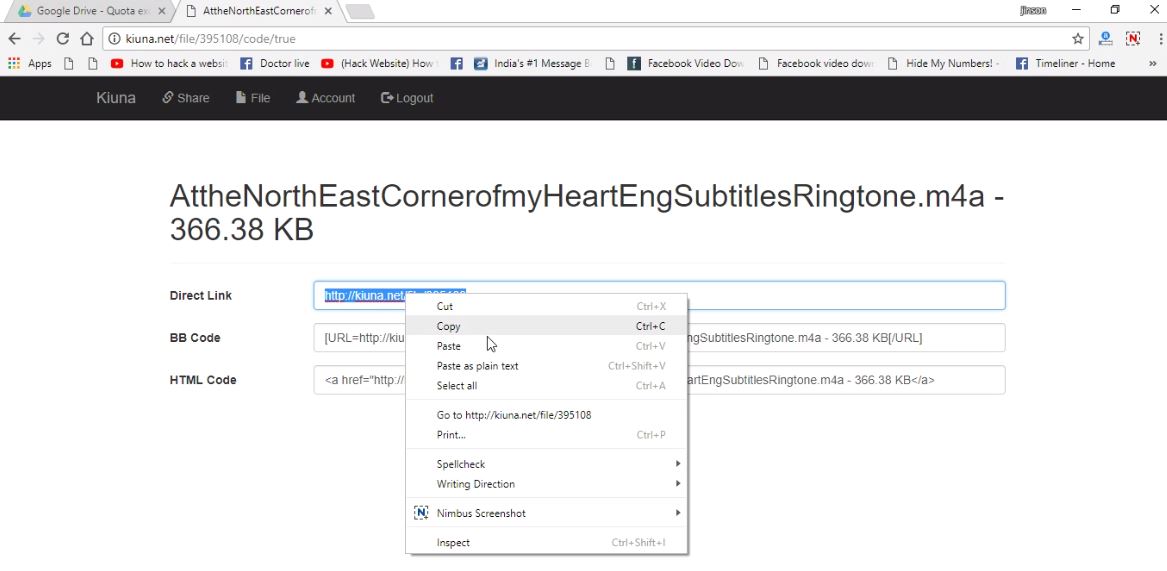 Step 9:- There you get the download link of the Google Drive File.

Un-Authorize Kiuna from Google Apps [Optional]
So you have successfully downloaded the desired file from google drive. Now the next step is to un-authorize the Kiuna app from google account (We use Google Account to Login to kiuna in the first step). This is to protect your Google Drive files from unauthorized access. Not necessary but many of you may have thought, Is it necessary to log in with Google account for download files using kiuna. So leave all the trace behind.
There you can see the apps which you have given permission to access google account.
Look for Kiuna and click on it.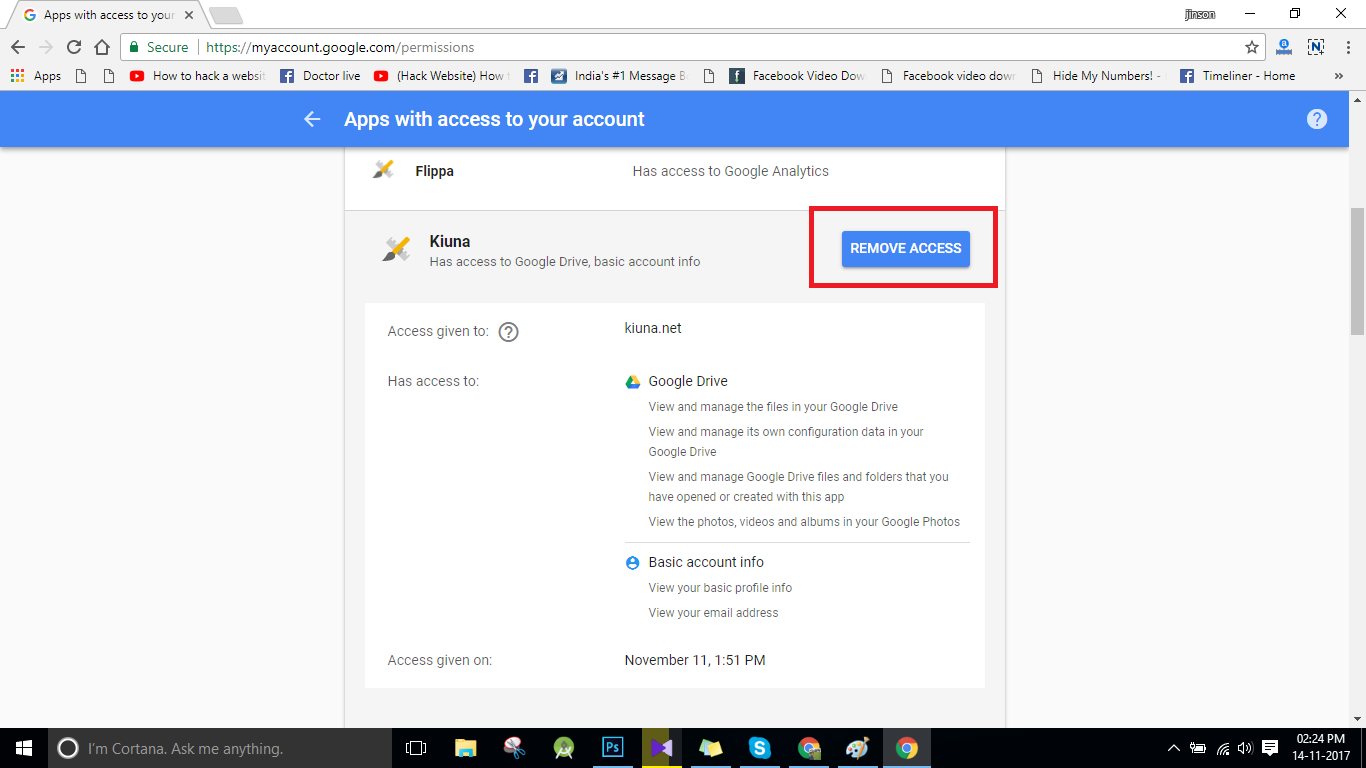 NB: This step is not mandatory and only for those who are not trustworthy about kiuna.
Watch How to Solve "You can't view or download this file at this time" issue in Google Drive
Here is the video guide showing how to solve the above google drive issue. Those who are worried about the steps can make use of this video.
So guys hows our guide? Do this help you to solve your issue? We are waiting for your comments. If you like, please follows us through our social media accounts.