Right after PUBG mobile official updates, many gamers complain that they can't team up with their game mates because of different game version. The most recent PUBG game update had happened on 19th September 2018 and many users face this issue. Even though they download the recent version of PUBG mobile from the app store or play store, they may have not received the internal update.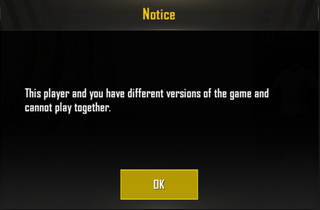 Reason Why it shows "different versions" error on PUBG Mobile
As I mentioned above, the reason behind the "This player and you have different versions of the game" error is because you are your friend are using two different version of the game.
Oh! Wait. We both downloaded the game yesterday right after the update. But still showing the error. Then how it would be a different version error?
Ya. I know most people have the same doubt. Here the update I mean is not what you get from either play store or from the app store. PUBG mobile is a client-server synced game which requires an active network connection each moment. Any minute updates made by the PUBG team will be received on your mobile like you get the software update for your mobile phone.
Let me come to my point. A major update (0.8.1) has been rolled out on September 19 and it may take a few hours to receive globally. Also, some OS may get the update quicker and some OS may get it later ( I mean android and iOS).
So how to solve this error?
All you have to do is to wait a few hours to get OTA update on your mobile. As I mentioned above, you may get the update after a few hours than that of your friend. Within that time if you try to connect with your friends, it will definitely show "This player and you have different versions of the game" error message.
Also if you are using an outdated version of PUBG mobile, go to Play store or apple app store and update it with the recent files.
Hope you understand the reason behind this issue. We have written articles related to PUBG mobile including the emulator bypass trick. Just browse through the contents if you have time.
Also if you have any doubts related to PUBG mobile and its updates, kindly drop a comment below. We will reply you within 24 hours.