You may have heard the term dual audio tracks or multiple audio movies. Dual audio tracks are inserted mostly in movies for watching the movie in different languages. This is very helpful for those who don't understand a movie or video original language. This is not a new technology or term but has been using in many movies for years. You will get the dual audio version of almost all movies which are available on Internet
This is a very helpful option if you are not comfortable with many languages. Usually, movies with dual audio come with the domestic language in which the movie has taken and also includes another language. For example, you all are familiar with German TV series Dark. This is originally released in German language but most of you have seen the movie in the English language. This is because corresponding English track is added along with the German audio track. In such dual audio movies or videos, you can change the audio language anytime you want.
All modern video player tools support multi audio tracks. It doesn't matter what device are you using. You can change tracks on Android, iOS, Windows etc. Here we listed all popular video players and the corresponding way to change the audio tracks easily.
How to Change Multiple Audio Track in KM Player?
K-Media player or KM player is one of the leading media player available in PC. Initially, this was developed for Windows and supports almost all formats. Both VLC player and KM Player are in a tight competition to get new users. This was originally developed in 2002 and after 16 years, this is on the top list. Due to its regular updates, simple User Interface, and maximum functionalities, people prefer KM Player than any other leading media players. Once you try dual audio movies, you may not know how to swap the language. Here is the simple procedure to change the audio language in KM player.
Step 1:- Right-click on the Video which has dual audio support.
Step 2:- From the list Navigate to Audio. From there choose Stream Selection.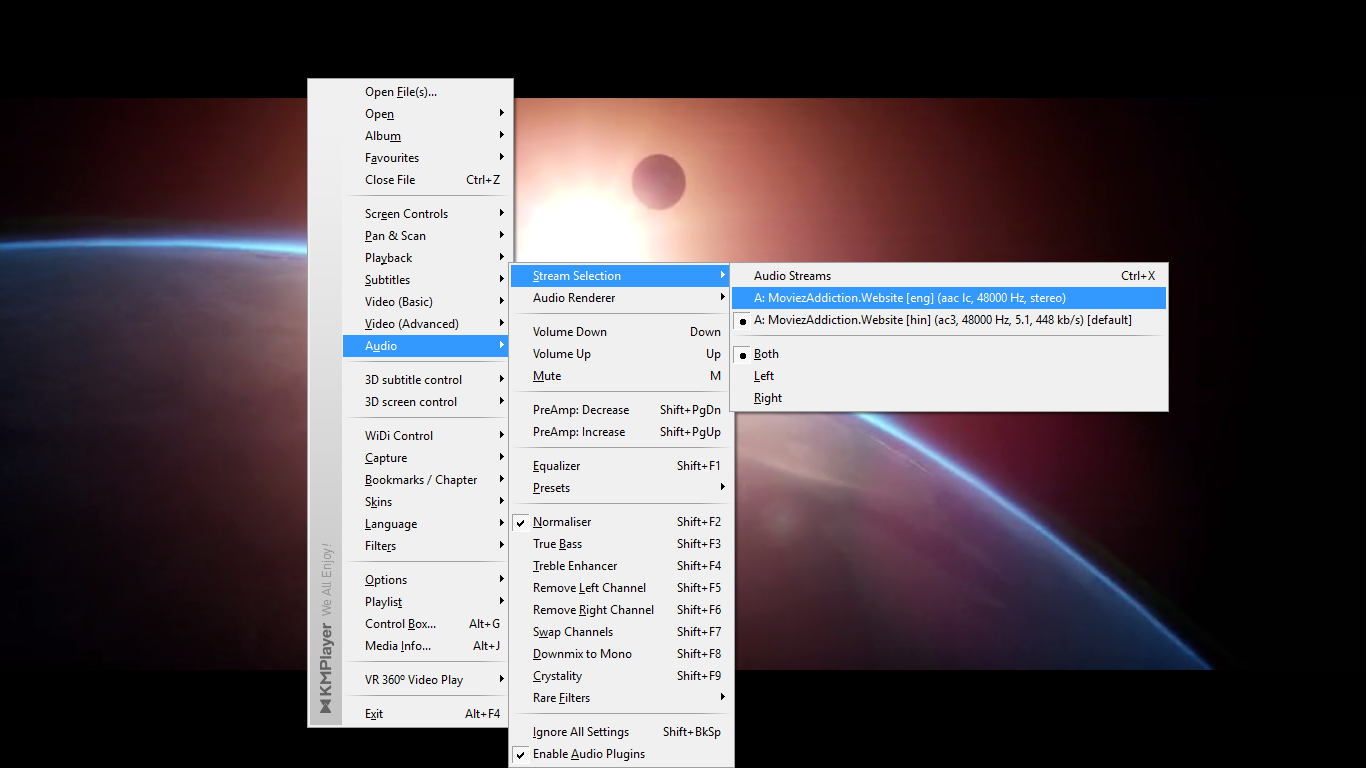 Step 3:- Under Stream Selection, you can see the complete Audio streams. Here is the above screenshot, there are two streams from which you can choose your favorite language.
How to Swap Dual Audio Track in VLC Player Android?
Those who love open source, definitely have heard about VLC Media Player. It is a free and open source application available in Android, Windows and for Mac. It supports almost all video/audio formats and network streaming protocols like HLS. There are many other features which makes VLC as the No.1 choice of Android users. Subtitle and Subtitle download option, Multi-core decoding, Audio equalizer option, Hardware decoding etc are some of them.  Hardware decoding is the option for getting better performance but not supported by all devices. Anyway, all latest models support this feature. Follow the steps to swap dual audio track in VLC player.
Step 1:- Open VLC Media player and Play any video which has dual audio support. On clicking the Video screen, you will see several options. One of the options is for Audio Management. As I marked below, click on the message icon.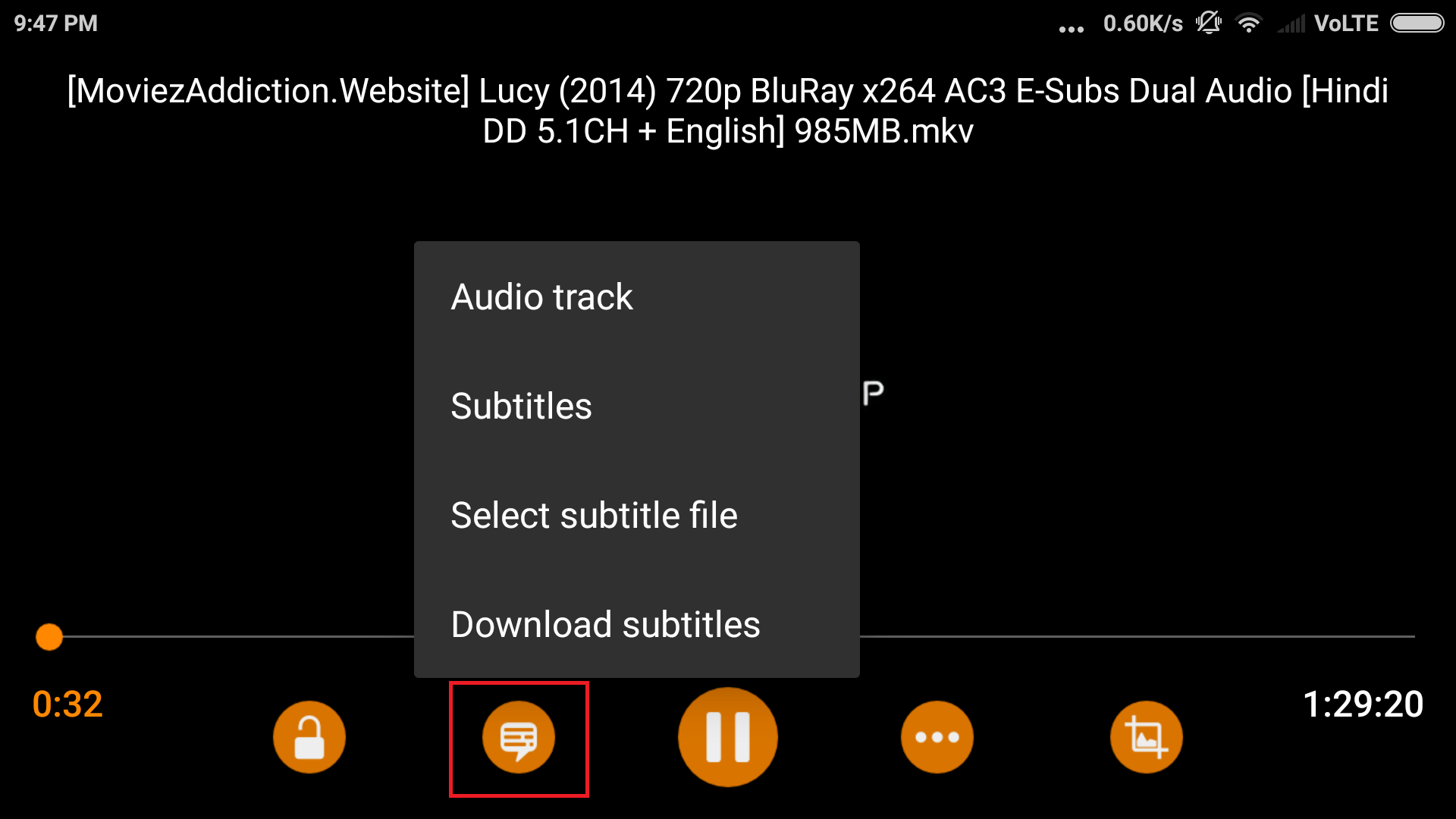 Step 2:- From the pop-up options, choose "Audio track".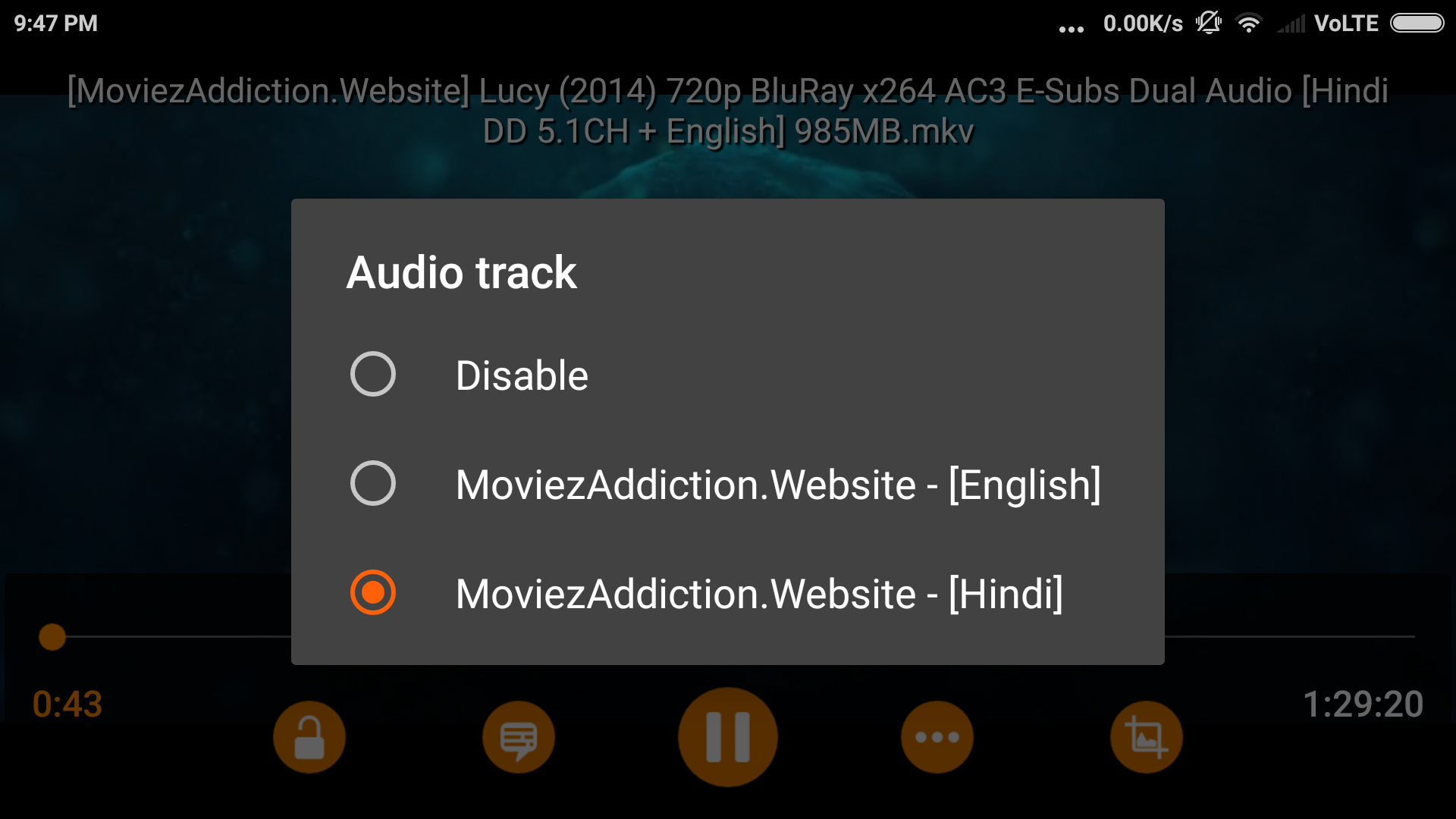 Step 3:- There you can see all available audios. You can choose your favorite language from there.
How to Change Audio track in MX Player?
MX player is the second most using Video player application for Android. For multimedia playback, Android user has two choices. Either VLC player or MX player. Unlike VLC player, MX is not open source and it has both free and paid version. The free version has a lot of adware for monetization whereas paid version is a little bit costly. Compared to VLC player, MX player is more user-friendly and has a better user experience. It also supports every feature of VLC player such as hardware acceleration, Multi-Core decoding, Subtitle support, Kids lock etc. Here are the easy steps to change audio track in MX player.
Step 1:- Click on the ⋮ icon in the top right corner of MX player. From the pop-down lost, click on the Audio option.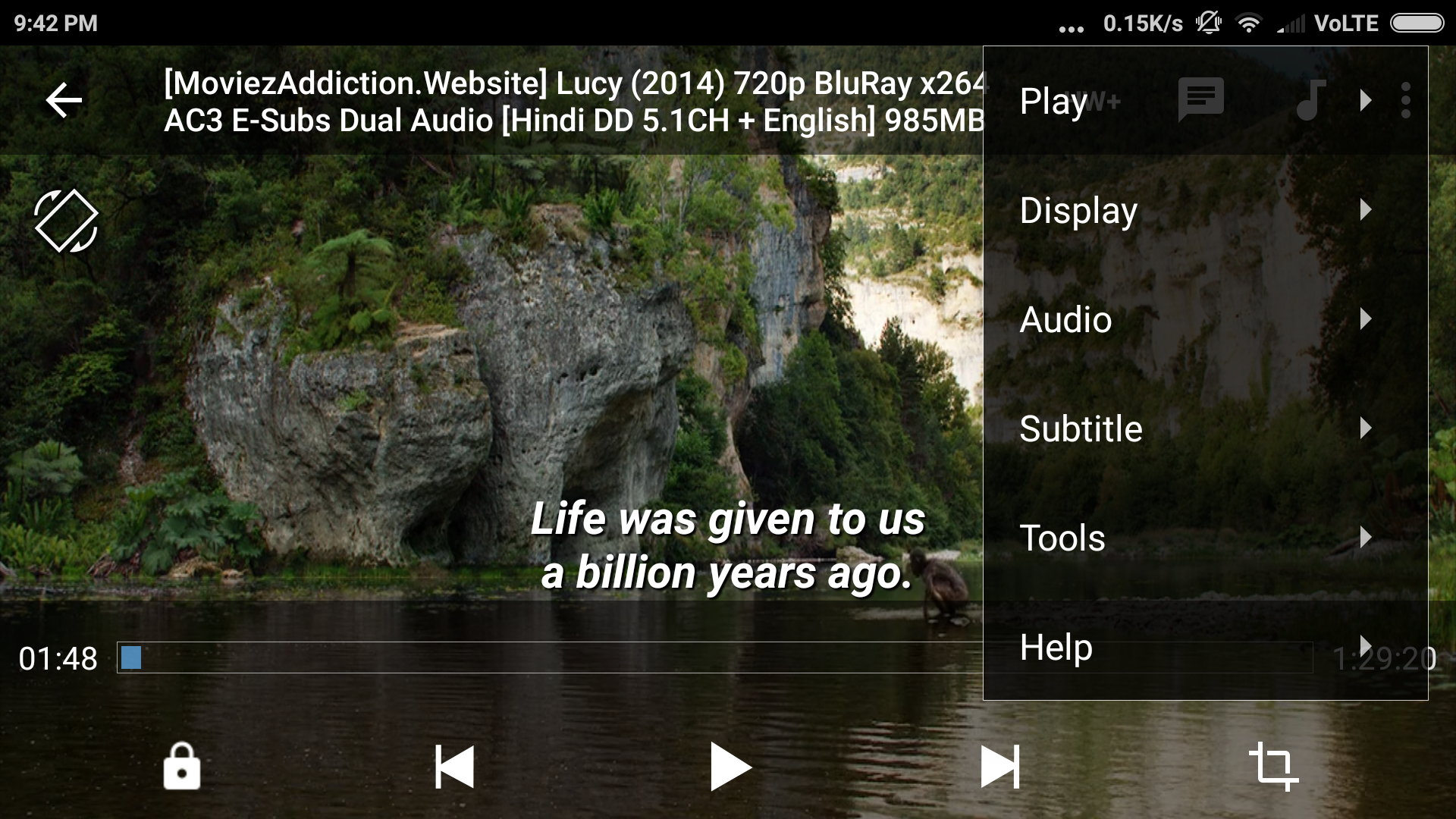 Step 2:- From the new options, click on the Audio track.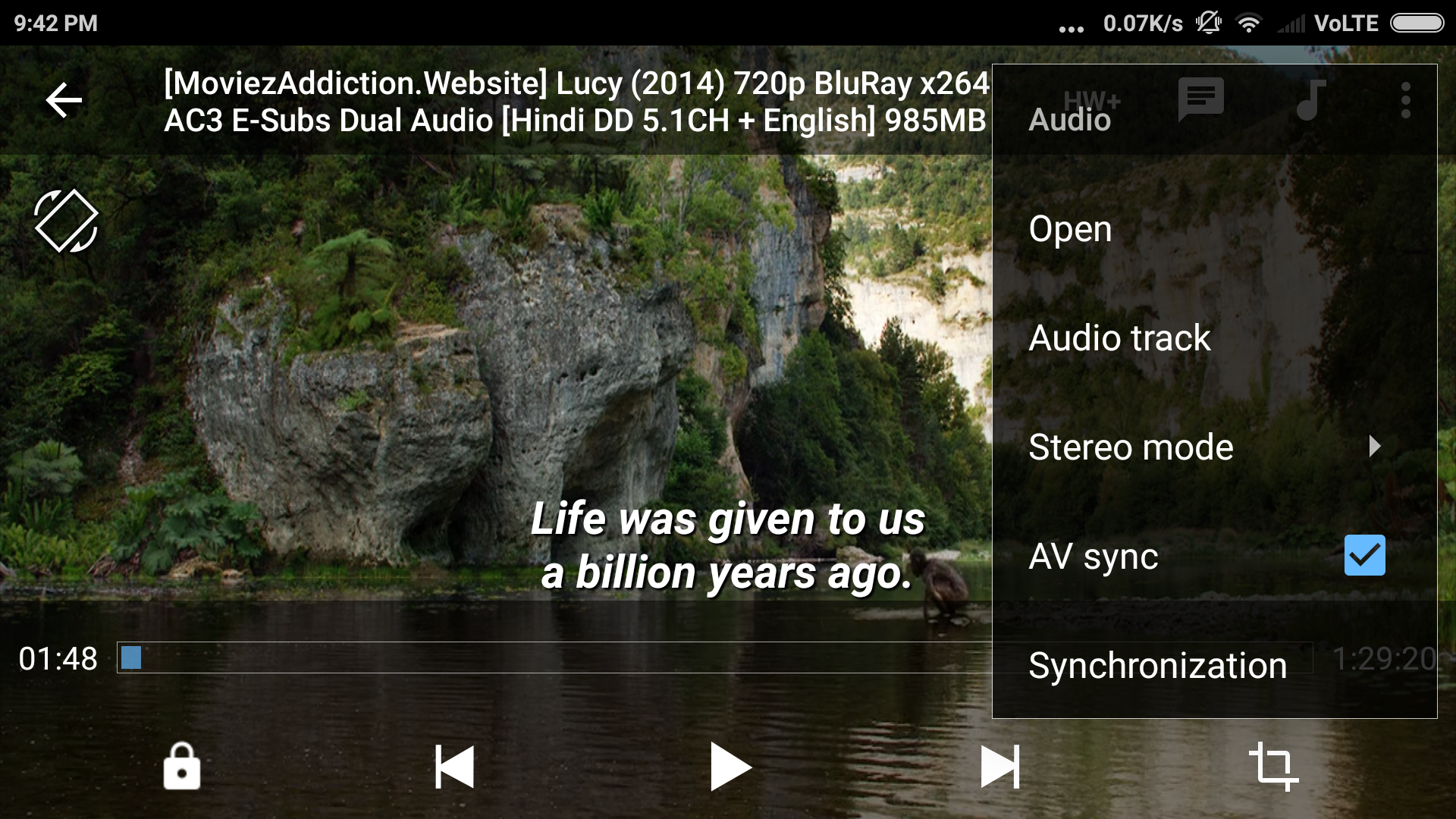 Step 3:- If it is a multi-audio movie or video, you can see multiple audio tracks there. Choose the right one suits your needs.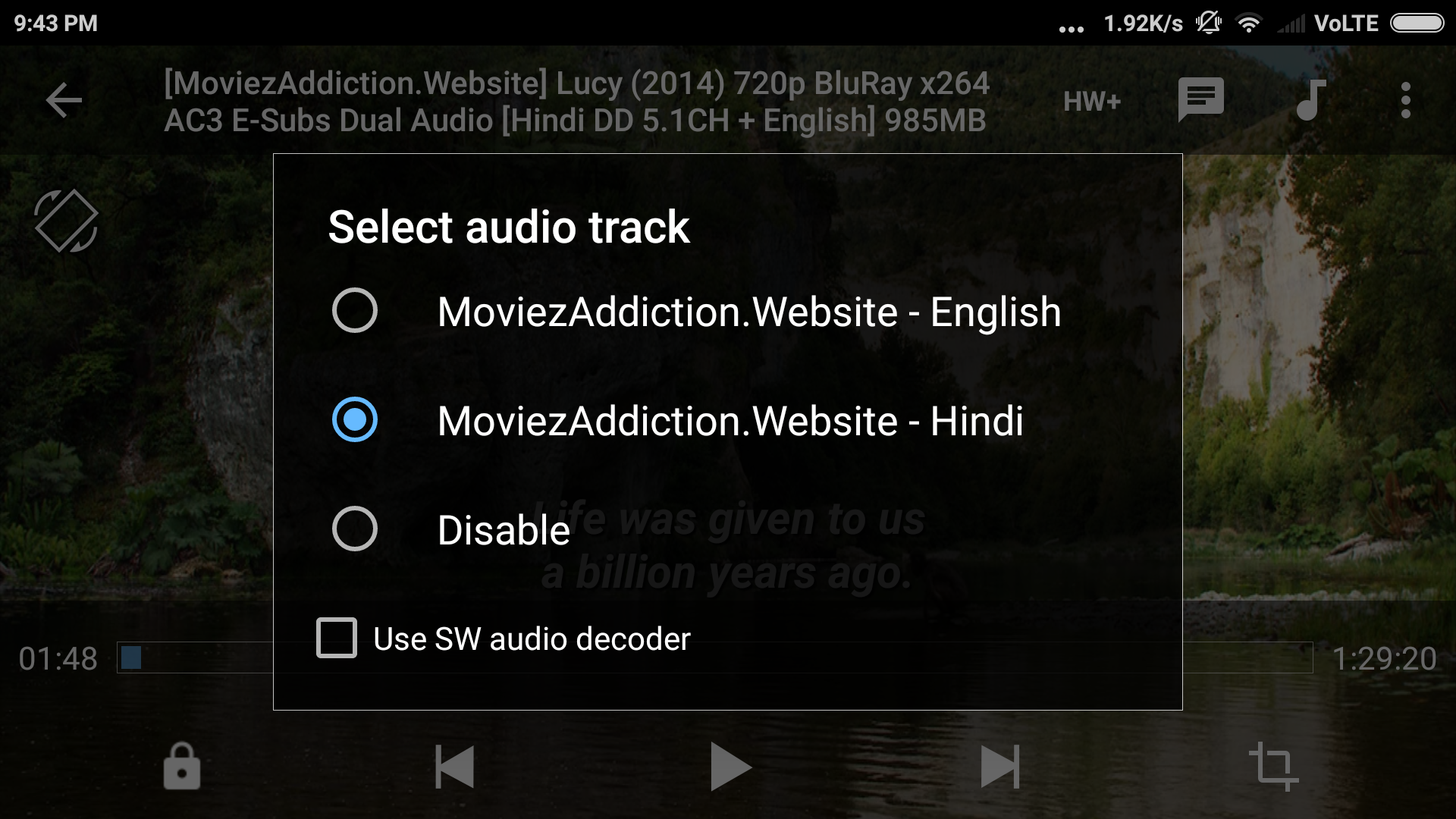 Conclusion
Multiple Audio tracks is a great feature for movie lovers especially those who love all sort of movies from other countries. One of the languages in dual audio movies will be the local one in which the movie is going to release. Usually, English movies and TV shows releasing on the Internet will have dual language support such as German, Arabic, Spanish, French etc. This helps the movie to be understandable for others who don't know foreign languages. You can change the movie languages easily on any video players if multiple tracks are present.