If you are an iPhone user or one who has switched to iPhone ecosystem, you might feel a lack of file managing apps to codify your files and documents with absolute precision. It requires a structured planning and effective mechanism to manage hundreds of documents and files. And this is what a file manager app does. Whatever be the number, whatever be the format, one can get a crystalline structure for the files you own by using a file manager app. Sometimes, to make this task achieved, you have to pay a little bit and this also brings a new dimension to the entire process of managing.
iPhones and iPads do not allow access to the internal file system unless one jailbreak the iOS system and this is the same reason you don't find any file managing apps for iPhone. As you know from experience, iPhone and iPads are good for storing files and document of yours. And there are plenty of apps for viewing the files but what about apps that help you to collocate things that you have stored on your precious device? So are you willing to look through the best file managing apps for iPhone? I think we have assisted you with the five supreme ones. Let's have a go.
Best File Manager Apps for iPhone – 2018 Most Popular apps
#1 File Manager – Best File Explorer App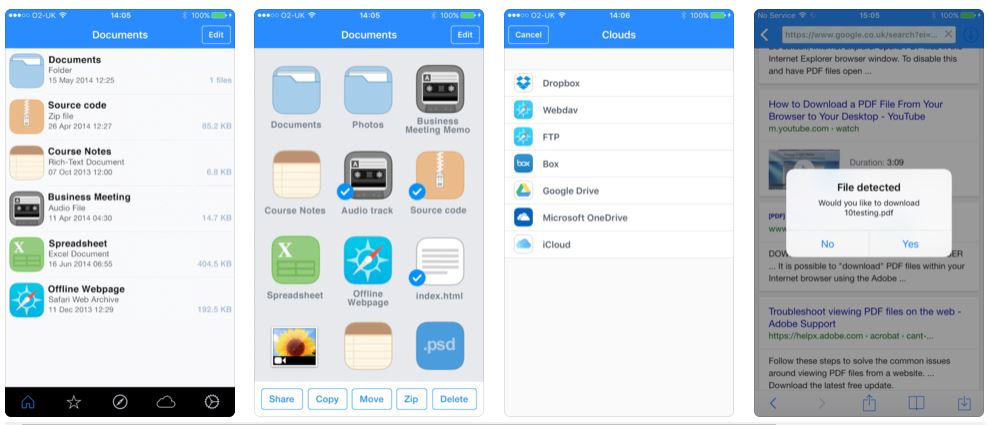 You can smartly organize your files and documents with the help of file Manager app on your iPhone. The greater efficiency in transferring files can amuse any of its users and it won't be a sin if you call the app as a USB drive. The app can support MS office, Excel, Powerpoint and also enables Apple iWorks documents. The integrated music player and PDF reader can astonish any of its users. One can copy, move and zip files very easily and can protect files with a passcode. The app supports iTunes USB file sharing too.
The app has got the feature to sort files either by name, date, size or even kind. Now it is very easy to transfer files from PC/Mac using Wi-Fi. It also has the feature to share files by e-mails, Bluetooth or even by Facebook. The "Open in" feature the app has allows anyone to open files in other apps adding to the interest for using it. The app is almost 66 MB and is free of cost.
#2 Documents 5 – File Explorer with Great UI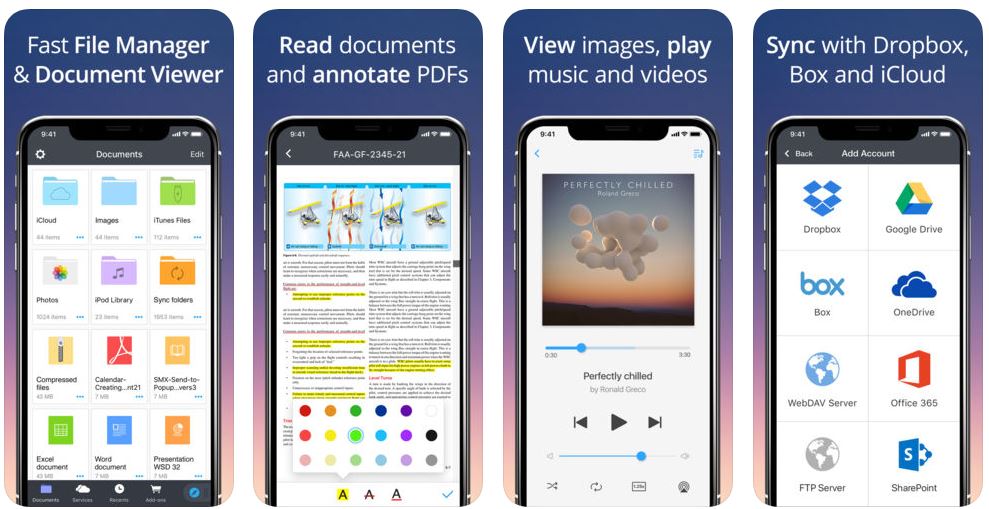 Documents 5 is file managing tool that helps you to stay better organized. The app can import files from your computer, cloud, WebDav or any nearby devices, download files from the Web, store email attachments, save web pages to read them later. Moreover, one can manage their files and create folders, Zip/ unzip, color tag, rename, etc, Drag and drop files across apps, protect everything with a Password and can also share files with friends.
The app connects all cloud services to documents and helps to access your personal business files anytime anywhere, thus integrates all cloud services. It also allows you to listen to movies online and helps to watch movies online or from your computer. The app can read, annotate, and search inside a PDF file. It has got a size of 160 MB and the app is totally free for use.
#3 Files n Folders – More Features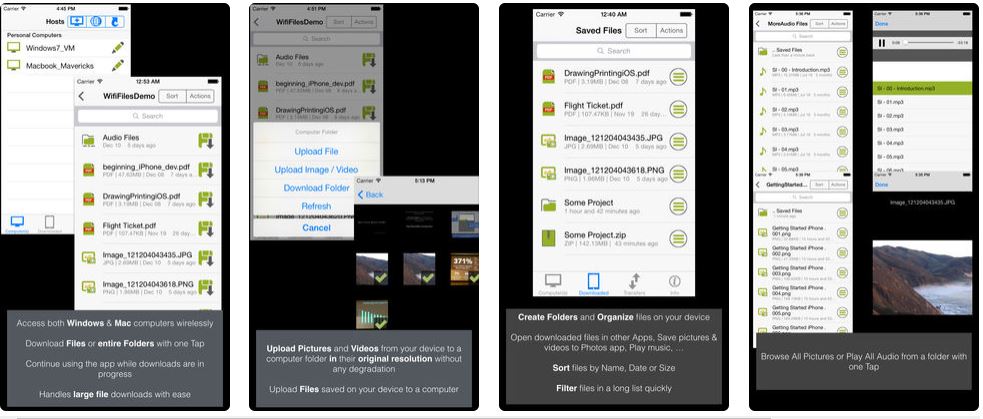 Files n Folders is one of the best app in the store which helps you to transfer videos, photos, documents etc between computers, iPhones or iPods very easily and efficiently. Uploading photos and videos from phone to Mac or PC has now become a trouble-free job. The app opens all iOS supported formats including MS Office, PDF, Text, HTML, Photos, Zips, Videos. One can create zip files from folders on their device and can also unzip saved compressed files from their device. Additionally, one can have e-mails & attachments saved as a package using the 'Envelope' app.
While talking about internet files, the app helps you to browse the internet and save files from the web and also allow you to capture and save web screenshots. Enhanced media functions include Photos Slideshow, audio Playlist with auto loop and video Playlist with an auto loop. The app is free to use for uploading a total of 11 files, after which the app cost $1.99.
#4 FileApp – Totally Free File manager app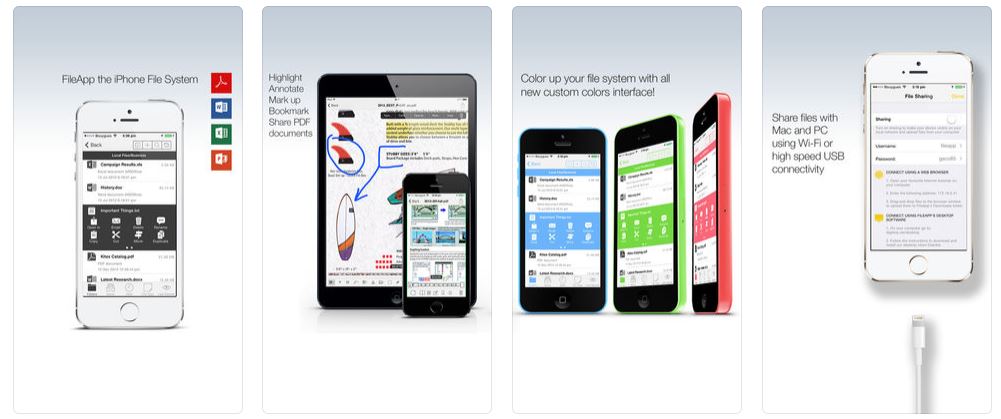 FileApp another effective file managing app of your kind. It has a USB file transfer feature to Mac and PC using DiskAid or iTunes File Sharing and also has a robust wireless transfer to computer using Wi-Fi.  It can store files send from any third party app. The app is a powerful pdf editor with annotation, bookmarks, edition support. The FileApp also brace MS office documents, iWorks documents, HTML files and Safari web archives. One can send via mail attachments and also can open attachments from "mail" app.
Interestingly, the app also has got a built-in image editor with many filters and enhancements and one can instantly share images to Twitter & Facebook. The app also allows you to take pictures within itself and enables you to send multiple images via e-mail attachments. It supports almost all formats of audio and video with full airplay feature. Coming to security part, one can use the password during file transfer and note that your file is encrypted with iOS data protection. The app is almost 46.2 MB and is completely free for use.
#5 FileMaster – File Explorer with Extended Features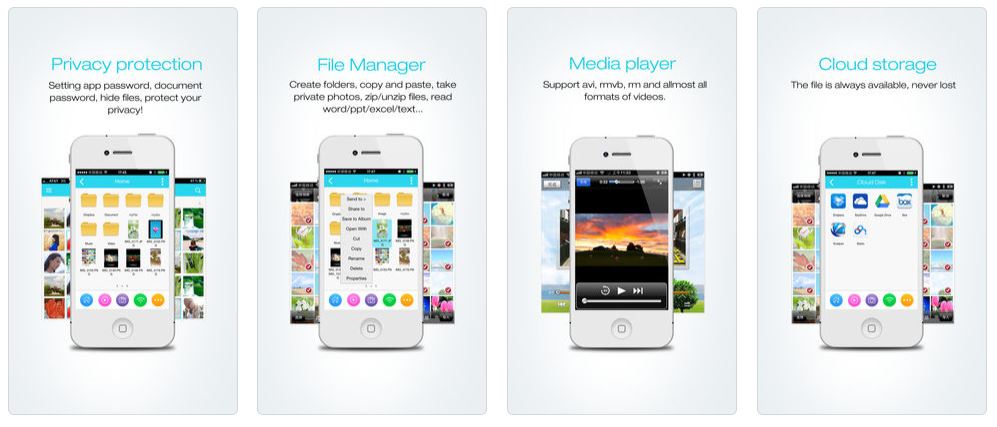 I think this will serve as my last pick when we go to find the best file managing app for iPhone. Yes, it stands apart from other competitors, as it allows you to fix forgotten passwords and helps to avoid possible data loss. You can now transfer files from computer, carry those with you and can share it with your buddies. One has to long press the file or folder icon to generate a popup menu. Then everything is as easy as pie, create, copy, paste, import files and folders and so on. The app supports avi/flv/rmvm/rm/mov/mp4/mp3/wma/m3u8 formats and it also show snapshot of videos.
The app can play music files in the background and amazingly 4 loop modes are supported. It also allows you take photo or video inside the app and supports cloud storage- Dropbox, SkyDrive, Box and much more. The app very well supports word/excel/ppt/pdf/txt/page/number/html/jpeg/epub/chm- zip/unzip (.zip or .rar files) and enables you to open files with other apps and files from other apps. For privacy matters, you can very well have passwords for the app, for folders and even you can hide files or folders. The size of FileMaster is almost 52 MB and is free for usage.
Conclusion
Now its time to wind up the discussion to find out the best file managing app to catalog your files and folders systematically for your iPhone. Whichever is your pick, one thing I can guarantee is these file manager app listed can incredibly make it easy to manage, search through, hide, and even protect your files with passwords. Sometimes the features may differ among these apps, but they all have fulfilled the basic needs to serve you as file managing app.
Now it's your turn to tell me which is your pick from the list? Or comment the other best apps that you feel to be a better administrator.