Keylogger is typically called as "keyboard capturing" or can either be defined as "logger of key". It is actually the process of recording the keys struck on a keyboard and making it possible to understand what a person has done as his actions are monitored. A keylogger can either be hardware or software and the keyboard data can easily be retrieved by one who is operating the program. Anything typed is been recorded and can be checked when necessary. Just ignore the hardware part and here we are only concerned about smartphones on Android platform and the very best keylogger applications for it.
Let me explain very briefly what should be kept in mind while you are installing a keylogger to your device. In past few years, keylogger has developed into a more sophisticated tool and offers an astounding range of functions. The following are the points to ponder before choosing a keylogger of your kind.
Easy to install  : Just make sure that the app you have selected is easy to install and can be controlled accordingly.
Secrecy            : The keylogger should be able to run without being detected by others after its installation on the device.
Functionality   : You should be well aware of your needs. But install those apps which can monitor SMS, email, Viber, SnapChat, Messenger and much more. Geo-fencing, call blocking, calendar entries, browser history, contact changes, a record of photographs taken and so on, it all makes the app special.
Easy to use     : Must be accessible from different platforms.
And through this article, I am going to help you to pick the best keylogger apps. I have "only" introduced five for you because I think there is no point in wasting time by going through a long list. So here are the best five in the market.
NB: Even most of these apps work with non-rooted devices, it won't provide you complete access to all features. You still need your device to be rooted for all type of keylogging. 
Best keylogger Apps for Android to perform Spy Works
#1. mSpy Keylogger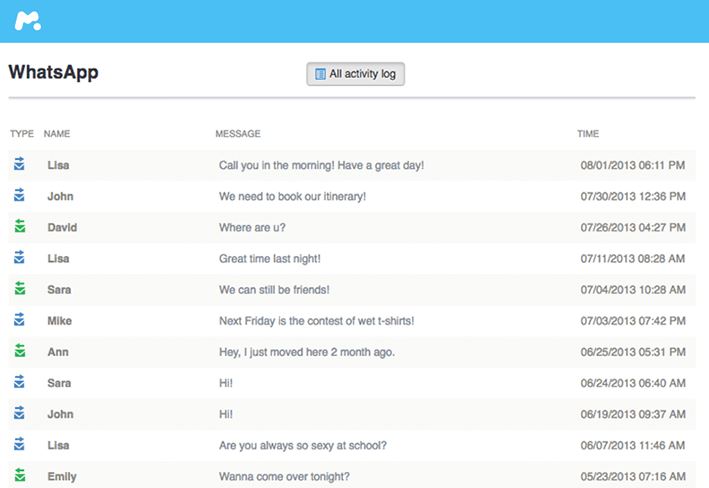 mSpy has got a wide variety of monitoring functions as well as is equipped with good extra features that can control the target phone. One can very well view incoming and outgoing calls along with duration and can also block unwanted calls, thus the app will be best for parental control. You can also track messages and multimedia files send and received. It can also read the messaging apps like Skype, WhatsApp, Snapchat, Facebook, Viber and more.
Moreover, you can set different zones and give them some names, when the phone enters or leaves that zone you can receive a particular alert for that. This particular feature of GPS location and Geo-fencing can very well protect your child from entering prohibited area. Additionally, one can have a track of multimedia files. If the target phone takes a picture or video, the same is uploaded to your mSpy account. Along with that you can monitor internet activity, read emails and can access contacts and calendar too. It is available for Android from $29.99.
#2. MobiStealth
Mobistealth is your All-In-One Android spy software solution to monitor your kids or a company owned Android smartphones. The app does not demand your phone to be rooted and now you can monitor keystrokes without rooting it. The app can get a access to view complete call log of every call made or received from the minute our spy software is installed and can allow users listen to call recordings and call surroundings. While talking about social media apps, mobiStealth can track WhatsApp, Viber, SnapChat, messenger, Skype and more.
The application list feature allows you to uninstall inappropriate apps and enables you to view details of all apps on the device. GPS tracking, SIM change notification, location history, picture logging are some of the features of this particular app. The app also allows you to send an SMS that can wipe out all sensitive information from the phone. In addition to all these, you can have a great control over browsing and also allows you to listen to the surroundings of the target phone remotely. The app starts with a rate of $16.66 per month.
#3. iKeyMonitor
With the help of inbuilt keylogger module, this app logs keystrokes, SMS, Call history, GPS, Chats and website history and a lot more of the target phone. Most of the features are accessible without rooting the device. But certain features like screenshots capturing and WhatsApp logging, you have to root your smartphone. One can spy on almost all type of messaging apps out of which messenger, Viber, WhatsApp, Skype, Instagram are the most common used by child or employee.
One can also have access to web history, GPS tracking, call logs and certain multimedia features like photo, video capturing and voice recording. You can also control and view the apps installed on the device, can also send logs to e-mail and view logs online. It allows you to choose a language that you prefer from the multiple languages provided in the advanced settings. The app with/without Rooting offers 24×7 support with emails, live chat and online user guide to help the users when in need. A 30-day money back adds to the features listed and the app cost starts from $49.99.
#4. Hoverwatch 
My next best pick for you is Hoverwatch as it delivers almost everything offered by the above-listed apps. The app keeps the best knowledge of log and it records all conversations, allowing you to discover everything from contact name to the duration of the call. Thanks to its energy-efficient algorithms, location tracking feature doesn't drain the battery in haste. Moreover, it can save messages, photo, video and audio files send and received through social media apps on the target device.
One can also get a notification each time the user of the target phone switches to another SIM card. Additionally, all web activity is saved by the keylogger. This allows you to find out what websites were browsed by the phone's user. The app allows to monitor up to five phones and tablets in one account. This means you can have a very well track of your child or your employee without his/her knowledge. The app is available for Android from $19.95.
#5. TheTruthSpy
This is my last pick and is one of the most powerful spy phone software with highly innovative features. It allows you to spy on virtually any phone remotely and invisibly. The app can amuse you in parental control, employee control and even to catch a cheating spouse. Yes, it can also monitor the target phone on almost every social media apps as other competitors do. The GPS tracking feature and the ability to monitor website activities of the phone are also some matter of interest.
The app can send you notifications if SIM is changed, record apps usage and can manage call logs and contact history. It also enables the account holder view and control multimedia files on the target phone. The customer support offered is 24*7 and a money back guarantees of 05 days. Ambient listening of surrounding and live call recording feature adds the importance of the app to be installed. The cost of the app starts from $16.99.
I think I have listed the best in the market. So why not try any keylogger app from the list and start spying on the hidden activities of your child, partner or other person's activities on the mobile phone. If you have any queries, please comment it below. We apprecite your input.