There is nothing more to talk about Jio or Jio TV. For new generation kids, Jio Infocomm bought a new Internet revolution. After the launch of Jio, India bypasses USA for the number of Internet users. Definitely, it is an internet revolution. Along with cheap Internet service, Jio bought some interesting and useful services. Jio TV is one of them. You can say goodbye to traditional Cable networks and paid DTH service and enjoy 400+ TV channels at your fingertips. Also, there are more than 50 HD channels from all categories.
Compared to other services, there are many other advantages for Jio TV. One of them is to access already broadcasted episodes. If you missed some important part of a TV show or sports event, you can watch them later using Jio TV. Also, you can pause your favorite show and play it after some time.
After having a long debate with some fellow readers, we are going to publish the way to cast Jio TV app to any of your Smart TV. We received many comments claiming that it is not possible to screen mirror Jio TV to smart tv or to PC.
How to Fix "Casting Not Available on This Channel" issue and Screencast Jio TV to any Smart TV?
As I told above, it is not possible to cast Jio TV to Smart TV using the normal app you download from Play Store. For making this possible, you need to download a custom app usually named as a modded version. There is one more advantage of using this cracked version. You can access Jio TV even if you are not on a Jio network. Means, you can use your WiFi network to access contents inside Jio TV app. Let's take a look at how you can easily cast Jio TV to any Smart TV.
Step 1:- Download Modified Jio TV apk. OR Download GHD Sports (GHD Sports is amazing. You will get HD channels and can use on any network.)
Step 2:- Install the apk and Log in to your Jio Account.
NB: Don't worry about the new apk version. You can use the same login details of your previous Jio account.
Now try casting your Mobile with your smart TV. You can mirror Jio TV without any further issues. Below is the Gif Image proof of screencast Jio TV to a smart TV.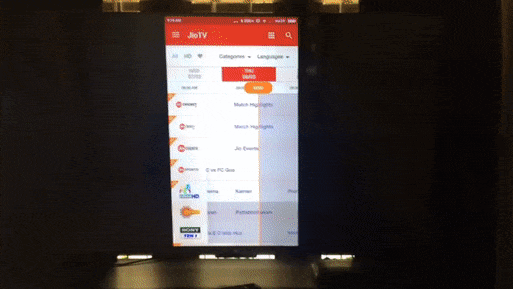 This apk is not modified by our team and not awaiting any sort of credits. We found out this working modded apk from the Internet and posted here for reference. We will post a video soon for a clear understanding of this tutorial. Guys, this is a working trick and won't see "Casting Not Available on This Channel" issue anymore. You can also check our previous guide for mirroring Jio TV using Airdroid. If you have any queries regarding this, please comment it below.
Use GHDSports App to Mirror Channels to Android TV
I think this is a good alternative for Jio TV. You can access almost all channels through this Live TV app including every sports channel. Most channels which are available in HD is also available in this application. Unlike Jio TV app, you don't need to have Jio Network to get channels. Also, there is no problem with mirroring the channels.