If you are a video content creator, you definitely have worked with at least one video editing software. The quality of a video is equally dependent on how the video is shot and how it is edited. If you are great with your camera and very little known to video editing tools, you may not get the real outcome you want. One of the main reasons why people are not interested in the video editing process is due to the difficulty in learning the features and functionality of a software. Say for example, if you open Adobe Premiere for the first time, it shows you thousands of features that are hard to study in a short span of time. Also, many people reported video lagging issues while editing DJI videos. Here comes the importance of simple but powerful tools like VideoProc DJI drone video editor. 
VideoProc 4k Video Editor for DJI video editing
DJI devices are very popular nowadays. Especially DJI drones like Mavic Mini, Mavic PRO, Tello drone, etc. They also have gimbal devices like DJI Osmo pocket, which are capable of providing 4K, 2.7K videos with high quality. 
Once you buy a DJI device, you need a great DJI video editing software to convert the footage into a well-edited movie. Now, many people consider apps available on the Google Play Store and the Apple App store to edit videos. This may be due to a lack of knowledge of using a PC to edit videos. Will the mobile devices support the editing of 4K videos made by DJI devices?
The simple answer is NO because most smartphones do not have enough hardware specifications for editing in High Quality.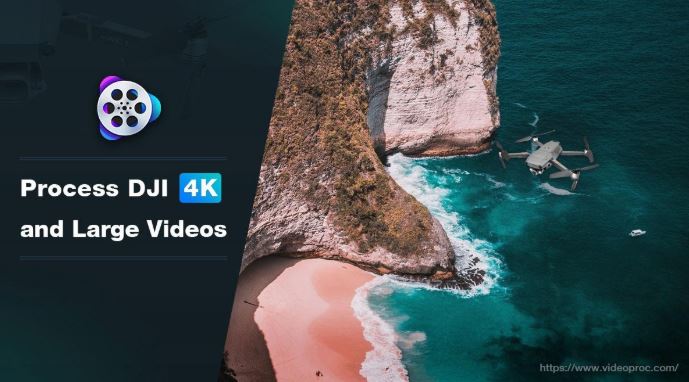 Now coming to the PCs, there are many dedicated tools out there to edit HD videos. However, most of them are very difficult to learn. If you are a beginner, it will take a lot of time to understand the features. Here comes the importance of VideoProc DJI drone video editor, which is simple but a powerful 4k video editor. 
Use VideoProc DJI editor for 4k Drone Videos – Features in a glance 
#1:- Cut & Crop Videos Easily
Basic Video editing features such as Cut and Crop are pretty easy to handle in VideoProc DJI Drone Video editor. You can drag and drop the target video to VideoProc for editing. Once you added the video, you will see the options like Cut, Crop, Subtitle, Effect Rotate, and watermark.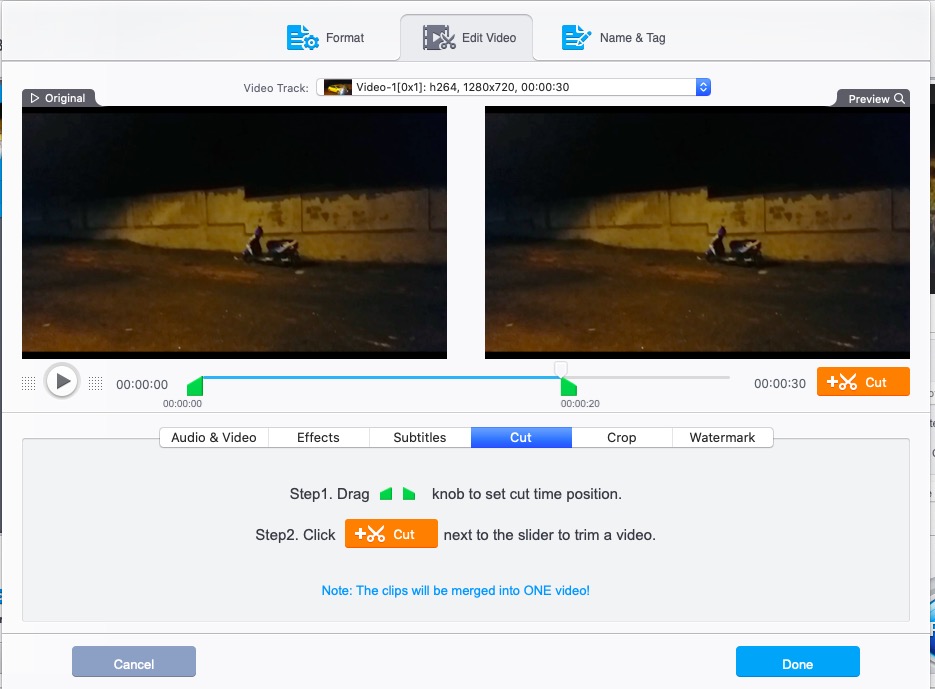 You can easily cut the target portions by adjusting the green knob. You can preview the video to choose the right position. Once you select the position, click on the Cut button to make the output.
The cropping feature also works in the same way. You can crop either by adjusting the video using the frame inside the timeline or manually typing the top, bottom, right and left position.
#2:- Supports hundreds of Formats
Another important advantage of using VideoProc DJI drone video editor is the ability to handle different kinds of video formats. Most DJI devices give output as MP4 or MOV. You don't have to install any plugins or additional pieces of stuff to edit these videos. Just drag and drop the video to the timeline and convert it to whatever format you want.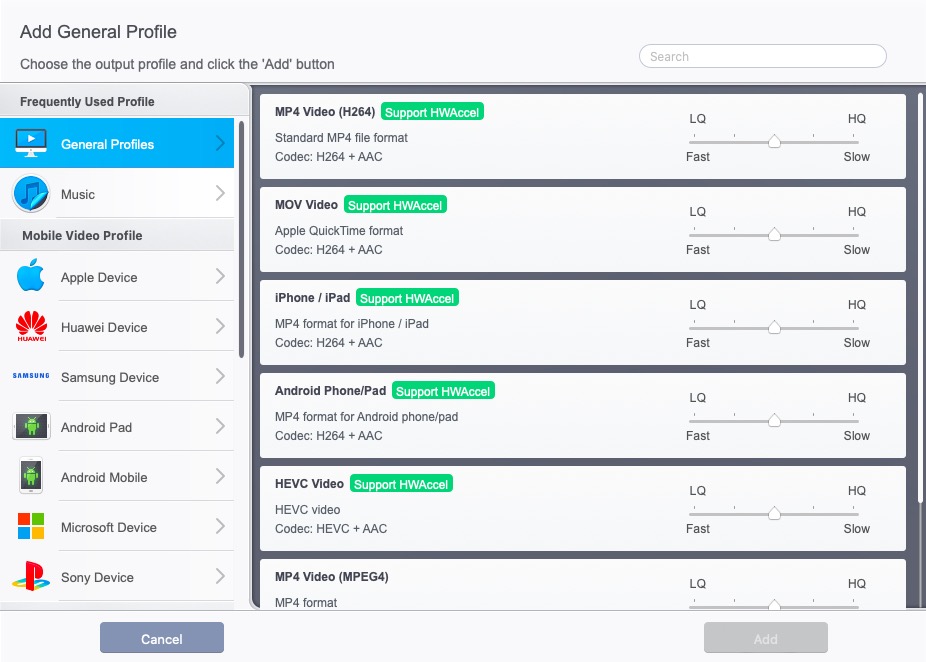 There are different profiles listed on the software. Say for example General Profile, Samsung device, Huawei device, Microsoft device, etc. You can easily find out your target format by selecting the profiles. 
#3:- Advanced Video Editing Features
Advanced video editing features are available from the toolbox. You can Deshake, Denoise, Merge, Trim, Split, Rotate, Mirror, Flip, fix Fisheye, etc using the Toolbox. Deshake and Denoise are very important among them. Even though DJI devices have builtin hardware stabilization features, you can add an extra layer of stabilization using VideoProc.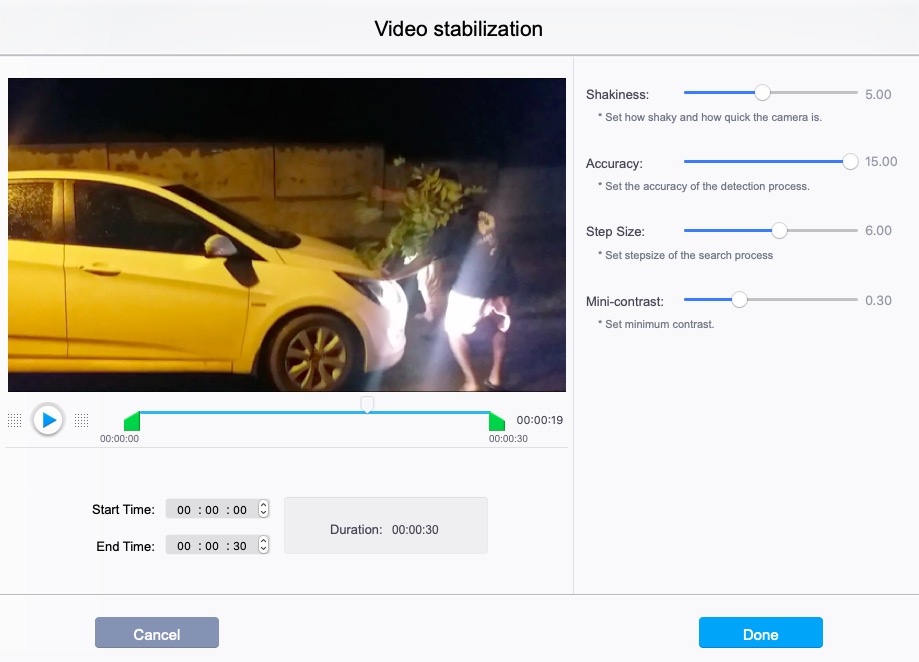 Also, if your video has some unwanted noise, you can remove them by using the Denoise feature. 
#4:- Process Videos using Full Hardware Acceleration

Some of you may have familiar with the hardware acceleration process. Most video processing tools use GPU acceleration for video encoding. The remaining video editors use GPU acceleration for both video encoding and decoding. However, VideoProc DJI video editing software is different. It uses Level-3 Hardware Acceleration, the process which uses Graphics card for video encoding and decoding and for 4K video processing.
Now you may think what is the benefit of Level-3 Hardware Acceleration? Simple telling, it can boost your video processing, editing, conversion speed up to 47x faster than normal. You don't have to worry about your CPU utilization because VideoProc keeps your CPU utilization extremely low so that you can run other programs smoothly.
Have a look on how to use VideoProc editor
Conclusion
Since DJI devices are quite popular and widely sold in the market, the importance of DJI drone video editor is also increasing. Even though many DJI video editing software are available, none of them have strong DJI video editing features. Even Premiere PRO, the video editing software from Adobe has its own limitations to process 4K videos made using DJI devices. Here comes the importance of a simple and quite powerful 4k DJI editor tool called VideoProc. 
VideoProc DJI editor is free to download on both Windows and Mac. You can run the trial version to check out its features and capabilities. However, there are some limitations. To unlock the full features, you can go for the full version for the biggest discount of VideoProc full version for which you will get 30 days money-back guarantee. So what are you waiting for? Go and try using this DJI drone video editor.