If you have an iPhone, GoPro, DJI cameras, drones or any kind of SLR cameras, you definitely have taken some interesting video shots. But some simple raw footages won't give any idea about what you have filmed. For that, you have to do some editing works. There are hundreds of video editing software tools available in the market for editing HD videos. Even you can use different applications available on Play Store and Apple store to edit videos on a mobile phone. But do they support editing 4K videos? The simple answer is NO because smartphones do not have enough hardware specifications for editing 4K videos in the right way.
So the next option to edit 4K videos is by using a PC. There are plenty of video editing tools available for both Windows and Mac. Among them, only a few supports 4K editing. Also, some of them come with adware and bloatware, some of them are very difficult to use, some of them need monthly subscriptions and so on. So, it is very difficult to figure out the cheap, ad-free, simple and powerful tool. Don't worry, we have the best in class 4k Video editor available for both Windows and Mac.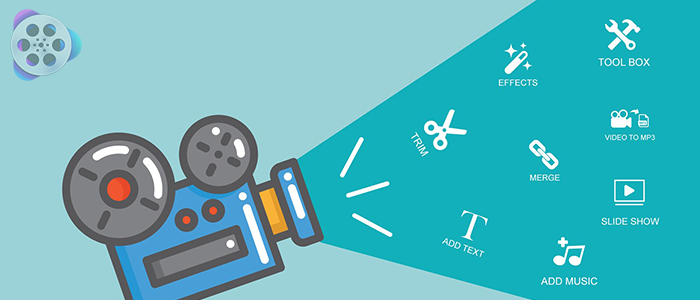 VideoProc 4k Video Editor – Specs and Features
#1:- Full GPU Accelerated Video Processing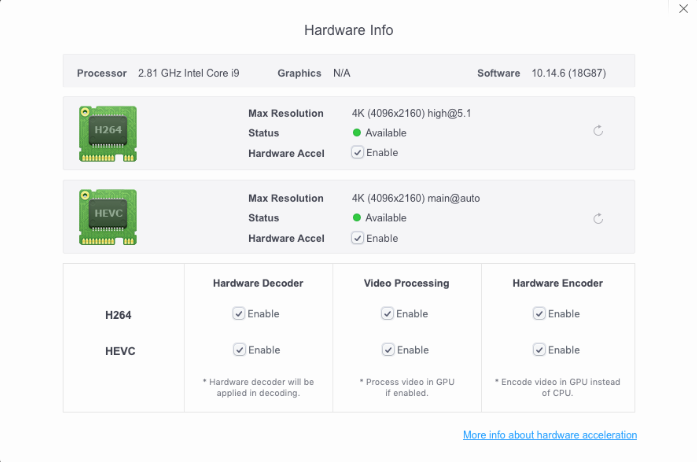 One biggest advantage of using VideoProc video editor is, it uses maximum GPU power for processing video files. It simply means, instead of using CPU power for video processing, it uses Graphics card for decoding and rendering of 4k files. By doing so, your CPU will be free for processing other tasks. So there will be fewer stutters, freezes, and glitches during the editing process.
If you ever tried editing 4K size files, you may have faced difficulty in playing the file on the timeline. Even a Macbook running FCP takes a few minutes to render the timeline video if it is in 4K format. This is because they use CPU power for rendering which keeps the system interrupts with most of the resources and makes other processes idle. VideoProc comes with a "Level-3 Hardware Acceleration" technology that utilizes full GPU acceleration and makes video editing and rendering of 4K videos speedily, steadily and smoothly.
#2:- Basic Editing Tools are easy to use on VideoProc 4k video editor
For every editing software, there will be some basic editings tools like cut, crop, merge, rotate, etc. In Videoproc video editor, these tools are arranged in a user-friendly manner. Also, it is pretty easy to use these tools even for beginners. You can cut your Ultra High Definition videos into smaller parts by simply dragging the knob on the editor. You can also cut a clip by specifying the start and stop time frames.
Then comes the merge feature. You can join clips taken from different devices even if has a different format. While merging, you don't have to worry about the resolution, length of the video and the playback speed. The feature so-called "MKV Multi-Track" allows you to join files into a single file. You can easily crop your video to avoid unwanted portions of the video and to highlight a particular point. Cropping feature is very helpful if you are changing the aspect ration of your video. Apart from this, you can also add pre-built effects and watermarks for your video file.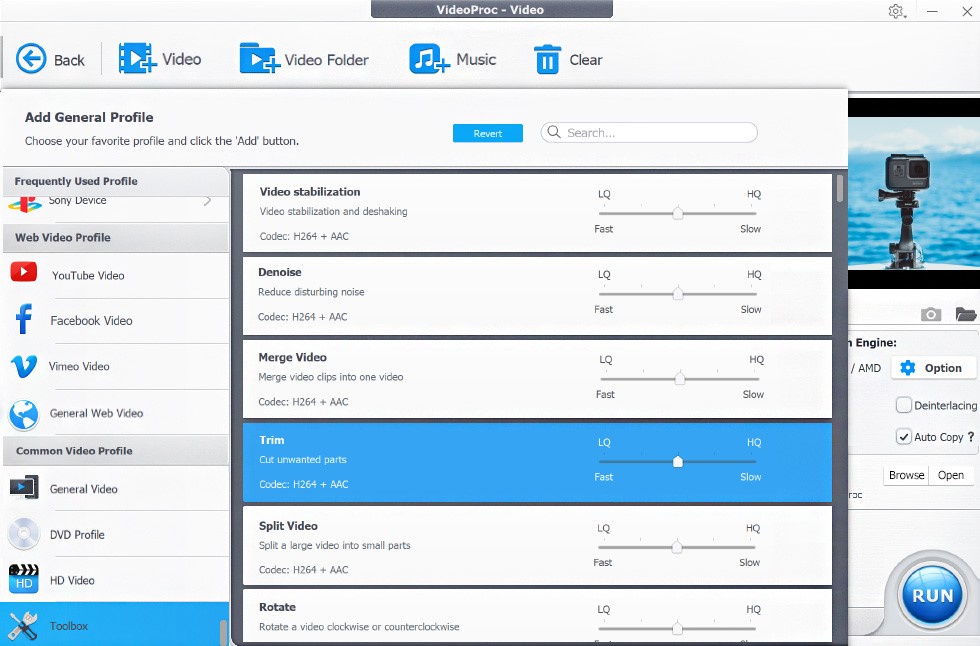 #3:- Support 4K videos from Any devices
VideoProc works smoothly with videos taken using any 4K devices. You can edit videos taken using various DJI devices like Osmo Action cams, Phantom drones, Mavis Drones and with all GoPro cameras. You can easily stabilize, convert and resize bigger 4K files taken using your Android device, iPhone, dash camera or with any other 4k SLR cameras.
Now you may think about video formats other than 4K. Nothing to worry about that. VideoProc can do the conversion even faster for videos in lesser file size and resolution. Not only 4k but also 2K, 1080p, 720p and other fewer resolution videos can easily process by this tool. Along with these formats, it also supports editing of 3D videos.
Check the DJI 4K Video Editor >>
#4:- Advanced Features for editing video like a professional
Along with the basic editing tools, Videoproc provides several advanced features for professional video editing. Video stabilization option allows you to Stabilize shaky videos from your phones and action cameras. Even though iPhones, DJI devices and DSLR have the anti-shaking ability, Videoproc software stabilization gives an extra layer stabilization. Fixing the GoPro fisheye effect is another important editing feature. You may have seen footages and images in a rounded shape or in a barrel shape. This can be easily corrected using Videoproc 4k video editor.
It is also possible to remove noise from a video or audio file using VideoProc. This helps you to remove unwanted sounds from the footage. Once you finish enough editing, you can add watermark on your clip using text, logo, or timecode to prevent unwanted distribution. There is an option to extract jpg/png images from the video which helps you to create thumbnails and video previews.
#5:- Media Downloading and Screen Recording option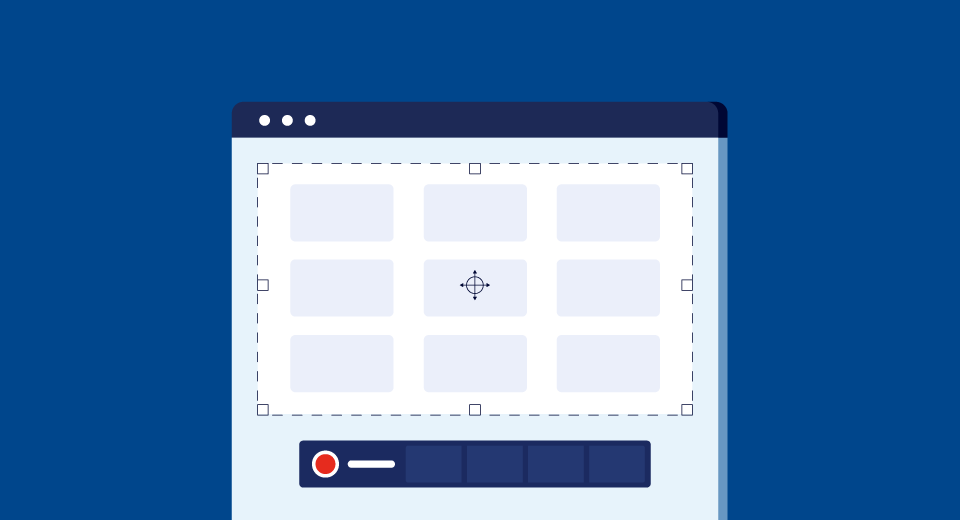 You won't be able to see these two features on any other 4k video editor tools. VideoProc comes with a powerful Media Downloader feature which helps you to download both videos and audios from 1000+ websites. It includes leading video hosting services such as YouTube, Facebook, Dailymotion, Instagram, Twitch, and SoundCloud. While downloading, you can also choose the resolution and size you want to keep.
There is also an option to record your desktop screen with minimum system resources. If you are a YouTuber, Vlogger, Gamer, or live enthusiasts, you can make use of this service. You can record your desktop screen with voiceover or even record from the webcam. You can also do both of them at a time. There are also options to draw figures, highlight portions, add texts and images, etc which will be very helpful if you are making some presentations, seminars, software reviews, tutorials, etc.
VideoProc 4k Video Editor Video Description
Here is a video guide you can check to know more about this product.
Conclusion
Since more 4K supported camera devices are coming to the market, the importance of 4k video editor is also increasing. Even though some of these devices have its own video editing platform, it is not enough to manage very huge size video files. Even Final Cut Pro, the video editing software available on MacBook is not much capable of processing 4K videos taken on an iPhone without freezing and lagging. Here comes the importance of a simple and very powerful 4k editor tool called VideoProc.
You can download VideoProc for free on both Windows and Mac. Using the free version you can check all of its features and process files under 5 minutes. To unlock the full features, you can go for the full version for the biggest discount of VideoProc full version for which you will get 30 days money-back guarantee. So what are you waiting for? Go and try using this video editor.