For millions of sports lovers, batmanstream is the place to watch their favorite sports and live games online. Batmanstream, currently available on the domain batmanstream.info and on the Android platform has a wide variety of categories to choose. They provide live actions of events like Football, Basketball, Hockey, Tennis, Baseball, Volleyball, cricket, etc. All you have to do is to visit the website when a match is going on. On the website, you will see the details of the match and there will be live links of the match in High Quality. Since this is a free service, you have to skip some advertisements to stream the live actions.
Is it possible to get Acestream links through Batmanstream?
The answer can be both YES and NO. Now coming to the NO part, the official batmanstream website doesn't have the option to stream live matches through AceStream. They didn't provide the option to update the live streaming section with working acestream links. So officially, it is not possible to get Acestream links through this website.
Now you might think Why we say YES? Even though there are no official sections for acestream channels, there is an open chat box available on the website. At the time of most sports games, hundreds of sports lovers come across this website and many of them make use of this comment box feature. So they leave quality links in the chatbox to make it useful for others. Whenever major league matches going on, please have a look at the chatbox to see quality acestream links with live match contents.
How to watch Live Football Streaming on Batmanstream.info?
Many people still don't know how to access this service. This is because most people while visiting this website get popup ads. They became confused and quit from the website. Here is the tips to access live streaming through batman stream.
Step 1:- First of all, open the website batmanstream.info.
Step 2:- You will see most of the sports events on the home page. Baseball, Basketball, Football, ice hockey, Racing, Tennis, Rugby are some of them.
Step 3:- Click on the sports event you want to stream. There you will see the upcoming and ongoing matches. Click on the match you want to stream.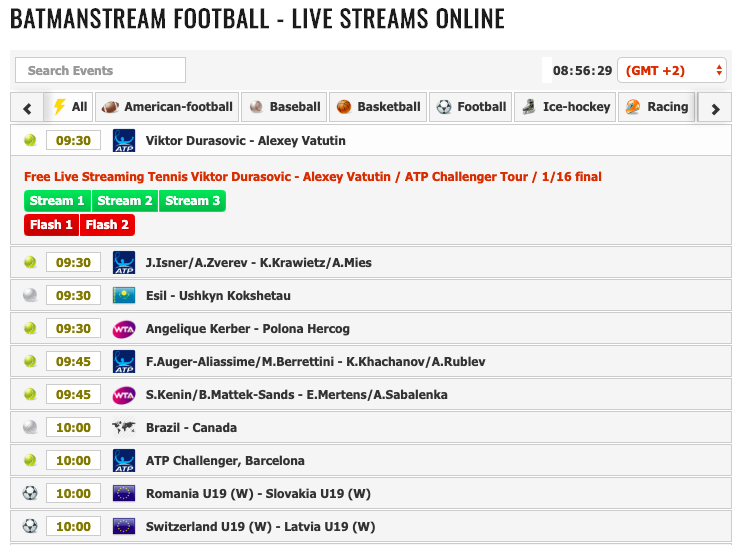 Step 4:- Once you select any football match, you will see streaming links just below to that. There will be more than one link. Some of them will be ads and you have to check each of them to figure out the right streaming link.
Step 5:- Mostly, the right streaming server is named Flash1, Falsh2, Flash3, etc. Just use such links to figure out the stream quickly.
NB: The streaming links will be live only before a few minutes to the live match. If you are visiting the website hours before the match, you probably won't get the right streaming links. In such a case, you can have a look at the chatbox for any new links.
Conclusion
Batmanstream is not an official website to watch Football or other sports actions. Instead, they collect links from other streaming services and add them to their website. Technically speaking, they are not illegally uploading anything to their website. But there may be restrictions to access this service based on the country you are from. Many countries blocked access to their old domain batmanstream.com and then they come up with this new one.
If you have any queries about batman stream and how to watch football on the website, please comment it below. We will reply to you as soon as possible.