If you are using Samsung or Amazon Fire Tablets, you may have seen the annoying notification with the text "Alexa accessories". Personally, I am using  Fire 10 HD 10 tablet and got this issue yesterday after updating the apps. It is not like a normal notification where we can clear almost all notification. But this one is in a grey color which can't be cleared as we do for other notifications.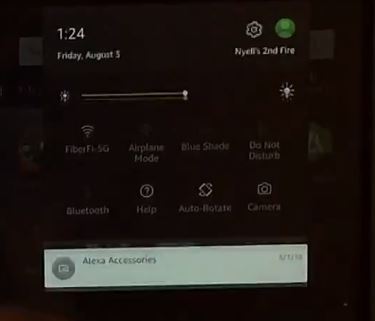 Possible Solution for "Alexa Accessories" notification
#1:- If you have installed Alexa App from Google Play Store
For Amazon Fire products, Google Play store is a third-party app store. People update apps using Play Store instead of Amazon app store usually gets this issue. One of the Fire 8 HD users claimed that he updated Alexa app through Google play store. After that, he was not able to remove this notification. So he opened Google Play store again and uninstall Alexa update. Then he used Amazon app store to install the latest version of Alexa app. Now everything is working fine without "Alexa Accessories" notification.
So you can try this. Just uninstall the latest updates you made to Alexa app using Google Play store. After that, open Amazon app store and update Alexa with the latest version.
#2:- For those who never use Alexa App
This is a solution for those who never use their Alexa app on their Fire Tablet. Just Long press on the notification and you will see an "i" icon. Click on the "i" icon. There you can see the option to block notification. Now you will see the "Alexa accessories" notification gets disappeared.
However, this method will block all notification from Alexa app. So don't try this method if you want to get any sort of notification from Alexa app. Also if you restart your Fire tablet, the notification reappears. So do this step again to disable the annoying notification.
Conclusion
Alexa accessories notification is just an annoying notification without any use to the users. Many people are looking after how to remove this from their Fire Tablet. One possible option is to try the various release of Alexa from either Amazon store or the Google Play Store. If you are getting this notification from the latest version from Play store, try the latest release on Amazon store and Vice Versa.
Also if you don't want to get any notification from Alexa app, try blocking the notification as mentioned in the second solution.
If you have any other solutions, please comment it below. We will appreciate your input.