Most of us, using a mobile phone has heard about the term USSD codes. Technically speaking, USSD code stands for Unstructured Supplementary Service Data which is also referred to as "Quick Codes" or "Feature codes". These codes are usually used with GSM mobile communication protocol to communicate with the service provider's computers.
It is very important to know at least the important USSD codes of your mobile operator. Some of the important Airtel USSD codes are airtel mobile number check code, airtel net check code, airtel data check code, airtel loan number 10 rs code, airtel number check USSD code, etc. Among these, balance check and data balance checking codes are the most commonly used ones. 
However, Airtel occasionally changes these USSD codes. So you may not get the service by trying the old codes. Here we are providing the latest Airtel USSD Codes in 2020 to check Airtel services.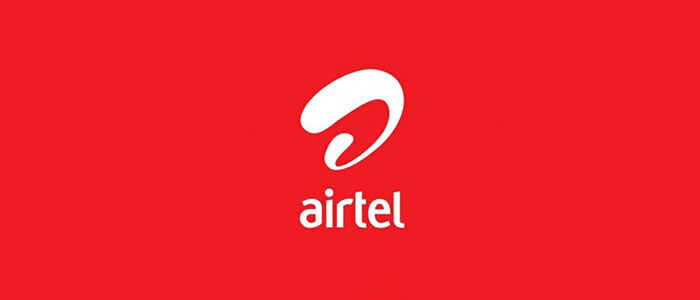 How to Check Balance on Airtel SIM?
You can check the balance on your Airtel SIM card through a couple of ways. I know you are looking after how to check the balance using USSD codes. Check the simple method first and thereafter look for other methods.
Airtel Balance Check USSD code is *123#
There is another simple method to check your Airtel balance. You can access your balance details directly from the Airtel Selfcare page.
Step 1:- Go to the Airtel Selfcare page.
Step 2:- Provide your mobile number there and click on send OTP.  You can also enter your Service ID if you know that instead of the mobile number.
Step 3:- Now you will receive a One Time Password on your mobile. Just enter it to log in.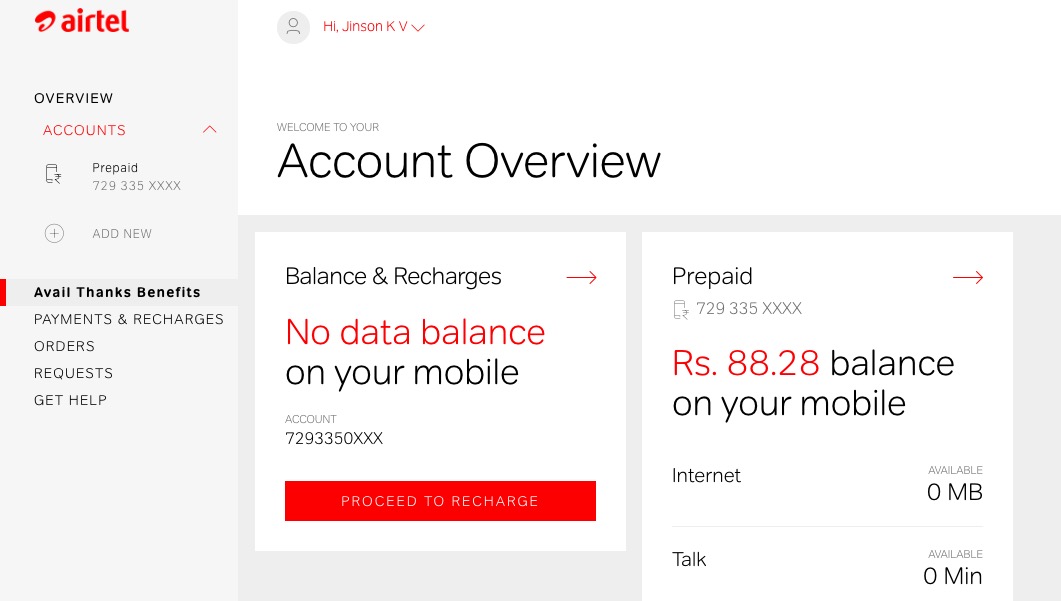 Once you successfully log in, you will see the details as shown in the above image. Please note that, if you have done TalkTime + data special offer, it won't see there. The balance of normal recharges only been shown there.
How to Check your Own number on Airtel?
Many people would wonder why we need to check our own number on the Airtel network. This is a very important feature if you are dealing with multiple SIM cards. During the launch of Jio SIM, a lot of people took a new connection and they were unaware of their new SIM number. The situation is the same for people who are handling multiple SIM cards. If you are out of balance, you won't be able to have a miss call to other SIM card to know your number. Also if the validity is over, you won't be able to call even to customer care number to know your mobile number. Here comes the importance of USSD codes. You can dial the USSD code for knowing the SIM balance.
Code for knowing the SIM balance *282#
Most Commonly using and Popular Airtel USSD Codes
The following are the popular USSD codes in the Airtel network. You can try them to verify whether it is working in your region.
| Details | USSD Code |
| --- | --- |
| Airtel mobile number Balance and Validity Checking Code | *123# |
| Best offers available on your number checking code | *121*1# |
| USSD code to check data balance on your Airtel Number | *121*2# |
| Activate Airtel Miss Call Alert Service | *888# |
| Airtel Self Care Menu | *121# |
| Airtel Credit Talktime 10 Rs Talktime | *141# |
| Airtel Data Network Loan Code | *141# |
| Airtel Free Facebook with USSD | *325# |
| Airtel Voice & Roaming Packs | *222# |
Other USSD codes on Airtel network
The following are the other available USSD codes on the Airtel network. However, these codes are not that much popular as the above codes.
| Details | USSD code |
| --- | --- |
| To Check Airtel Night Data Balance | *123*197# |
| How to check Local SMS Balance | *123*2# or *555# |
| Airtel Value Added Services | *121*4# |
| How to check Free STD Minutes Balance | *123*8# |
| Airtel Talk time Gift Service | *141# |
| Airtel Live Services | *321# |
| Local National SMS Packs | *777# |
| On Network Night Minutes Balance | *123*6# |
| On Network minute Balance check | *123*1# |
Conclusion
USSD codes are a very important service on any mobile network. It enables you to access the necessary services very quickly and easily. Here we have classified USSD codes are important ones and other non-important ones. You can try them on your number and remember them if necessary. Please keep in mind that, not all codes work on your mobile and most of them are depending on the plan you currently using.