If you are a gamer who likes to play racing games, you have heard about the open-world racing game Forza Horizon 4. The game is designed and developed by Playground Games and Turn 10 Studios and was released on October 2, 2018. A demo of the game was initially released on September 12, 2018, and later 3 different versions called standard edition,  Deluxe Edition, and Ultimate Edition got released.
Forza Horizon 4 Latest Update – New Items Showcase
There was a seasonal update on the game Forza Horizon 4 released on December 5, 2019, at 6:30 a.m. Pacific and it was the third season of Series 16. Many new items are available in the forzathon shop.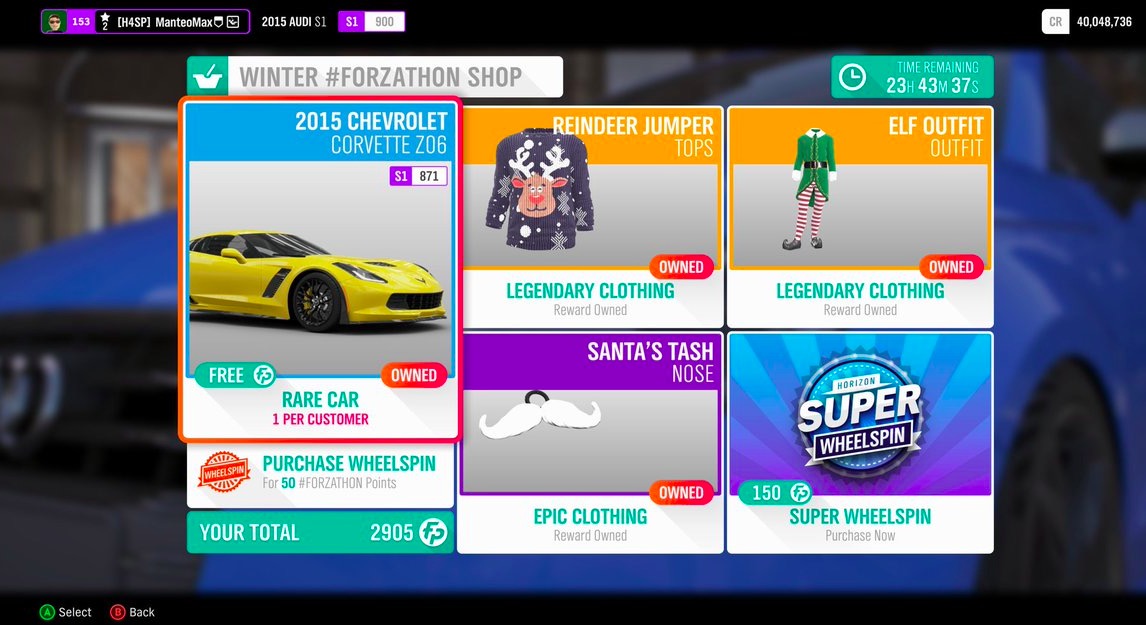 The following are some of the new items revealed in this latest update.
#FORZATHON SHOP
Clothing:- Santa Tash, Reindeer Jumper, Elf Outfit
Car: Bowler EXR
Wheelspins cost: 50 & 150 FP
#FESTIVAL REWARDS
50% Series 15 Completion: 2012 Lamborghini Aventador LP700-4
80% Series 15 Completion: Ferrari 250 TR
50% Winter Completion: 2018 ATS GT
80% Winter Completion: 2011 McLaren 12C
#DAILY CHALLENGES
You can earn a total of 2 stars from Speed Traps.
You can earn 2 Lucky Escape Skills using Drift and Near Miss Skills.
Earn two stars from Danger Signs.
Drifting Skill
You can earn 1 Pass Skill by closely overtaking in racing mode.
Earn 3 Ultimate Pass Skills while closely overtaking during racing.
#SEASONAL EVENTS
Get Super Wheelspin Reward by PR Stunt: Roman Ruins Danger Sign | 557.7 feet, PR Stunt: Northbridge Speed Trap | 180.0 mph, PR Stunt: Broadway Commons Speed Zone | 165.0 mph, Showcase Remix: "Morning Rush"
Get 2017 Chevrolet Colorado ZR2 by Slate Quarry | (D500) Offroad
Get 2014 Jeep Grand Cherokee by Championship: "Jeepers Creepers" | Street Scene
Update Needed Error to access the Forzathon shop
Even though there are several new items and challenges available in the recent update, many players are complaining about the recent update. Most of them are not able to access the Forzathon shop due to update error. Whenever they are at the shop, there receive an "Update Needed. An update is required to continue playing Forza Horizon 4 as intended. You should update your game as soon as possible."
Here the real problem is that users are not able to see a new update from the store. The game is showing the latest update.
If you received the update and still having this issue, please restart your device. PC or Console whatever you have, do a reboot and check the issue persists.

Update may take more time to available in all countries. So wait for a few more hours and try visiting the app store to check whether a new update is available.
Some of the players have reported that this update issue was resolved at 8am Pacific and you need to reboot your PC to fix this error.

You can still play the game by leaving Forzathon shop as it is.
If none of the above work for you, please wait some more time. The developers will bring some solutions to this issue and you will be able to access the Forza Horizon 4 without any issues.