As the technology evolved in the last few decades, people started using electronics that are lightweight and portable. We can state the case of laptops as an example of this progress. To illustrate, people replaced desktop-class computing and go ahead with laptops. This technological advancement has many positive effects. For example, now anyone can take data wherever they go. However, the situation is quite different when you are back home. It is even worse when we take the case of MacBook. As we all know, Apple has removed all the legacy ports in Macbook pro. As a result, we should have a proper peripheral or a dongle to connect any device with MacBook Pros.
But, do these solutions really solve the complication? My answer is a big No. The prime solution, which is USB-C based peripherals, are not common these days. The latter panacea makes the table grubby and is more complicated. The most serious problem is the displays, in particular, multiple displays. Nevertheless, every situation can be resolved. In this case, the docking station can be an ultimate solution to the problems. Here in this article, you can find the best docking stations. They can not only solve issues with legacy ports but can be a healthy answer to multiple displays.
Top 5 Macbook Pro Docking Station in 2019
#1:- Elgato-Thunderbolt-Dock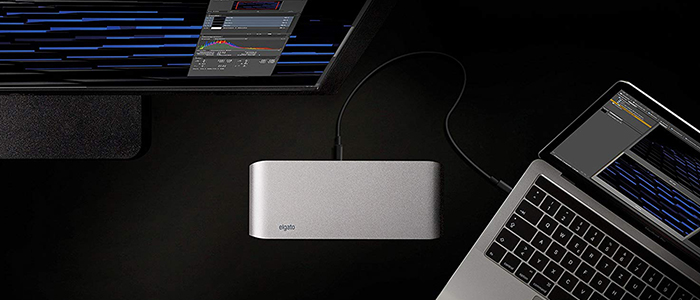 This is my first pick under the best Macbook Pro Docking Station. Elgato Thunderbolt 3 enables its users to connect everything with ease. The docking station has a wide variety of interesting features. First and foremost, you only have to use one single cable to drive dual displays. Moreover, one can charge MacBook Pro (85 W) with a full swing of network speed. Ultimately, it harnesses the full capability of USB-C. Additionally, the station comes up with an amazing built-in display port. Hence there is no compromise in the display. One can have displays up to 4K resolution. Here you can benefit from the versatility of its fabrication.
Likewise of its display quality, Elgato Thunderbolt offers a very nice power output to your system. Even if your computer is turned off, this docking station can charge your devices. In summary, it comes with three USB-C ports; one for dual display support, one for extended versatility and the other for 5K display support. Also, the docking station has 3 USB 3.0 ports for different applications. Besides, one can enjoy the maximum output of Gigabit ethernet. You can enjoy swift connections with greater performance. It also has a nice audio portal and offers a quicker unplugging. To purchase it from Amazon follow the link below.
#2:- Diamond-Thunderbolt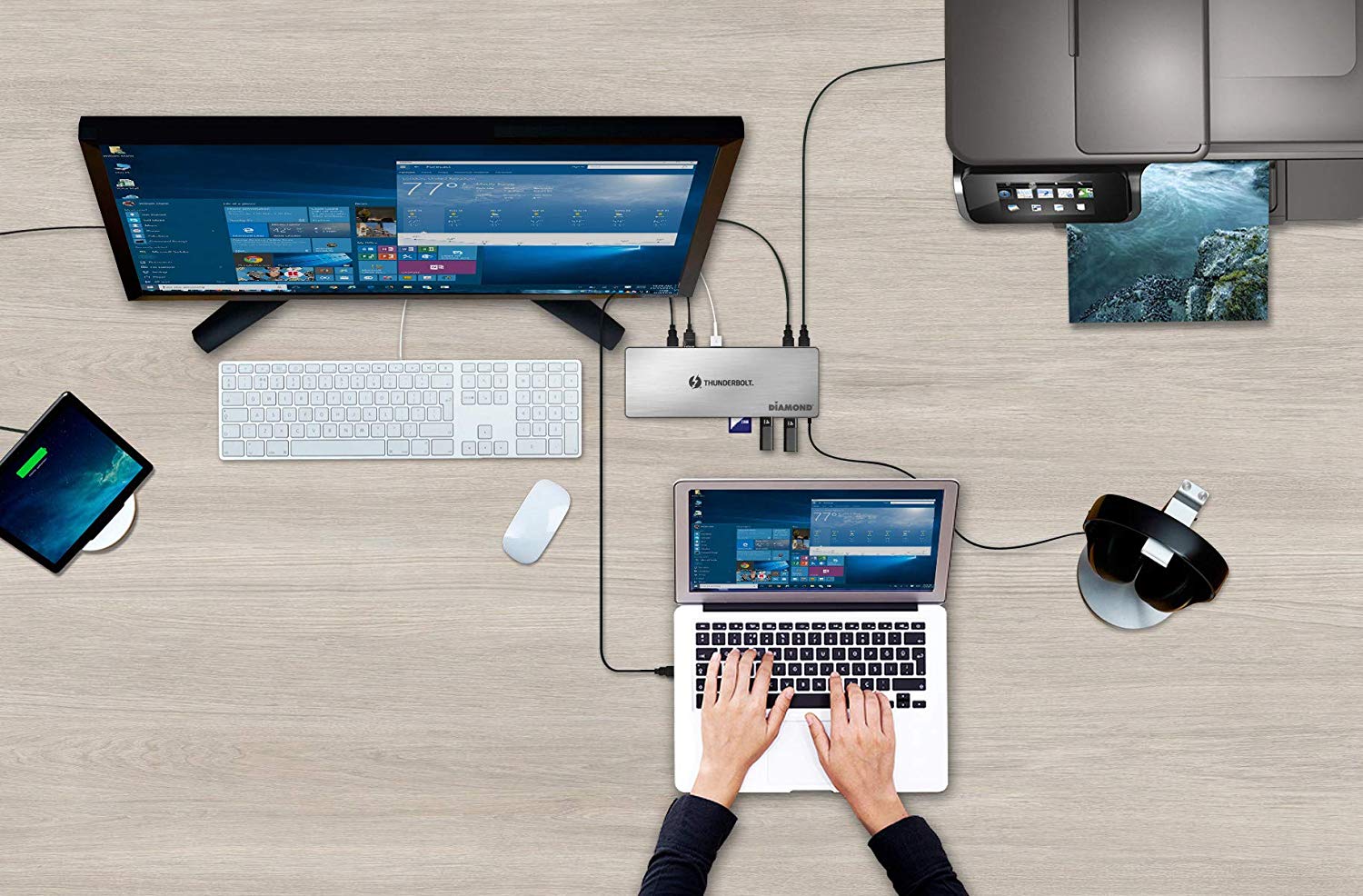 My next pick for the best Macbook Pro Docking Station will be Diamon Thunderbolt 3. Similar to the previous one, this stuff also has very nice features. Firstly, you can have one single connection from your system to other outer devices. Also, it includes a Gigabit Ethernet port and excellent audio connectivity. Through the Thunderbolt interface, it charges your laptop simultaneously. Moreover, users don't need to install additional drivers to plug and play. An HDMI port with 4K resolution is just mind-blogging. One can also add another display with the aid of USB type C port. Multiple displays allow you to mirror the screen as well as to extend visibility.
There is an important point to remember while you use this docking stations. This one is not compatible with standard USB 3.0 or 3.1 Type C connector port. Also, it would be great to buy a couple of this product if you plan to use the same at your office and home. In the front panel, there are three USB 3.0 ports. This region is also equipped with an audio jack, SDcard slot, and LED lights. Again at the back panel, you will find three USB 3.0 ports, HDMI port, Gigabit ethernet, and few other slots. Besides, you will also become a great fan of the fashionable and slim design of the docking station.  If you are really interested take a look at it through the link below.
#3:- LandingZone-Docking-Station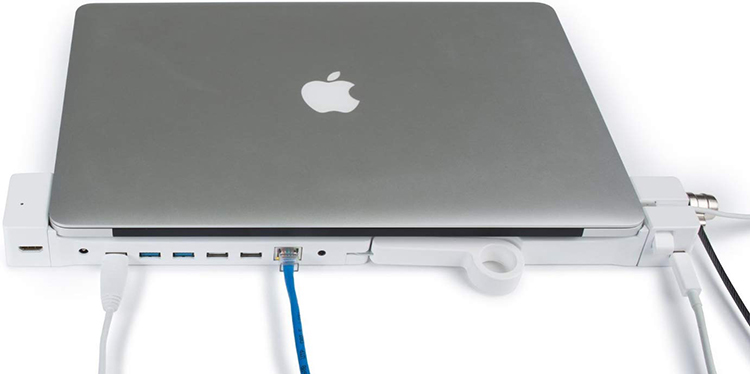 The LandingZone docking station is the next hot pick for you. Featuring with the sleek and lightweight design, this particular one can mesmerize you with the performance. Although being more versatile, this docking station is not compatible with the new Macbook Pro (touch bar and type C ports). Nevertheless, the features it holds are quite amazing. Now users don't need to plug in cables at each time of connection. The quick loading dock enables you to enjoy the feature of Gigabit ethernet, audio port, HDMI port, security slot, and many more. The device is very flexible and you can carry it between office, home and wherever you travel. Additionally, it has 3 USB 3.0 ports and 2 USB 2.0 ports for better integration.
Besides, the docking station comes with a mini display port. This enables a better connection with other devices and monitors. Moreover, a MagSafe 2 power holder allows the use of an adapter while being docked. The status indicator light can be extremely useful when your display is powered on. Once you are concerned with security, this docking station is a perfect choice. To elaborate, the built-in security slot is compatible with almost all Kensington laptop locks. With all the features incorporated in the system, one can also charge their iPhone, iPad, iPod with ultrafast speed. A 15-inch docking station cost you $199 in the Amazon.
#4:- Plugable-Thunderbolt –
MacBook Pro Late 2016/2017 docking station
Launched almost two years before, this docking station comes up with excellent features compatible with your Macbook pro. This docking station from Plugable eliminates the need to plug and unplug your devices constantly. The slim design of the station is very attractive. For example, the docking station can be placed both vertically and horizontally depending on the space you have. Moreover, it has two 4K displays via type C port and DisplayPort to connect the screens. One can enjoy connecting things with the aid of 6 USB ports it has. The Thunderbolt 3 port on the station enables us to connect five chained devices on a go.
The users can charge their laptops and other devices with super fast speed. The power limit is quite high, that is, one can use the dock up to 60 W. But one thing to remember is that the power delivery is purely system independent. This means only certain computers can be charged using Thunderbolt 3 port. There are a few things to note while you use this docking station from brand Plugable. Active adapters are required for a precise conversion to other types. For instance, level shifter adapters are cont compatible with DisplayPort. If you are in search of a sleek, space saver docking station, this one would be a great option. Go to the link below for online purchases.
#5:- LandingZone Docking Station – 15-inch Macbook Pro Docking Station
This model from LandingZone is going to be my last selection for you. Before giving the specifications and features let me provide you some important information. Firstly, the docking station is made only for model A1707 and A1990. Hence the docking station is not compatible with older versions, in particular, those released in 2012-2015. On the other side, this docking station has several interesting features. With the help of a touch bar, users can connect to audio ports and USB type C ports. The power delivery of the docking station is very high compared to the former picks. It can provide enough and more power (96W) to charge your devices in any condition.
Also, one can connect to HDMI 1, HDMI 2 ports their multiple monitors with ease. In total, one can connect three external monitors to the docking station. But, remember that in the worst case, you might need adapters to connect some displays. There are three USB 3.1 type C ports and three USB 3.1 type A ports. One of the latter can charge with 1.5 A of current. An ethernet port, audio jack, SD card slot, micro SD card slot, a mini display port are included in this versatile docking station. Type C passthrough ports are available to connect Thunderbolt devices. Kindly remember that this is not a Thunderbolt docking station, but it is a USB docking station. To add the product in your cart follow the below link to Amazon shopping.
Conclusion
Here in this article, I have given a small description of the five best docking stations available for your Macbook pro. I have tried to filter things out myself as you can see. Hence, you can find docking stations with high prices and improved specs as well as cheap ones, which can do necessary things for you. Ultimately, it depends upon the end-users requirements and needs as a docking station. Help us with your comments for including much more stuffs in the next article update.