Diwali is the festival of lights. Oh, Wait Really? It is also the festival of offers. In this ongoing festival season, all small and big companies are giving exciting offers to their customers. Among them, we could easily say that Google Pay Diwali offer is the most exciting one. Google Pay, in order to compete in its toughest field, had introduced some surprising features in this Diwali season. In the latest update of the app, you can see a Diwali offer, asking you to collect different kinds of stamps. These stamps are so-called Jhumka stamp, Flower Stamp, Diya Stamp, Lantern Stamp, and the very rarest one Rangoli Stamp.
These stamps are given out randomly and you can collect them by doing transactions with Google Pay. You can also receive these stamps from your friends. Once you collect all the 5 stamps, you will get an assured gift of Rs 251 to your bank account.
How to get Rangoli Stamp or any other stamps in Google Pay?
There are several rules you have to follow to obtain stamps on Google Pay. First of all, the time limit to obtain these stamps is till 31 October 2019 midnight. You have to obtain all the five stamps to win the prizes. All the stamps are given out randomly. So you need some luck to get all of them in the given period of time. There are a couple of methods to obtain these stamps. One is by sending money or doing recharges or bill payments through Google Pay and the second method is by receiving from your friends. The more the transaction you made with GPay, the more stamps you collect.
However, there is some sort of restrictions to obtain stamps. You can collect only up to 10 stamps per day. It also has a limit of five stamps per collection method. There is also a restriction to obtain stamps by making a P2P transaction with the same Google Pay user. The following are some of the tips to get stamps easily.
#1:- Send and Receive Money to your friends
Of course, this is the most known method for receiving stamps. You will definitely have hundreds of friends on your Google Pay contact list. You can send cash to them and ask for a refund. Make sure you send money to those who trust. By doing this simple process, you can earn stamps quite easily. Since there are no processing fees or hidden charges, you don't have to worry about losing money in any form. The money you send will return to your account safely. Additionally, you will get scratch cards from which you can earn more money.
Also, if you have other bank accounts in your name, you can send directly using the Account number and IFSC code. This is also a reliable option to earn a few bucks as well as stamps. Try to send a much bigger amount which will increase the chance of getting more scratch cards and rare rangoli stamps. Once again, I want to remind you that, you will obtain 5 stamps per day by this method. Also, you will receive only one stamp for multiple transactions with the same person. So, once you reach the limit, try it on the next day.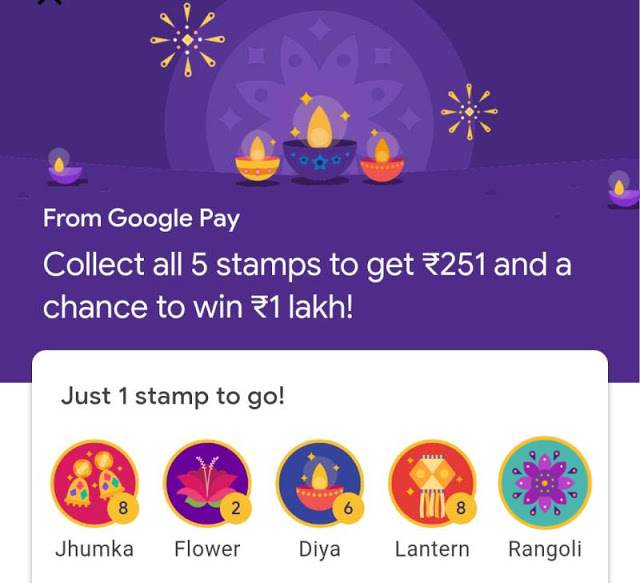 #2:- Do Bill Payments and Recharges
Google Wanna makes people paying their bills LoL. I think this is why they had brought the "unlock this reward by paying a bill" reward coupon. You can do bill payments to obtain Diwali stamps as well as special scratch card offers. One of my friends come to my home and ask me whether I have any bills to pay. I wonder why he is asking so and later find this surprising reason.
Here also, you need to know that, you will get only 5 stamps by doing bill payments. This is in combine with the "send money to friends" method. For the assured 251 rs and 1 lakh lucky gift, most people are paying their bills on time. Bill payment includes Electricity bills, postpaid mobile bills, DTH bills, Landline bills, Broadband bills, Gas & Water bills, etc.
#3:- Ask for Rangoli Stamp, Flower Stamp or any other stamps Below
We had already mentioned that flower stamp and rangoli stamp are the tough ones to get. Among them, Rangoli is even more difficult to obtain. These days, we have already seen many friends sending direct messages, Whatsapp messages or even Google Pay message asking to send them some stamps. However, your contacts are limited. Here we are opening a chance for you to obtain stamps from some random people in India. Every day, thousands of users are coming to this page and you can ask them for the stamps you want.
Open your Google Pay and navigate to the Diwali offer section There you will see the option to send and request stamps. Just click on the request button and you will see many options to request. There you will see an option to copy the link. Just copy it and paste it in the comment box below. If there are users who can help you, they definitely do a try.