If you are a job seeker, you definitely know what a resume is and how much influence a resume can impose for getting a new job. A resume is a document, which is created by a person looking for a new job, in which his qualification, experiment, and skills are listed. Resume or CV may be the first item, which is submitted to the employer while attending an interview. The first impression that an interview board or employer will have of you, is definitely upon your resume. So making an attractive and well-designed resume is your first opportunity to catch the board's attention.
Recent studies show that an employer or the board members didn't spend much time looking at your resume. They only want to get an initial impression of yours from that resume.  So you should make sure that you have enough items on your resume. If you want your resume to have a good chance of being noticed by the board member, interviewer or employer you should spend some effort to make it great. This makes your resume an odd one and stands out among the hundreds of other resumes submitted by other candidates.
How to edit the Google Doc Files and change resume contents?
If you are new to Google Docs, you may feel difficulty in downloading and editing the following resume doc files. To block other users from editing the content and to restrict them from altering the overall look and features of the following resumes, we published the resumes in view only mode. That means you can only view the main content. Now you may think how you can access it. Don't worry. You can edit and do whatever you want by copying the resume file to your Google account. It may take only a couple of clicks. Just follow the steps for copying the resume templates to your Google account.
Step 1:- Click on File option.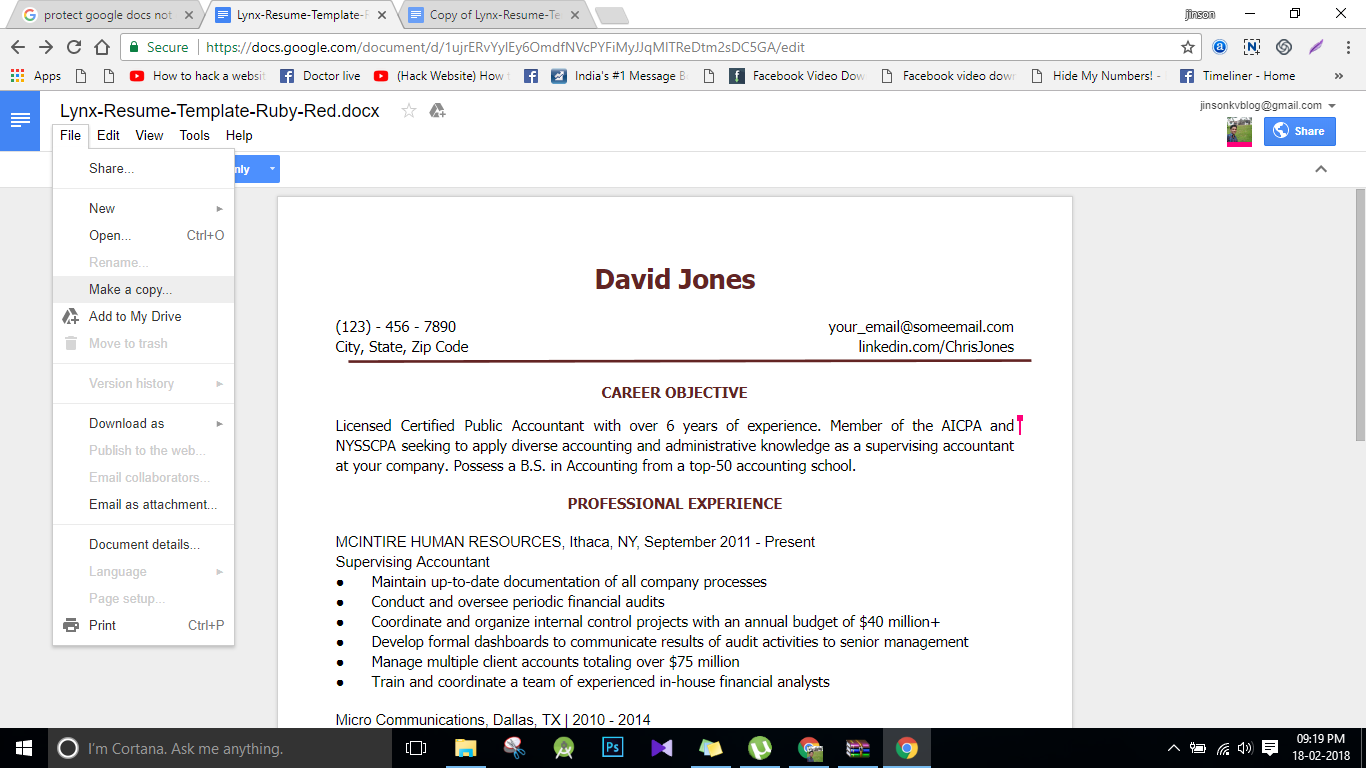 Step 2:- Now you can see a list of pop down options. For the options, click on "Make a Copy".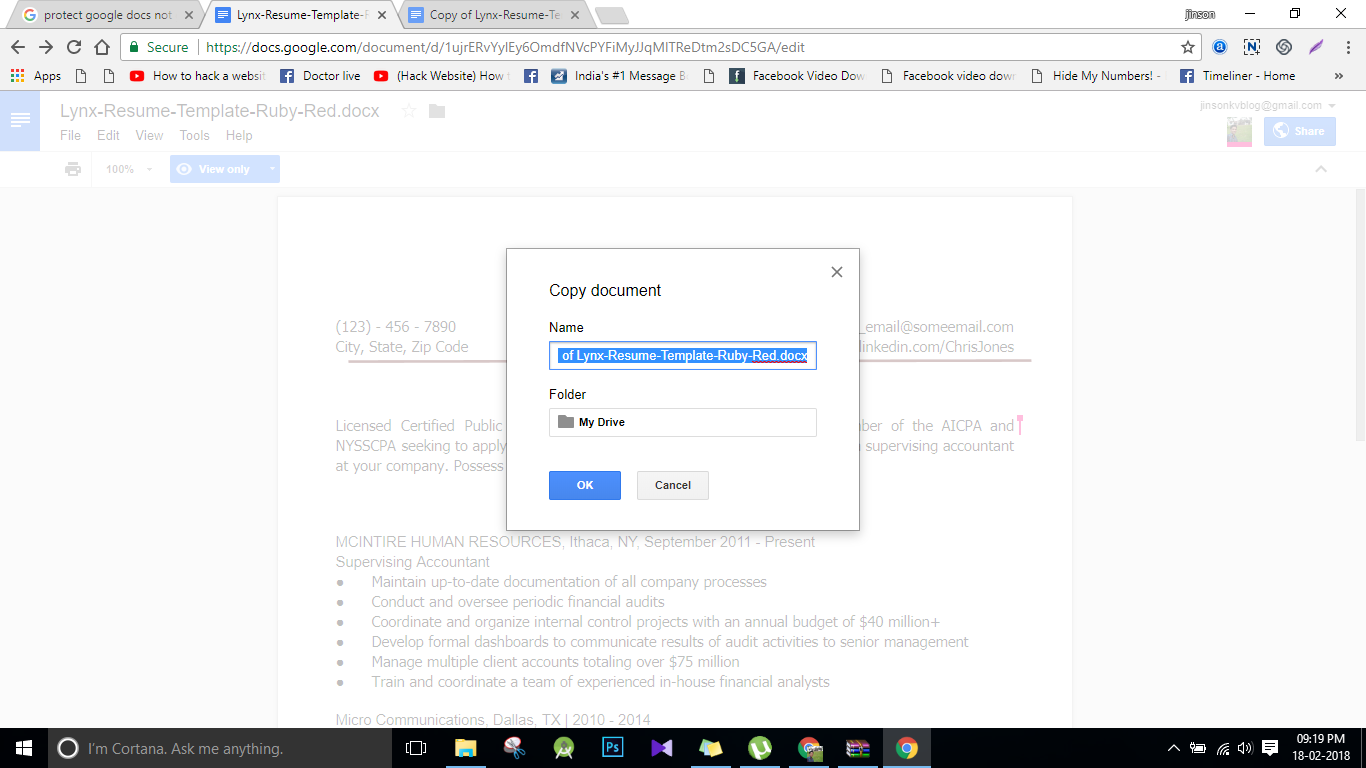 Step 3:- Now its time for renaming the file. This will be the filename with which the resume doc gets copied to your account. Give the file any name you want and click on OK button to continue.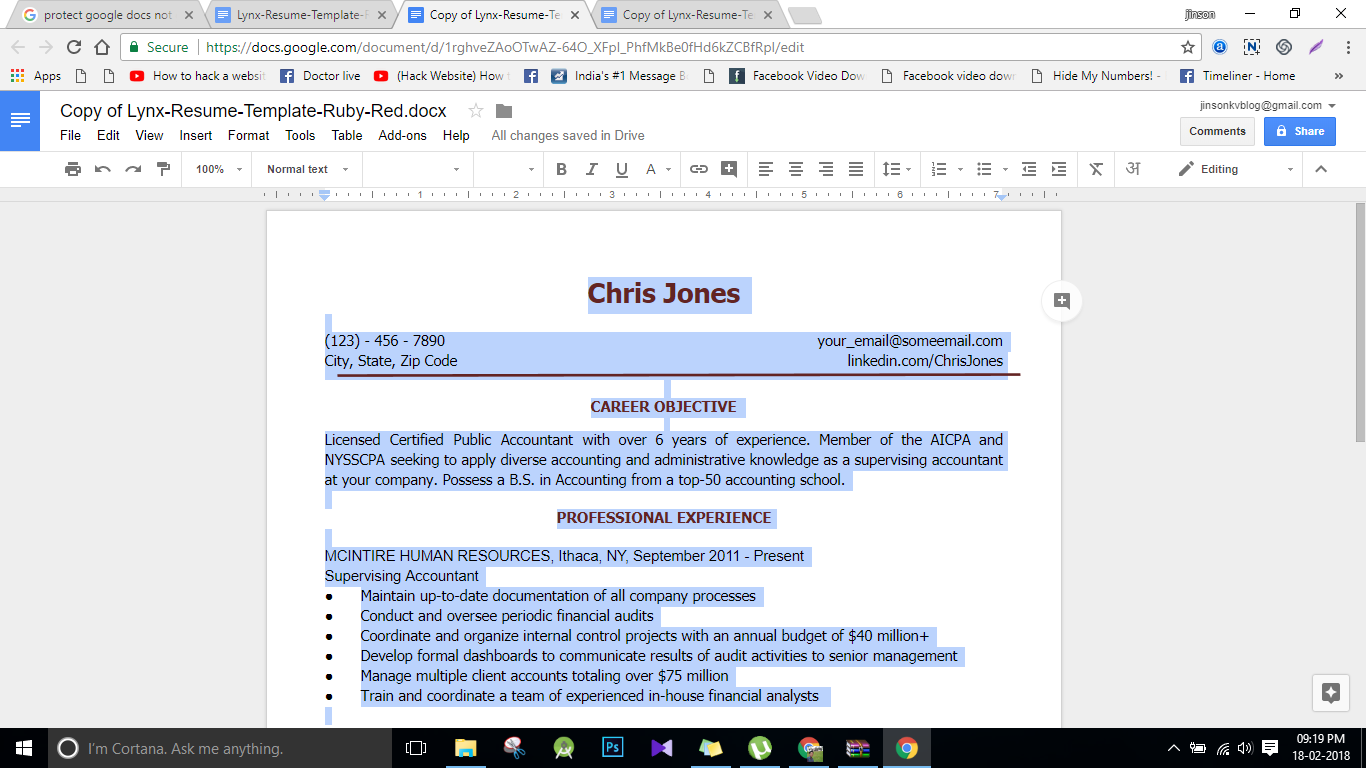 Once you finish editing, you can download or print the file. There are many options to download. You can choose the download as .docx, .pdf, .txt and many other formats.
Now go through the following resume templates and download or edit whichever you want.
Please Read:- No need to ask for the permission to edit
After adding the doc templates, many people started asking the request to edit the template listed below. If we grant the permission to do so, the next person who is looking for the template will see the edited doc file. Instead, you can copy the template to your own Google account and do anything you want.
For that,
Step 1:- Open the link and make sure you have logged in with your Google Account.
Step 2:- File —> Make a copy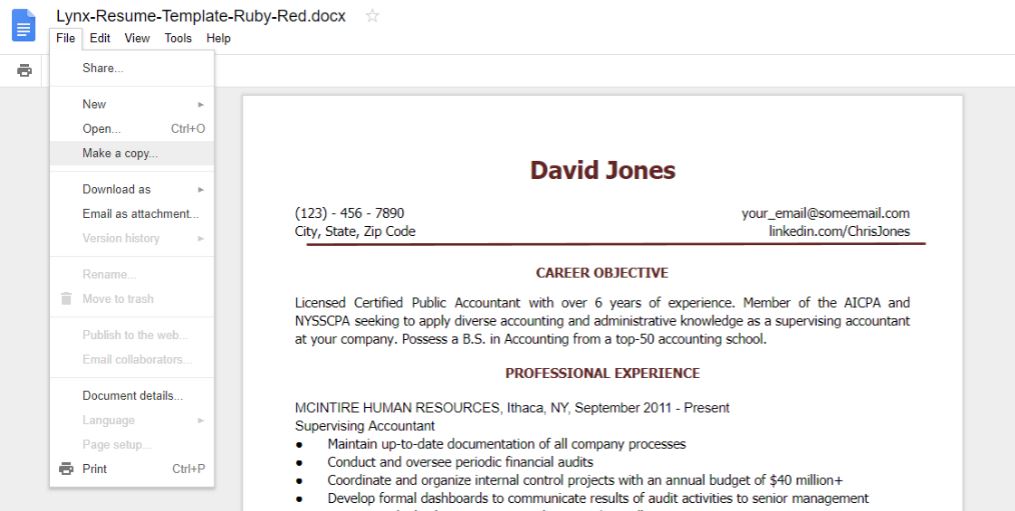 Now the file will be added to your Google docs and you can do whatever you want.
Download the Best Google docs Resume Template
#1:- Minimal Resume Template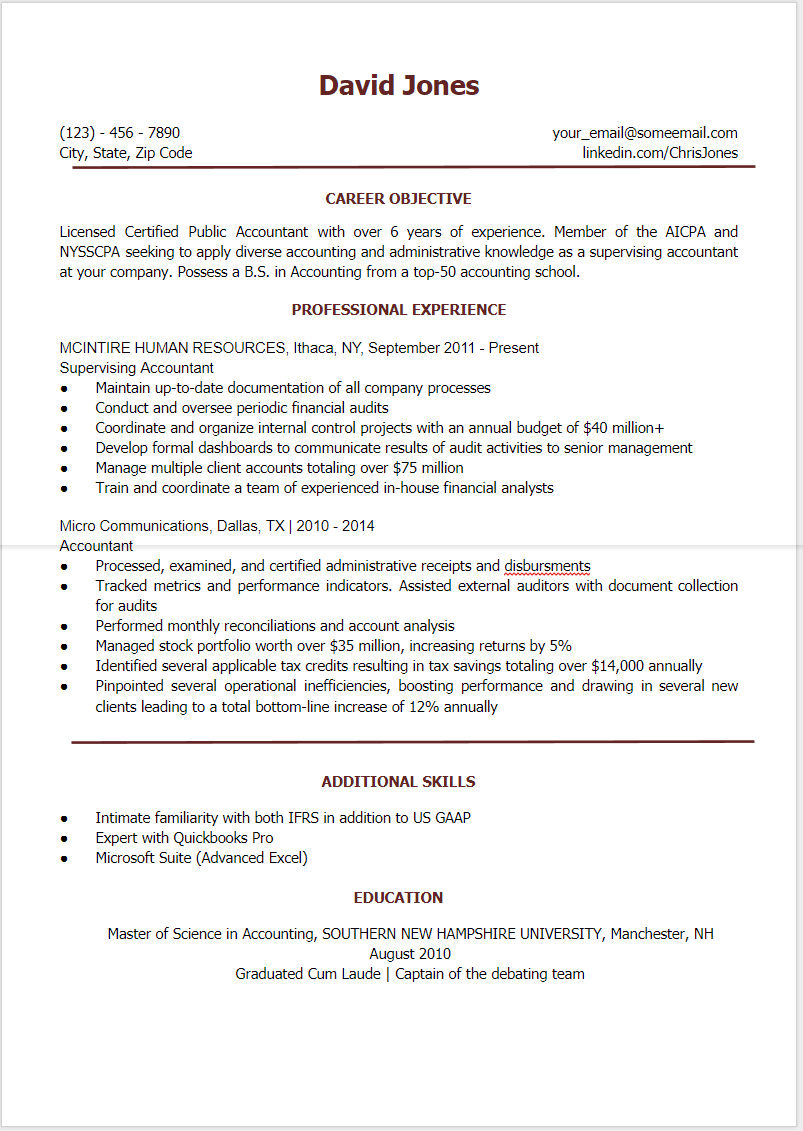 This is the first resume Google document for you. Very simple and straightforward one. You can write your name on top of the resume and option to ad email, address, profile links etc on the header itself. There is a career objective field right after the header. This resume also has the option for listing your personal skills, additional skills and your education details. You can add other details too.
#2:- Resume with border designs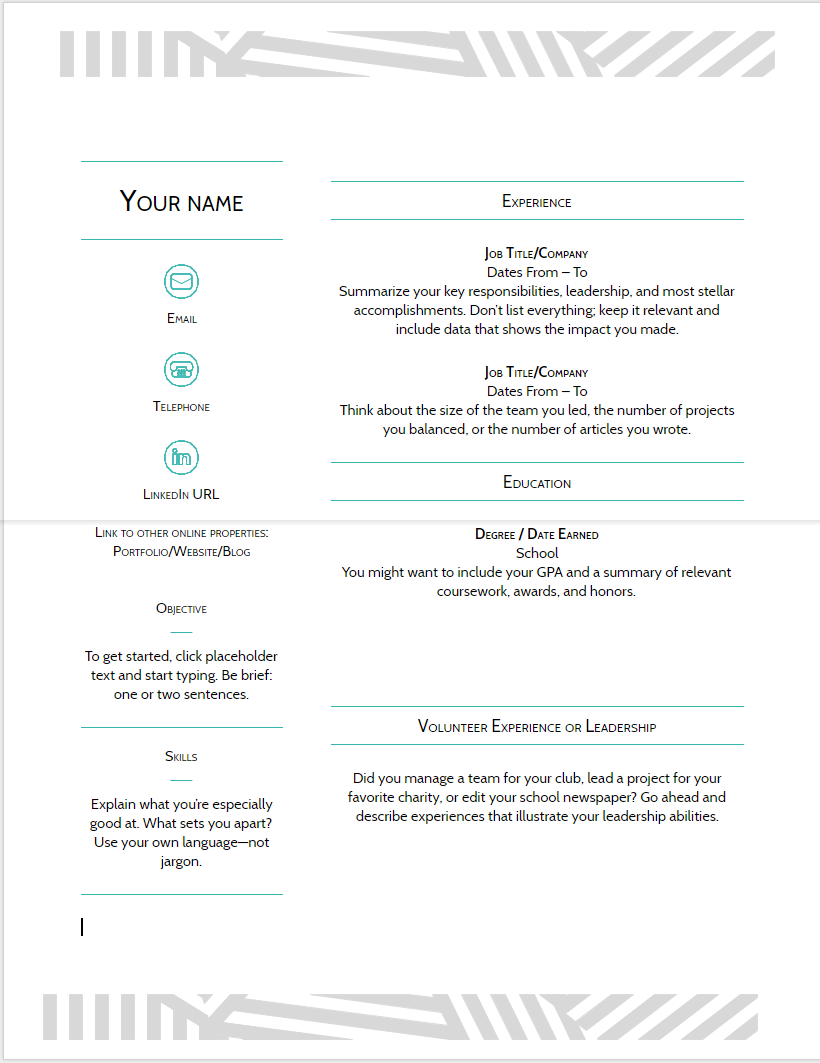 This is the second one that suits your needs. Much better than the first one and gives premium look and feel. Top and bottom side of this resume are margined with attractive designs. You can add your email id, LinkedIn profile, phone number and other basic details like skills and objectives on the left side and your experience, qualities, education details on the right side of the resume. This is a colorful resume and make sure you do a color printout.
#3:- Free Google Docs Resume Template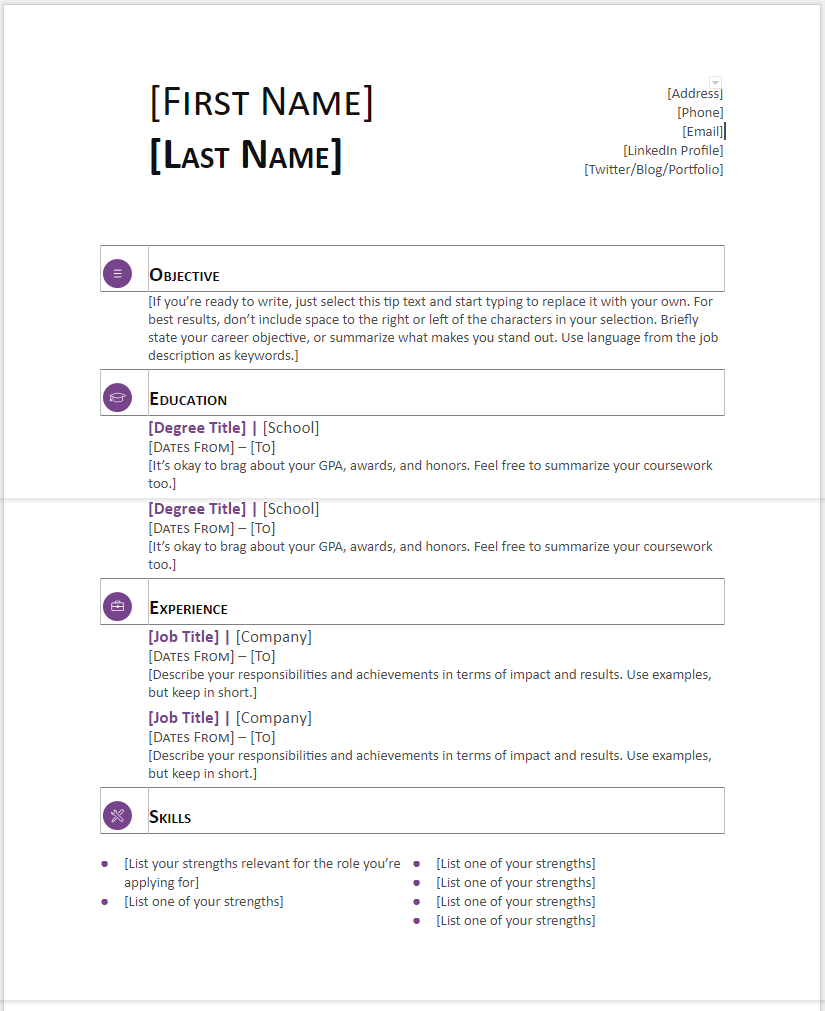 Here is another colorful resume for your quick needs. You can show your name, email id, LinkedIn profile, phone number etc in the header. Career Objective, Education details, Experience skills etc can be edited in the corresponding fields.
#4:- Resume with Boxes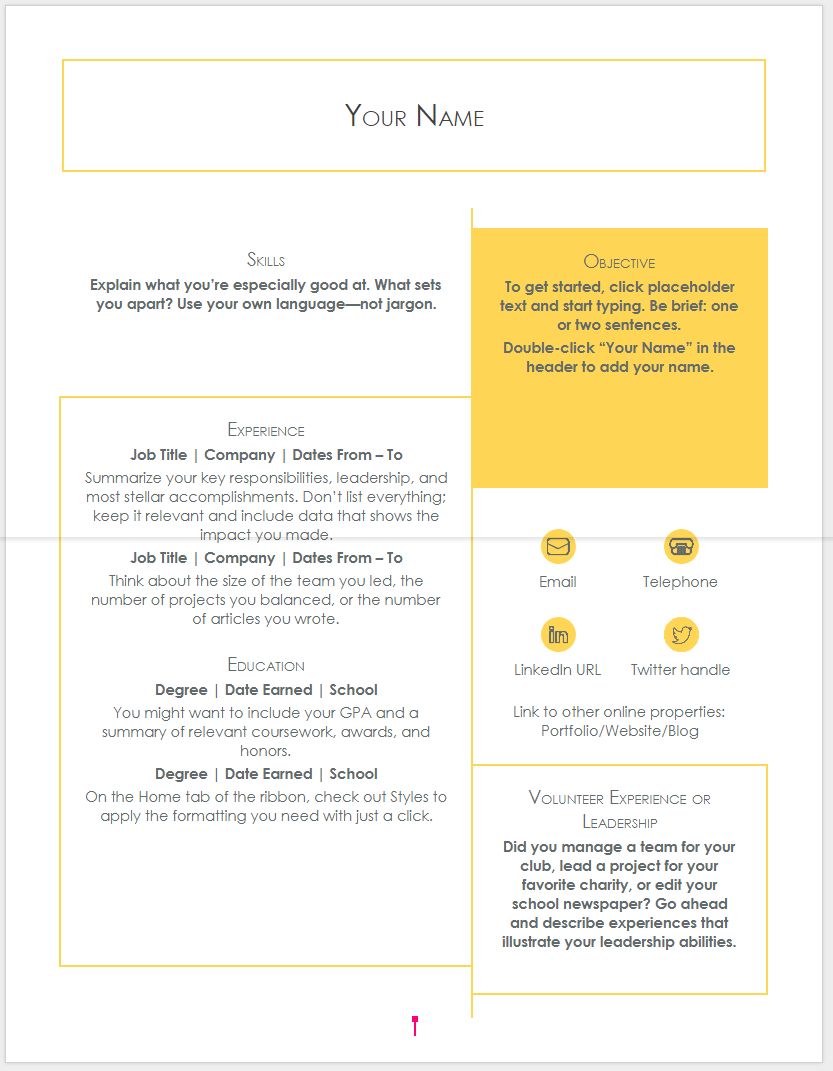 Here is another wonderful resume template enriched with attractive color. Similar to other CV themes, this template also has a header where you can write your name. There are special fields for writing your email, phone number, LinkedIn username and twitter username if necessary. Related fields are given in a box which makes the resume attractive.
5:- Attractive CV templates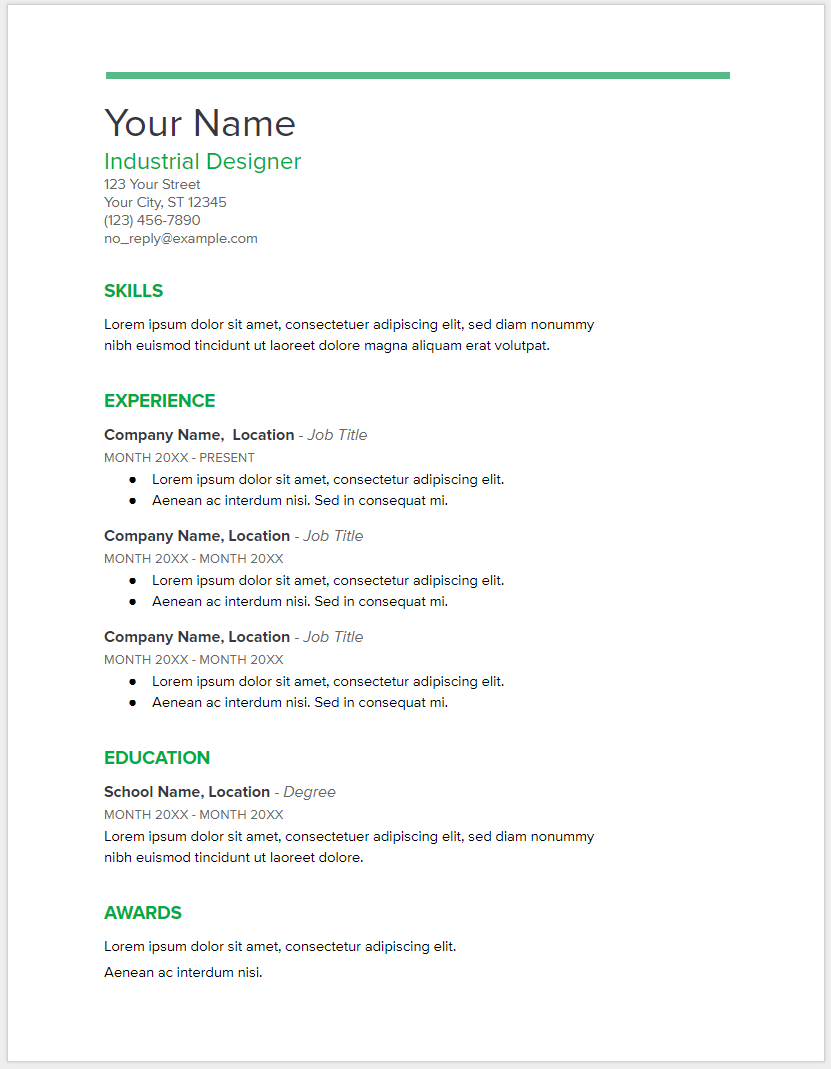 Another colorful resume template for you. Your name can be given in the header followed by your dream job title. You can add your contact details like email, phone number, and other social profile usernames right below your name. There are fields for adding your educational qualifications, experiences, and skills. You can add more items if you want.
#6:- Clear and straightforward template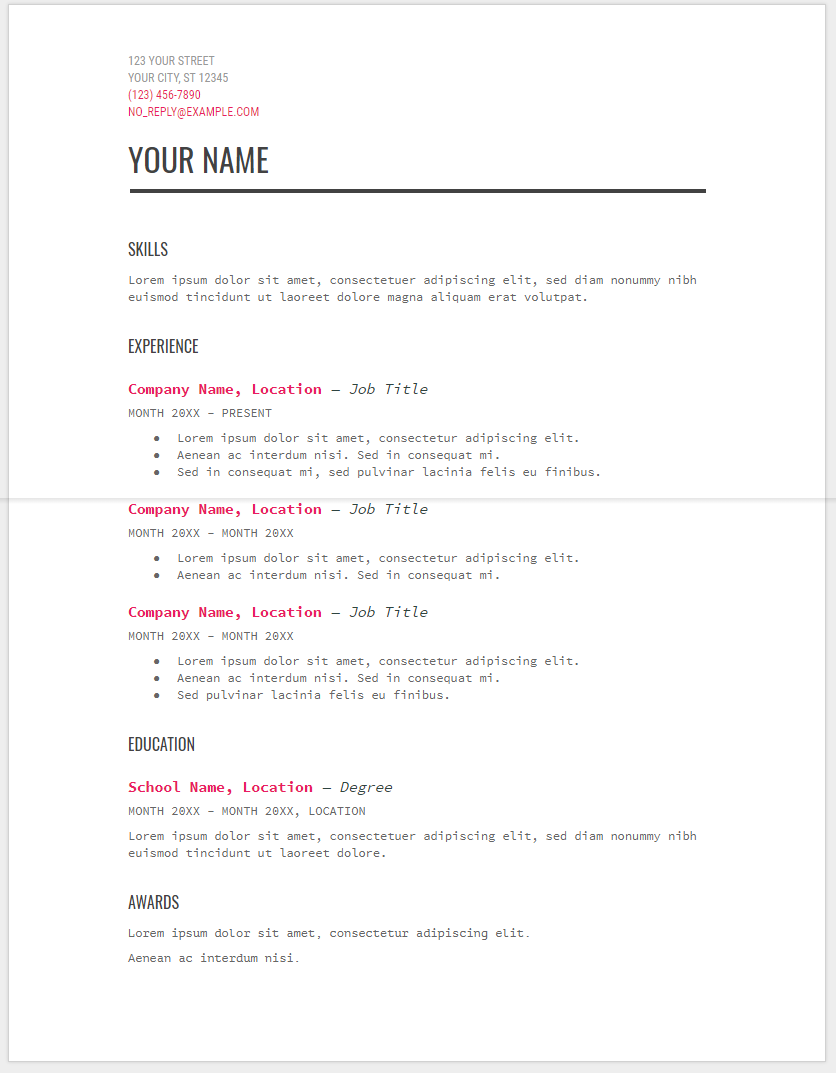 This is a minimal CV template. Like previous resumes, there are no eye-catching colors or images. It contains all basic fields that a simple resume required. This is a very easy template to edit and you can create your own quick resume.
#7:- Basic resume theme for Google Doc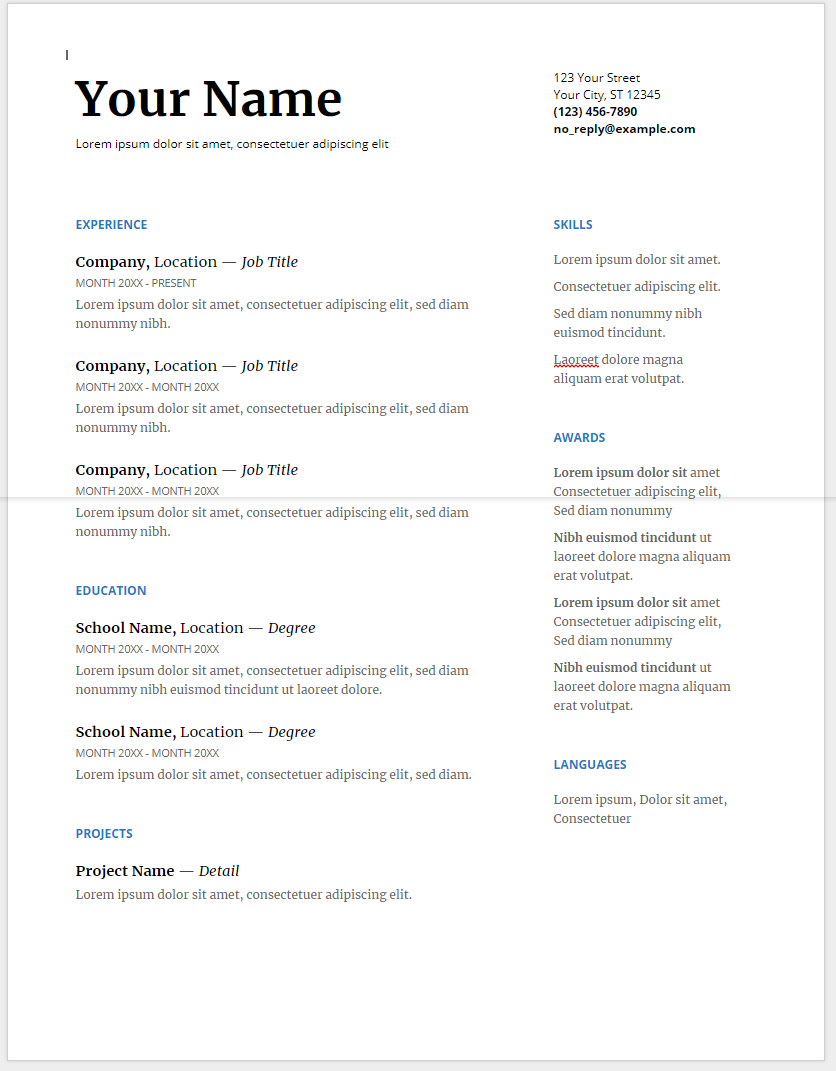 Another simple template. Similar to others, the name can be written on the top and on the right side, you can add your contact details. This template is a two column one in which on the left side, you can write Experience, education, and skills. Anyway it is completely the users choice to decide what all things come on the either side.
#8:- Premium look Template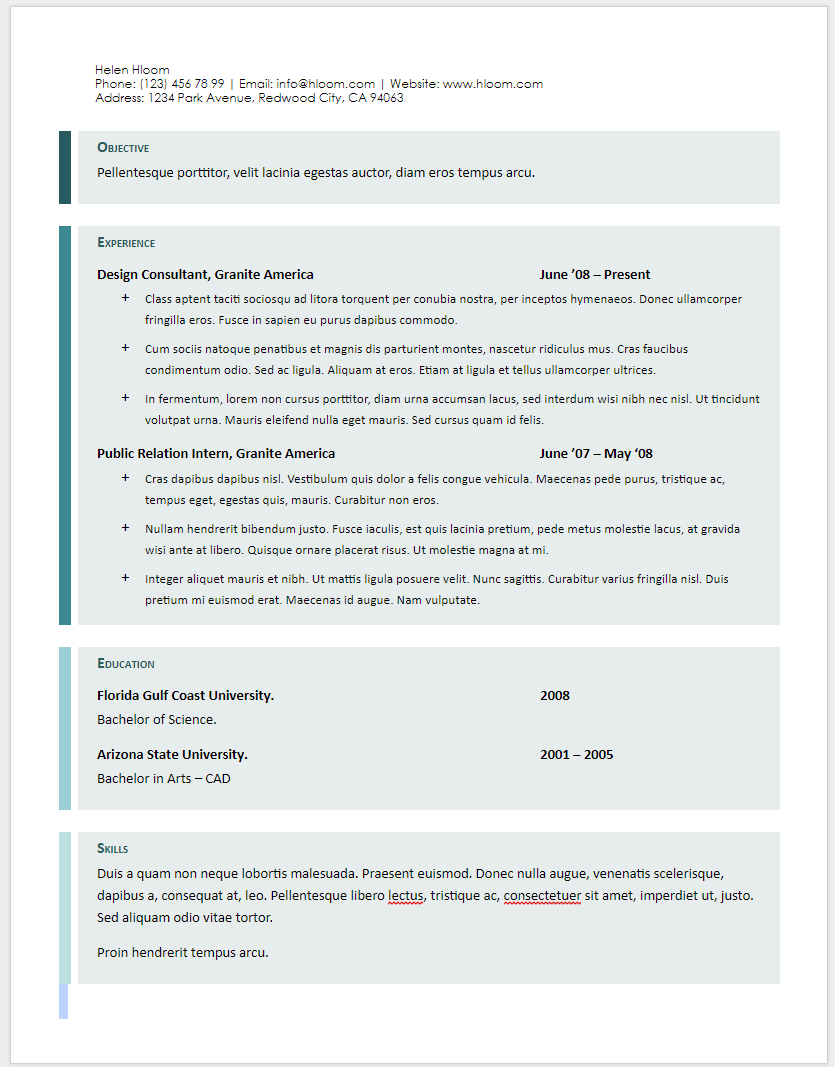 Template with attractive design. You can provide your name and contact details on the top and there are special fields for other details. Colorful boxes are made created to list out your qualification, skills, experience and career objectives. Anyway one of the premium look Google docs resume template in this list.
#9:- Resume template with Profile pic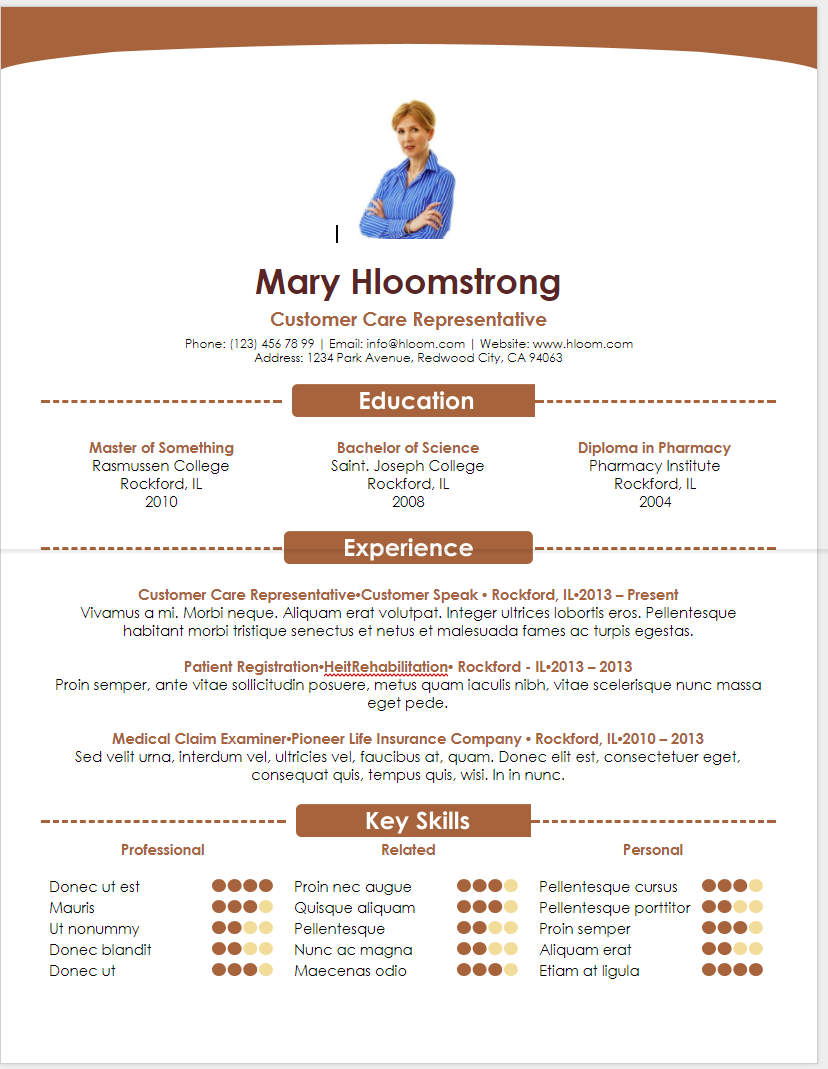 Unless all other templates listed here, this one required special editing skills. This is not a simple one to edit but once you are done, this one work for you sure. First of all, there is an option to add your own image at the top of this resume. If you don't want that feature, you can leave that field. Premium look and feel are given to the titles. If you are new to google docs, don't mess with this template, just choose the simple ones.
#10:- Best in Class Template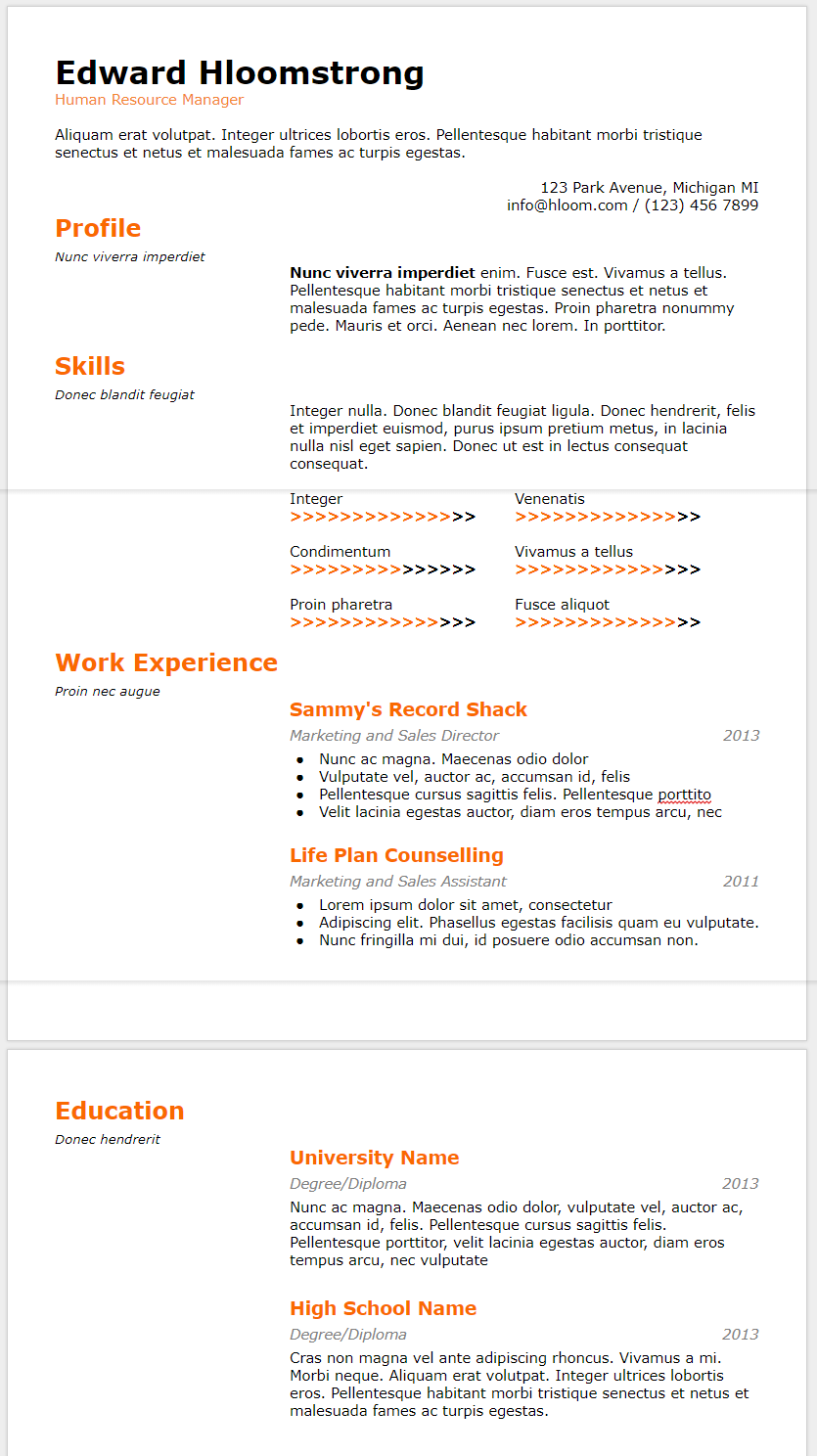 This is an easy to edit CV template in Google Docs. But once you are in the skills field, please give a special attention. Make sure you list the skills exactly. This template provides a feature to give a small summary of yourself at the beginning.
Conclusion
If you are planning to attend a sudden interview, it is difficult to prepare a resume from trash. So the best option is to use resume templates for preparing resumes and cover letters. You can choose either MS Word templates or Google Docs templates for creating quick resumes. In case of Google docs, they offer a variety of free resume templates with which you can start making your resume. All the above-listed templates are open for editing and you can make necessary changes if you want. After finish editing, you can download it in various formats or can be printed directly.