There is nothing more to say about Comcast because you may be using Comcast Internet service for reading this website. Comcast is one of the leading telecommunication company in the USA providing broadcast, cable television, and Internet service. Since the inception, the company gradually pick over 40% of broadband users in US market. Later they form a brand name called Xfinity and everything was renamed. This is why the term Xfinity is more popular than the name Comcast.
Since they are one of the leading ISP in US, people look after the best networking devices working with Xfinity Comcast. Networking cables, routers, repeater, and modems come with the list. So today, we are sharing you the best Xfinity Comcast Compatible Modem under $50. These are the cheapest modems with the best performance for reliable Comcast internet. Anyway, you can choose modems with more features where you need to pay extra money.
Best Xfinity Comcast Compatible Modem in 2020
#1 Netgear CM400 DOCSIS 3.0 8*4 Cable modem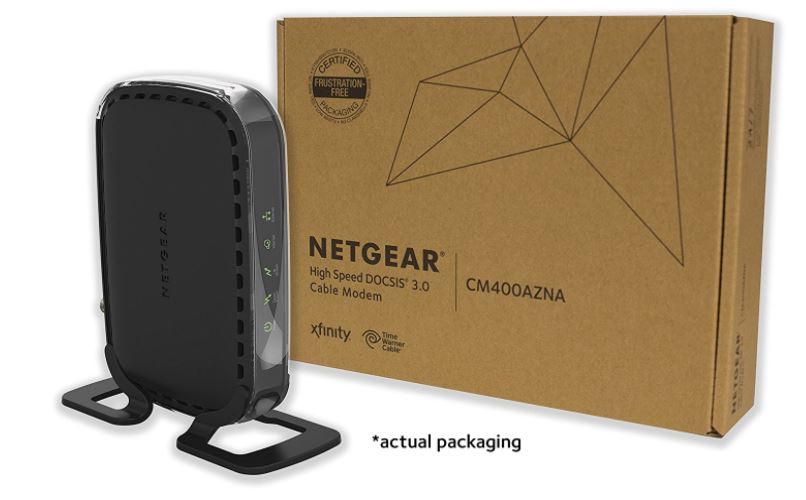 Now it has become easy for you to enjoy faster connections and speed to spare on streaming and gaming with CM400 cable modem. CM400 is recommended because it can eliminate your monthly rents and can deliver you a speed of 340 Mbps. When we talk about speed, a Gigabit Ethernet port delivers swift access and downloads. Whether it is streaming HD videos, faster online gaming, browsing or downloading, a speed up to 340 Mbps is guaranteed. The modem is certified by CableLabs and DOCSIS 3.0 is eight times faster than previous version 2.0. The modem works well with internet providers like spectrum, Comcast, Cablevision, Cox and many more.
You have to note that this modem is not compatible with cable bundled voice services. For XFINITY customers, even without a service call, self-activation of the modem is carried out. The fastest possible speed at peak hours is offered by 8*4 channel bonding which means 8 downstream and 4 upstream channels. It has now become easy to eliminate $120 per year rents and hence you can save money over time with this modem. The modem offers IPv6 next-generation internet addressing support along with a simple CD-less installation.
#2  ARRIS SURFboard SB6141 DOCSIS 3.0 Cable modem
For a blazing fast home network, SURFboard SB6141 is going to be the perfect fit. It is a DOCSIS 3.0 modem that can very well guarantee you 343 Mbps speed. Now things like streaming HD video, browsing, downloading, online gaming and shopping have become very easy with this particular cable modem. As mentioned earlier DOCSIS 3.0 is eight times faster than DOCSIS 2.0. The modem is approved by almost all cable providers like Comcast Xfinity, Spectrum (Charter, Time Warner, Brighthouse Networks), Cox, Mediacom, Suddenlink and many more. But you have to note that this modem is not compatible with Verizon, AT&T or Centurylink.
It comes with 8 download channels and 4 upload channels which offer 343 Mbps and 131 Mbps respectively. The modem supports latest internet standards- IPv4 & IPv6 and is very easy to install. A single Gigabit Ethernet port helps you attain a maximum speed of 343 Mbps. High performance while online gaming and HD multimedia streaming are features highlighted for this brand which can bewilder any users. You have to note that, there are no energy efficient ethernet or telephone port for this modem. It almost costs $50 at Amazon shopping.
#3 Linksys-Certified-Comcast-Spectrum-CM3008
This is yet another best pick from the market and it can offer ultimate speed to all your online activity with a speed matching to 343 Mbps. With Gigabit Ethernet port one can transfer data 10 times faster thereby ensuring a rapid connectivity for wired devices. Installing modem is so easy and you don't require any CD to do the same. The modem works handily with any wire or wireless router. The modem can provide a maximum of stable 100 Mbps speed for any existing internet service plans.
Now it is easy to eliminate rental fees of about $ 120 a year as this modem is certified to work with major cable providers like Comcast Xfinity, Time Warner, Cox, Charter and more. The multiple bonded channels of CM 3008 allow you to maximize internet service plan with eight download and four upload bonded channels. The slim and very compact design of the modem allows you to maintain a clutter-free surface area. This powerful modem can very well handle high bandwidth thereby increasing the internet speed. The Intel Puma 5 chipset facilitate high-speed upload and download performance.
#4 Linksys-Advanced-Comcast-Connector-DPC3008
With this super cable modem DPC 3008 you can now create a wireless network and eliminate monthly rental fees. With the multiple channel support, one can achieve a download speed of 340 Mbps and upload speed 120 Mbps. High-speed connectivity can be ensured with the help of Gigabit Ethernet ports. DPC 3008 can deliver high bandwidth transfer speeds through your existing cable system. Channel bonding technology will be very much handy to stream HD media, surf the web, online gaming and more.
You can take your network to the next level by simply connecting PC directly to the modem or to a WiFi router. It is with the support for DOCSIS 3.0, 2.0, and 1.1, the modem allows high bandwidth transfer rates on your prevailing cable system. The latest Internet Protocol technologies to keep your connection up-to-date is been achieved by IPv6 features. The device is certified by Comcast and works with all major cable internet providers. The device is very easy to install without any use of CD.
#5 Zoom 8×4 Cable Modem Model 5345
The cable modem comes with 8 downstream and 4 upstream channels to give you the experience of the very fast internet. With this modem, it is easy for the user to achieve a dream speed of 343 Mbps and the user can now rethink about giving monthly rents for the modem. Faster and more reliable internet can be provided by your service manager with the use of full-band capture digital tuning feature. This modem allows you to enjoy internet on PC or anything connected to your router. The modem is compatible with Comcast, Time Warner Cable, Cox, Bright House, and many more.
The modem supports DOCSIS 3.0 standard plus DOCSIS 2.0 and 1.1 and is certified by CableLabs. It works with IPv6 and IPv4 technology for powerful and flexible network addressing.  This can be used with wired and wireless routers and works very well with Windows and Macintosh and other Ethernet-capable computers. all these features are achieved just because the modem uses advanced Broadcom integrated circuit technology. Zoom telephonics established in 1977 offers the customer support to model 5345. High speed, compatibility, and space saving design made this stuff a perfect choice for almost all internet users.