You may have already understood how dangerous is Coronavirus. The global situation has been changed in last couple of weeks and many countries have announced complete lockdown. Since there is no vaccination available to date, self-isolation is the only remedy that works against Covid. Many people are looking after the live status of Coronavirus and end up in false details. Here we are mentioning the best websites to get the live statistics of Corona Virus.
All of the below-mentioned websites provide accurate data from reliable sources and you can access the map view. You can check out the map for a better understanding of the situation.
Top 3 Websites for tracking Live Status of Corona Virus
#1:- TrackCorona – COVID-19 Tracker and Live Map
TrackCorona is one of the best websites that provides each and every information related to the Corona Virus. The website is developed by undergraduate students at Stanford, University of Virginia. They take date from DXY, COVID19Japan, ECDC, JHU, WHO, CDC, Wikipedia, USAFacts which makes the data more reliable than other similar websites. Also, it is funded by leading companies like Google Crisis Response & UVA DevHub.
A full-screen map which shows the live Corona presence is the main feature of this website. Google Map API is used to get accurate location details for showing the realtime map.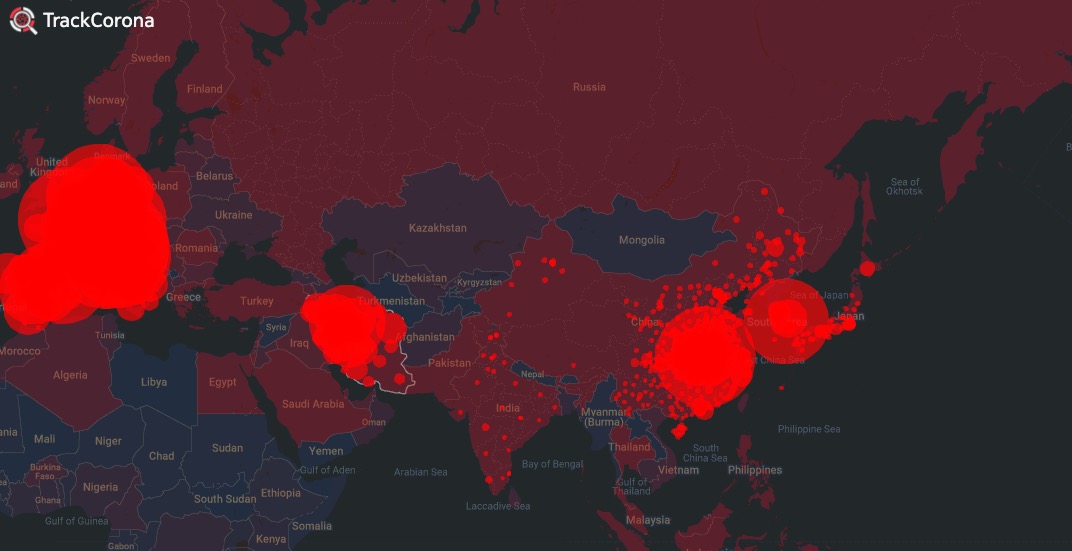 The infected area is marked in a red circle and you will get a clear idea by looking at the Covid world map. There are further features on the map. You can filter the map based on confirmed cases, death cases, and recovered cases. Along with the normal map, there is an animated map that shows the data from January 22 to till date. You will get a clear idea of how the disease had spread in the last couple of months.
You can view the data of COVID-19 in different options. The overview will give a brief idea about the confirmed cases, death, recovered details. The table view can provide information about COVID cases in each country. You can also look at the pie chart and line chart for a better understanding.
They also include details of the travel ban implemented by every country related to the Coronavirus. Just search the country name and find out whether the borders and airports are closed or now.
#2:- Corona Virus Dashboard – COVID 19 tracking Online
Corona Virus Dashboard available on domainncov2019.live is another brilliant corona tracking website. You can track everyday details of COVID-19 through this website. The homepage brings the details of countries that effected by the virus. You can track confirmed cases, new cases, total death, and details of recovery.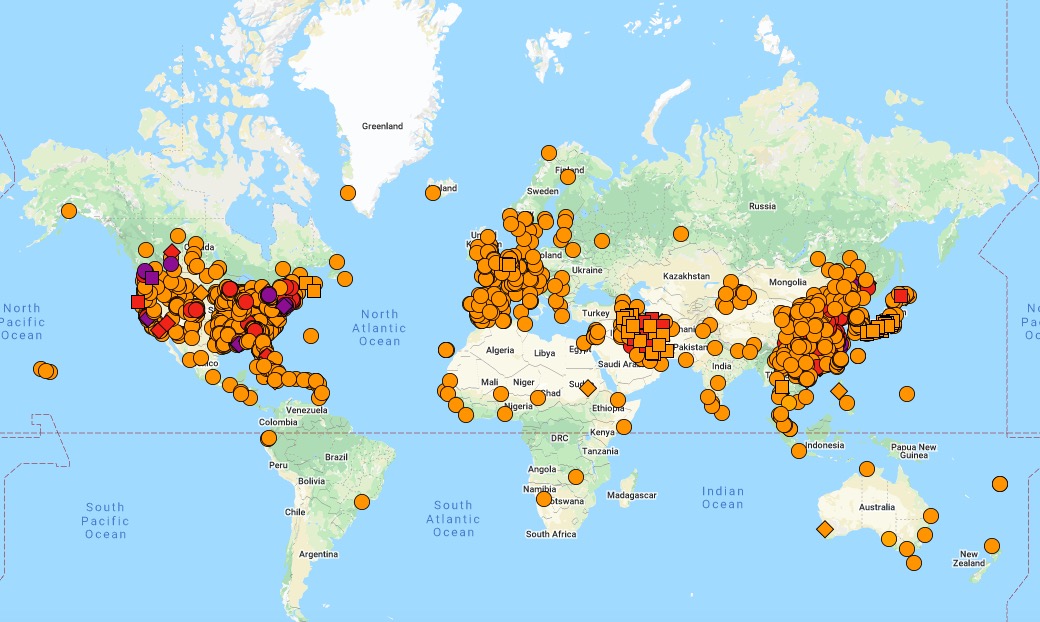 You can access the map which shows confirmed cases in a circle. Cities with 1,000 or more cases are marked in black color, 100 or more cases with purple color, 20 or more cases in red and less than 20 cases in orange. They are gathering information from the BNO News website which is based on the Netherlands and a very reliable source of information.
The wiki portion of the website provides all the information about the virus including its structure.
#3:- Worldometer Corona Tracker
Worldometer is a website that provides world statistics to the public. Basically, it displays population details, Government & economic details, environmental details, food, water and energy details. However, after the corona outbreak, they have added live Corona statistics so that we could get a clear picture.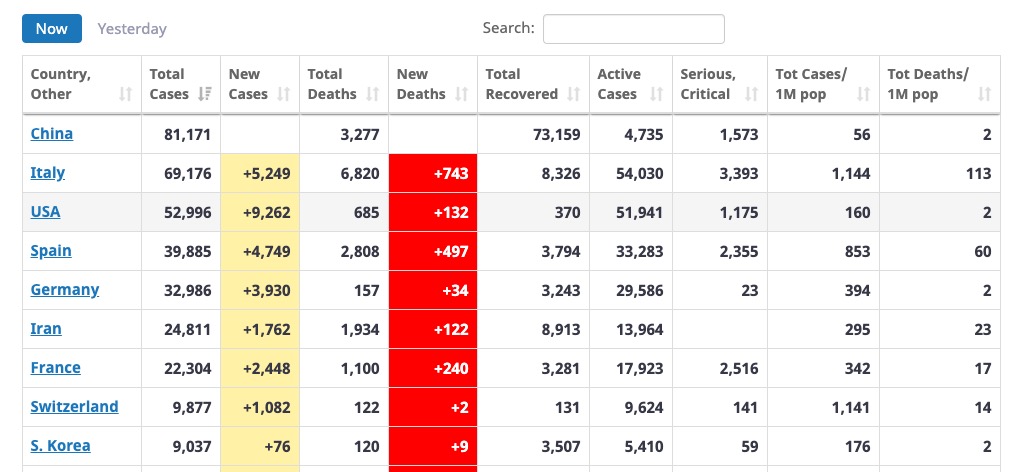 They provide different types of graphs including case graphs, death graphs, and death rates.
https://www.worldometers.info/coronavirus/
Conclusion
There are many other websites and mobile apps that provide Corona live status. However, most of them are collecting information from the same source. The websites listed above are 100% trustable as they are collecting data from reliable resources.
It would be difficult to find Android apps related to Corona since Google has decided to block every application that has a tag 'CORONA', COVID' etc. A couple of applications are available on the Apple store for tracking the live stats of Covid. Anyway, you can access the above websites by using a web browser.
If you know any other websites that have more features than the above ones, please comment below.