Sometimes, it amuses me how things have changed in the past years. Yes, it is obvious that evolution will take place in society. There are many many examples that we can state under this headline. But, let me narrow your thought under note-taking discussion. There are many ways to write down something at the time of lecturing. Everyone, who has been in schools and universities would know it. I am quite sure that my readers would have faced some difficulties in taking down notes very fast. I have been in such a situation many times. But have you thought about taking notes with minimal efforts? Yes, there is a simple and crystal clear methodology in writing down lectures. This will be very useful after some point of time.
Most of us prefer a structured note-taking procedure. Because it is quite certain that we will come back at some point of time in future to refer them. Likewise, there is some category of people who uses an outline method of taking notes. Despite having well-structured notes, some of us also prefer to draw mind maps to memorize it for a longer time. Moreover, there are even people who even do not care about the structure at all. Everything works, I would say. But there might be something always superior scientifically. This recognition has been given to "Cornell Note-taking". It has been devised by Prof. Walter Pauk in 1950s.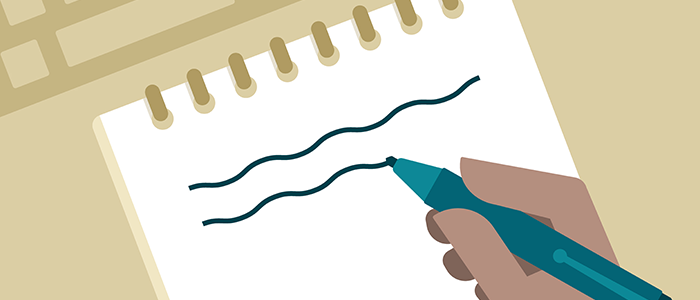 What are the Advantages and Uses of Cornell Notes?
It is very much useful to summarize everything for a future reference. In this aspect, Cornell note-taking is an excellent medium to recollect something with tokenism. For instance, if you are preparing for an exam, this way of note-taking will be very useful. Also, I can say this way of writing down something will be very handy outside the physical classroom. For example, when you attend an international conference, this way of taking notes will be appropriate. The concept of Cornell note-taking is to facilitate learning in a different way.
Basically, Cornell note pages are divided into four categories. Out of which the main body will take at least 70 percent of total space. Additionally, there will be space assigned on the top, bottom and left (right) to point out highlight matters of the lecture. The column on left (right) may be used to write down questions, your comments regarding the topic, etc. However, the bottom space will be for writing the summary of the class. Also, it is evident to use the top zone for headlines.
This way of taking notes can be a perfect tip for examination. For instance, students can reflect on their notes by summing up everything on their own words. It will be very easy to pass an examination by following this simple technique. The simple, but quite effective, in short words. In the following sections, I will provide some handy MS Word and Google docs templates for saving your time. You will find a lot of articles to create templates which is time-consuming. Our aim is to make everything ready to serve at your plate.
#1:- Cornell notes MS Word templates
Cornell notes of MS Word are very much convenient while taking down lectures. These kind of templates are more widely used among students. Moreover, students will be able to reuse the templates with some corrections. One can also create some nice templates of their own in MS Word. But I guess, this is not my job to be a teacher to you all. For me what matters is your precious time. So here I include templates for your easy use.
These templates are well-designed and user-friendly. Moreover, the listed templates will be advantageous while taking notes in class or conference. All of the templates in this section enables you to organize and divide notes efficiently. Please find all the attached templates in Word format. Prepare the notes, summarize it and score good marks for the examinations.
#1:- Cornell Notes sheet for Students
This is a great template for students to take notes in the classroom. You can write down the questions and create notes along with the questions. Since this is an MS word document, you can download it and make changes and modify it as per your requirement.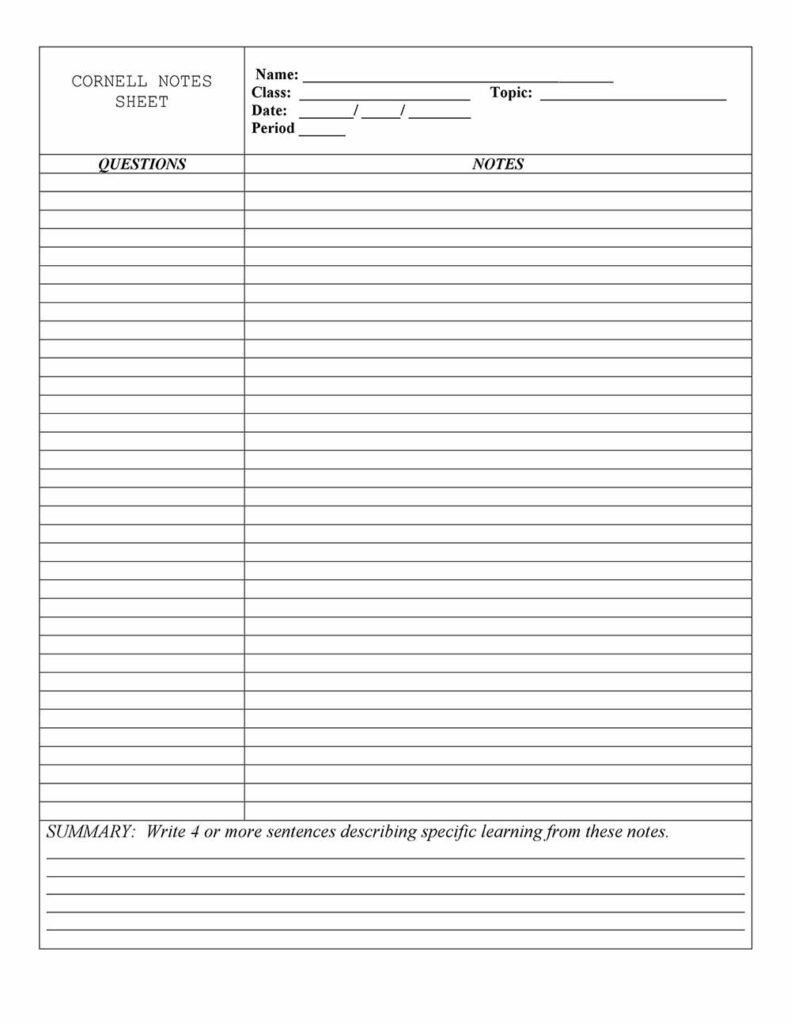 Download this MS Word template
#2:- Notes For any purpose
You can use this theme for any purpose. You can use it for taking lecture notes or business notes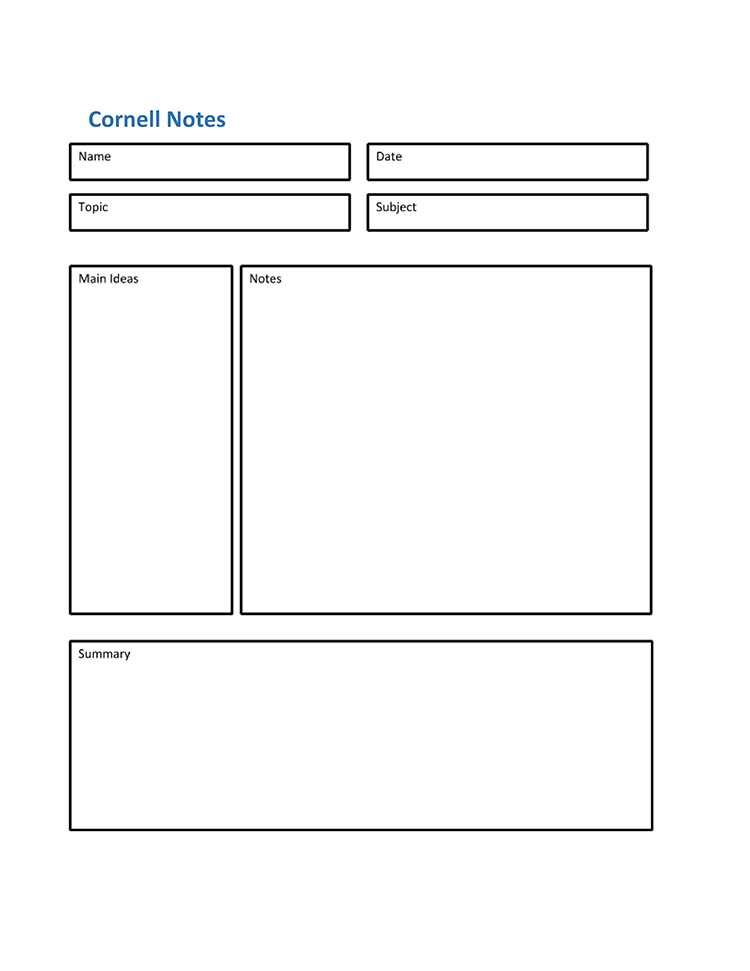 #3:- Colorful Cornell Template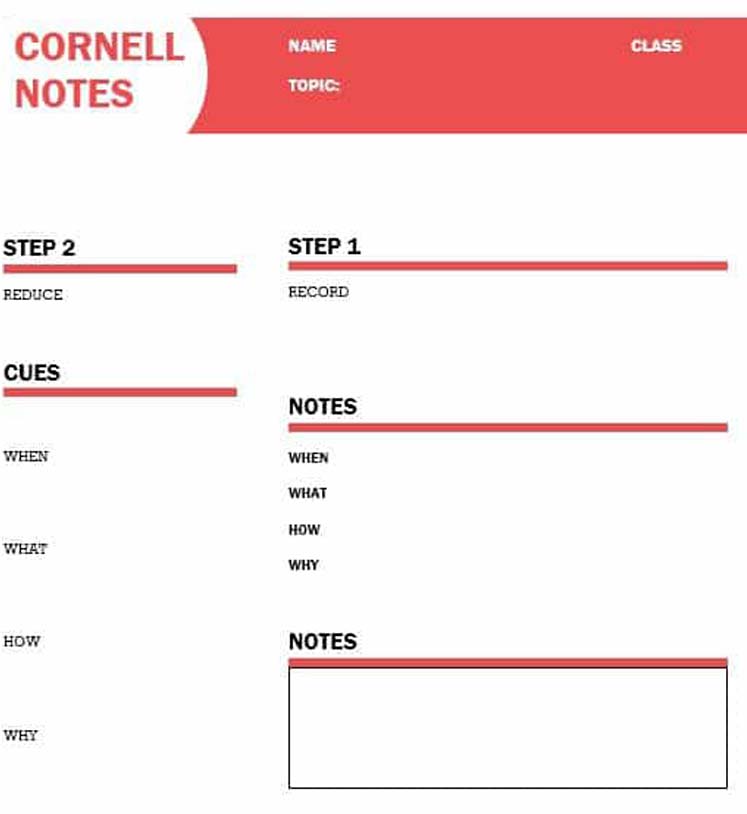 #4:- For Students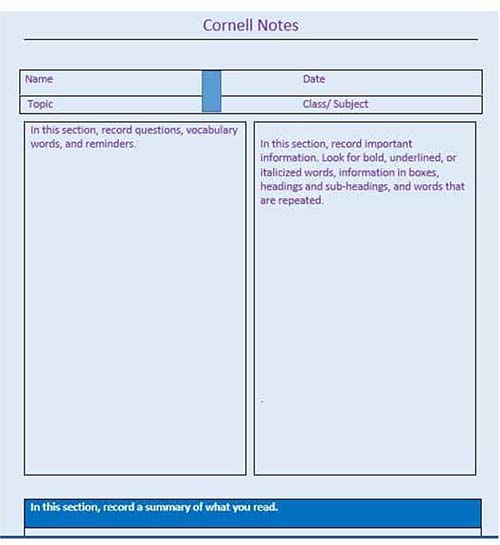 These are Microsoft Word Cornell notes. You can also copy these templates to Google Docs and edit on Docs without MS Word. But some of these templates are in multiple pages which require MS word for perfect editing.
#2:- Cornell notes template in Google Docs
The other commonly used Cornell note templates are of Google docs. This is much handier as it operates online. Due to its working type via the internet, students can access their notes from anywhere. These templates are always there in your Google account. As a result, there is no issue, even if students change their personal computer systems. Moreover, they can access them via mobile phones too. Hence, the demand for Google docs template of Cornell notes is increasing among university graduates.
You can start downloading from the free templates given below. Also, every file given is ready-made. This means you don't require to modify anything. Additionally, each template is customizable in Google docs. Users have the freedom to create, import, edit, and update the notes in various formats. The templates are pristine for making presentations, and professional notes.
#1:- Simple Cornell Note
This is a simple Cornell note. You can copy this template to your Google Docs account and add or edit it later.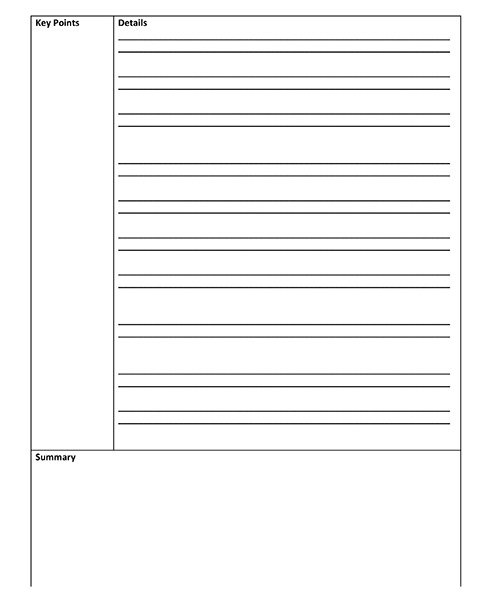 #2:- Template to note key points and notes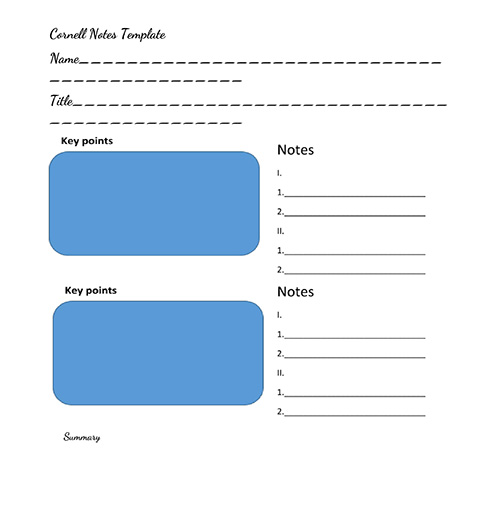 #3:- Material Note template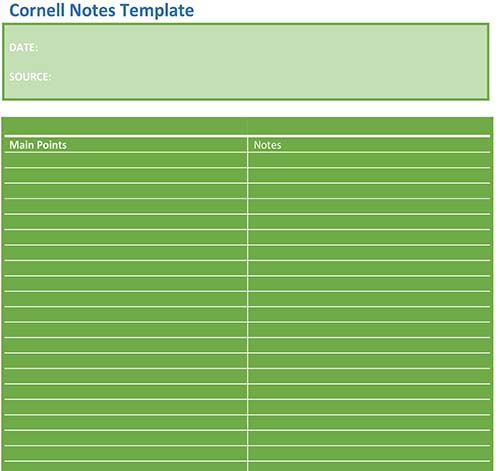 #4:- Key Point, Details and summary template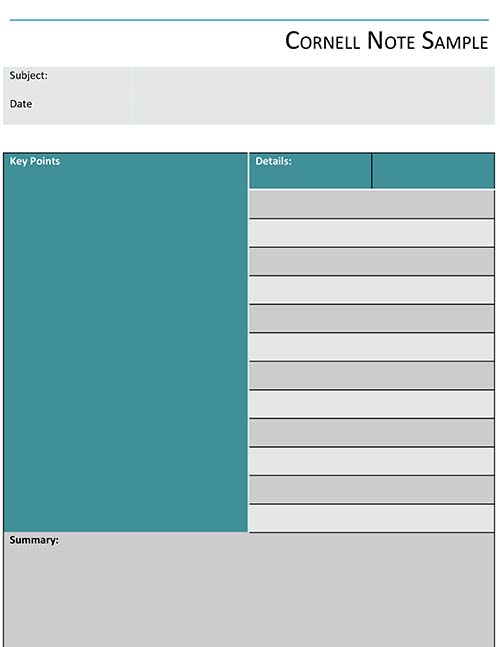 #5:- Colorful theme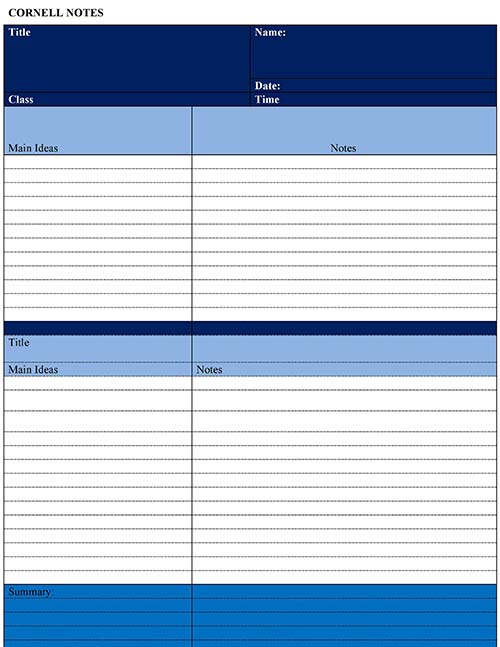 #6:- Great template for Students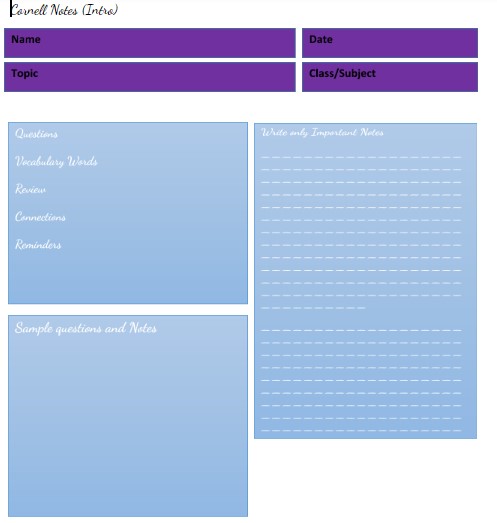 #7:- Small column theme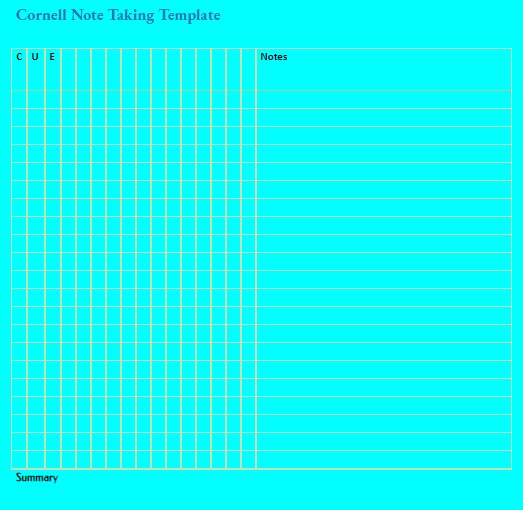 #8:- Questions and Details Cornell notes template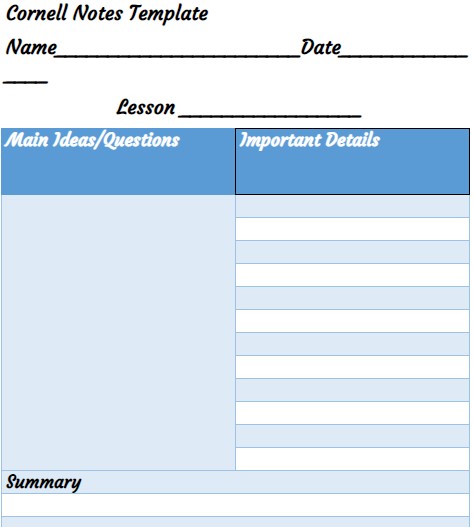 #9:- Ideas and Descriptions Cornell notes template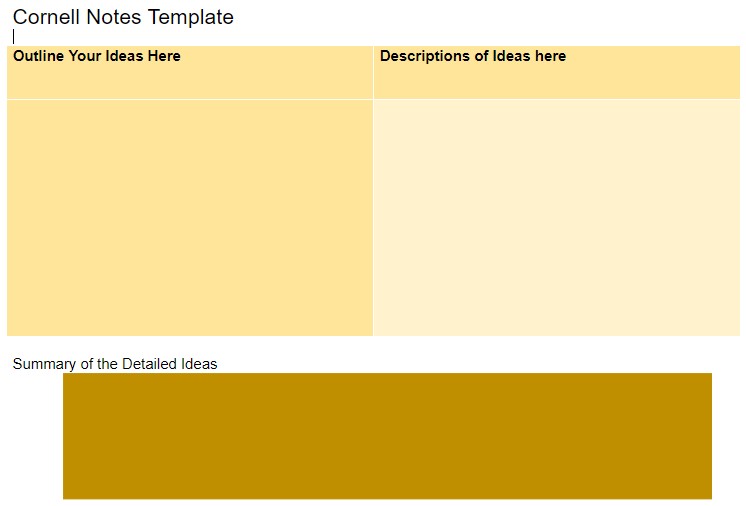 #10:- Cornell notes template for Top and Subtopic contents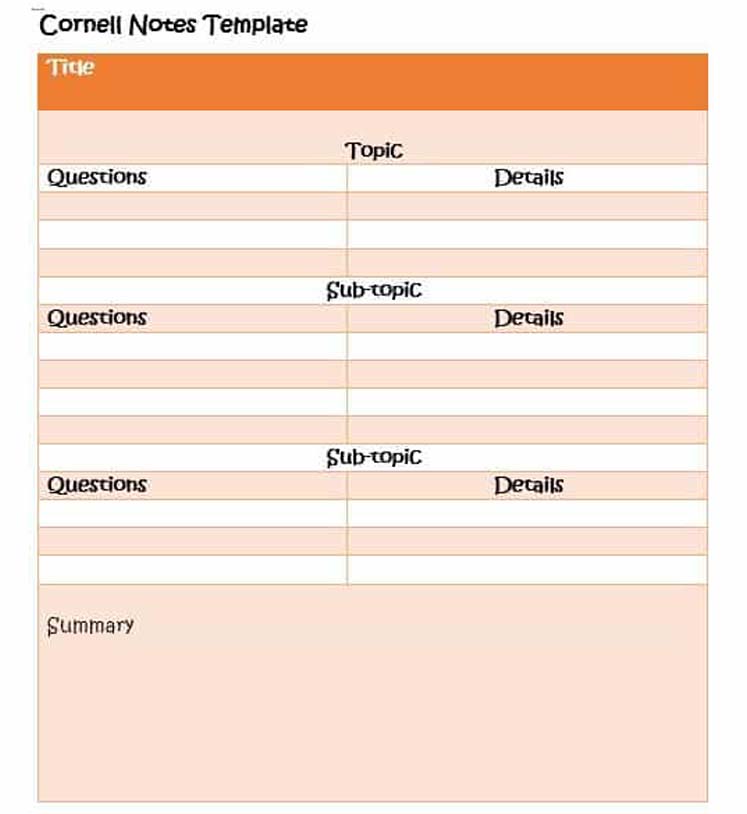 Conclusion
Cornell notes are very useful in your daily life. No matter what profession you are in, these notes will be very beneficial. I totally believe in the power of Cornell notes. This will certainly help you to write, review, and organize notes in a few minutes. For students, this way of taking notes will surely guarantee better grades at different competitive examinations. Also, students can achieve a higher level of thinking skills by using this type of technique.
I hope this method of making notes will help you in future examinations and next conference. So don't waste your time in creating different templates. Employ this simple technique and be a star in the coming exams and meetings.