Apex Legends forums have been flooded with bugs and glitches right after the release of season 5. One major reported issue is a black graphics texture bug while playing the game. You can't properly see the screen because there will be a lot of black textures during the gameplay. This is a glitch in the game file and EX games already ware of the bug. They have announced a patch soon to fix this problem.
However, you can try some tweaks in the game settings or repair the game to check whether it fixes the issue for you. Many gamers have reported that some of the following solutions are working for them.
Solution 1 – Swap your Anti-Aliasing Settings
Since this is completely a game-related issue, you can try some tweaks in the game settings to temporarily fix this issue. Like I said above, you have to wait till the next patch or update to get a permanent solution. So the first recommendation is to swap the anti-aliasing settings on your Game video settings.
Anti-Aliasing is the feature that allows you to smooth the game images by reducing the jagged lines and sparkles. By turning the Anti-Alias ON, your graphics card has to work more to render high-quality graphics. You can swap your current Anti-Aliasing settings to check whether it fixes the bug or not. Means, if it is turned ON, turn it OFF or if it is OFF, turn it ON.
Step 1:- Go to Settings of your game. In settings, click on the video settings.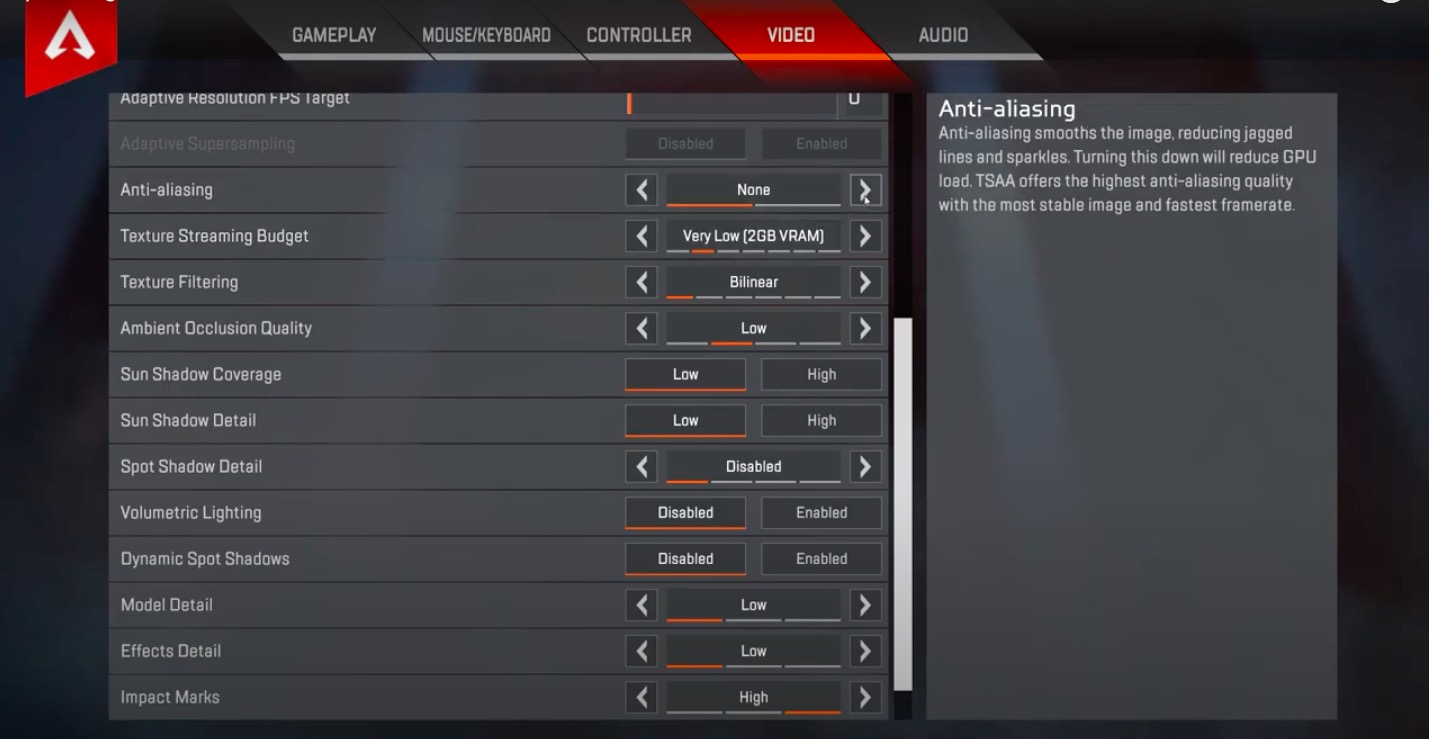 Step 2:- Now look at the Anti-Aliasing settings. If it is None, change it to TSAA. If it is already in TSAA mode, revert back to None and apply the settings.
Come back to the game and check whether the black graphics are removed or not.
Solution 2 – Turn Off Texture Streaming Budget
Right below to Anti-Aliasing, you will see another option called Texture Streaming Budget. This is a feature that controls the amount of memory reserved for texture streaming. Each setting inside the texture streaming budget specifies the recommended GPU VRAM amount. You can set the RAM size to 16 GB for high texture.
However, many gamers have reported that they were able to play Apex legends without the black graphics texture bug by turn OFF Texture streaming budget.
Step 1:- Go to Settings. Then click on Video Settings.
Step 2:- Click on "Texture STreaming Budget". and turn it OFF.
NB: This is just a recommendation and we are not sure whether it works for you. Please do comment below your findings.
Solution 3 – Repair your Game from Origin Launcher
If you have issues with files, you can repair your game from origin launcher. This will probably redownload the files.
Step 1:- Open Origin launcher.
Step 2:- Navigate to My Game Library. From the game library, Right-click on Apex Legends.
Step 3:- There you will see the option to repair the game. You have to follow some on-screen instructions to finish the repair. Once the repair is completed, restart your PC and launch the game.
Many gamers have reported this as a working solution on subreddit and YouTube. You can also check whether this works for you or not.
Conclusion
Even though EA games fixed many existing bugs and introduced several features in Apex Legends season 5, there are still many new bugs. Issues for changing character is one of them and we already posted a solution to temporarily solve the issue. Another one is black graphics texture which probably can be solved by the above solutions. However, you have to wait until the next update or patch to fix this problem properly.