We all have experienced the discomfort of a TV speaker and it is for the same reason, I have added the topmost selling sound system that can rock your living room. If you plan to make your TV room more interactive and lively, soundbars are the single best upgrade. For a better audio experience, these technical advancements play a vital role. Soundbars comes in different rates ranging between $200-$500 and the cheaper ones just have basic connections. On the other hand, an expensive one can add superior HDMI inputs, better power, more refined speakers and much more. Here, I have listed the best soundbars under 300$, which suits the pocket of an average man.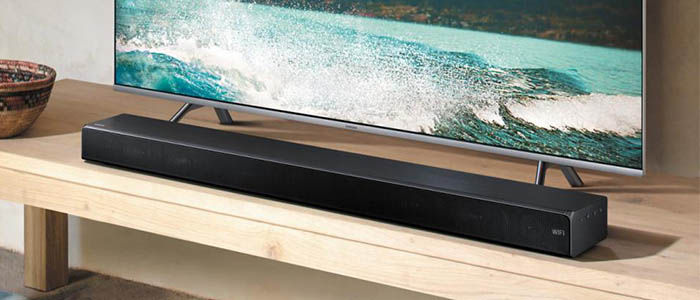 Top 5 Soundbars under 300$ to make an effective sound system
#1  Sony HTCT260 Sound Bar Home Theater System
My first hot pick from the list would be Sony HTCT260 and one can immerse themselves in audio and style with this product. An ultra slim, discrete speaker and wireless subwoofer helps you to create a Hollywood atmosphere in your living room. HTCT260 connection generates a 3D audio experience for the videos you watch. The soundbar saves space of your living room and also provide movies the sound they deserve. One can hear all the sound surrounded as Sony uses S-force pro front to bend all the sounds in the room. This is achieved with the aid of just two speakers, quite amusing, right?
One may also feel that they are sitting inside the movies that they play. The built-in Bluetooth facility helps to access movies and videos quicker without having any cable connections. You can stream your favorite songs and videos from laptops, mobile, PC or tablets to the powerful and crisp 2.1ch audio system. The physical features including weight and dimensions are also compatible and the system comes only in black color. The soundbar is both wall and shelf mountable. You may please check out in Amazon by the link below and this amazing audio system cost $278.
#2 BlasterX Multi-Channell-Surround-Entertainment-Soundbar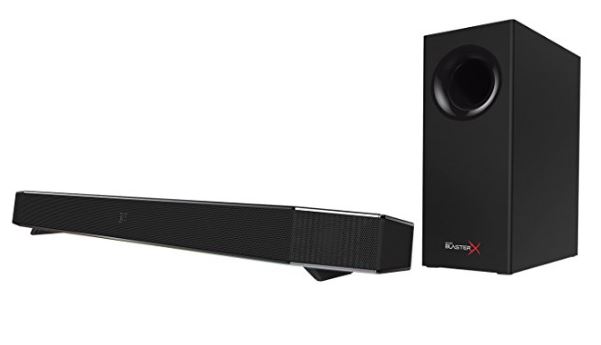 Sound BlasterX Katana exhibits the same feature of the sword to which the name resembles. It provides formidable strength and sleek sophistication in audio powers and design. The slim profile of the system excels all ordinary gaming soundbars and suits best for multi-monitor PC and gaming rigs. There is no vibration as the device is made up of an aluminum panel. The base of the Katana has Aurora reactive lightning system and the user can choose from 16.8 million colors with 79 programmable LED lights from edge to edge. This can certainly elevate your gaming and movie experience.
Expertly tuned acoustics is individually chambered and the entire system is powered with the aid of DSP controlled amplifier. This delivers you the ultra-precise audio. Inside the gaming soundbar, there are highly efficient 63.5 mm up firing midbass drivers and 34 mm high excursion tweeters. The sub-woofer department incorporated in the system features stiff paper cone and delivers clean chest thumping bass. A clear high definition, deep resonating bass, and a well-balanced audio are provided for the users and this is achieved using a tri-amplified design operating at 150 W peak power. The system also has a compatible, versatile and comprehensive connectivity options.
#3 Sony HT-CT370 2.1 Channel 300W Sound Bar with Wireless Subwoofer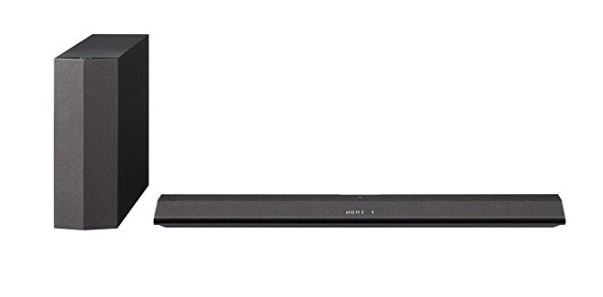 This particular product, HT CT370 from Sony pulls out a powerful sound and wireless connectivity. It has a 300W total audio power and 100W wireless subwoofer. The soundbar system features three HDMI inputs for crystal clear audio and video connections. For additional audio connections, an optical cable is there and the entire system is built with a slim design. A 2 inch slim and versatile profile of the soundbar can excite any user. You can place the soundbar directly in front of your television or you can mount the same on the wall. Additionally, the sound optimization is achieved through an internal gyro-sensor detector. The 100 Watt power subwoofer delivers very low bass Hertz for efficient and enhanced impact.
The soundbar system also has Bluetooth connections and by simply tapping two devices together one can enjoy improved audio signal. Thus you can stream music wirelessly. One can connect HD devices like a gaming console, a cable box using the three HDMI inputs. Dolby TrueHD and DTS-Master audio can be connected with ease in this particular product from Sony. A virtual front surround experience is being generated by S-Master amplified which powered at 300 Watt. This brings power and clarity to your audios and videos. One may also receive a remote for having a better control over the audio system. The scene select sync, auto standby, hotel mode, sound field link lock and much more offered by this product, will make you its serious fan. If you want to check out, don't hesitate to click on the link below.
#4 Sony HT-CT290 2.1ch Dolby Digital Wireless Soundbar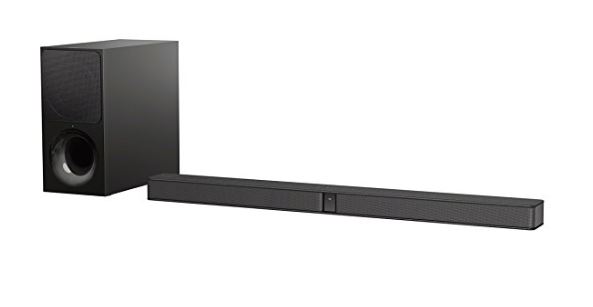 Yet again from Sony, which is a cool device which can fulfill all your needs while enjoying audio or video at your home. This 2.1 channel system makes you get excited and entertained in your own universe. A slim soundbar, 2-way subwoofer and a 300 Watt total power output allow you to make the time memorable. The 2.1ch delivers clear mid and high range sound and along with the wireless subwoofer, it fills in the rumbling lows. It brings movies, shows, and songs the life and clarity it deserves with the aid of 300 Watt power output. By emulating cinema-style sound, the virtual sound technology of this device puts every user at the heart of the shows they watch.
With Bluetooth wireless technology and with an array of wired connections, one can enjoy a highly stable and well-balanced audio on this device. The feature of HDMI ARC allows you to connect your TV with a single cable. Also, there exists a feature of optical input which allows you to connect TV even if the same is not compatible with HDMI ARC. The device can very well integrate with our existing home cinema setup or one can mount this model on a wall. You can make the most use of the space as it is possible to slide the subwoofer on its side and stand up. The USB port allows you to charge and access music files from different devices with ease. The device cost $278 in Amazon and you can have a look in the given link.
#5 JBL Bar 2.1 Home Theater Starter System with Soundbar and Wireless Subwoofer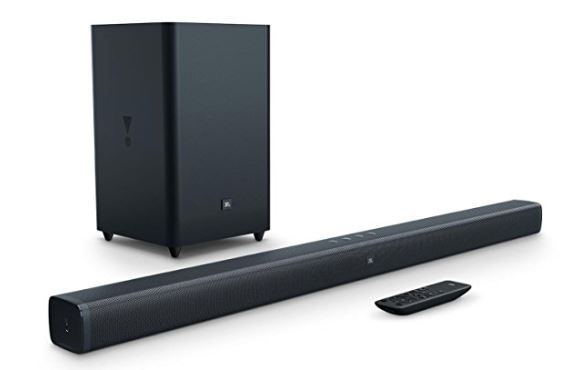 The fully featured and designed with ultra slim structure, JBL 2.1 soundbar comes with 300 Watt output power, wireless 6.5 " subwoofer, JBL surrounds sound and Dolby digital. The device provides deep bass for the shows and delivers balanced sound for music, video games and more. This high output power delivery helps to enjoy the greater audio performance for movies and shows. The JBL surround sound feature brings the movie life as this enables users to experience high-quality sound without any additional speakers or wires. The 165 mm subwoofer can be well placed within the limited setup of your TV stand without the hassle of any wires.
I really mean it when I used the word fully featured; the HDMI port, USB and AUX cable lets you enhance your home TV experience. The HDMI port simplifies your home entertainment setup and the Bluetooth facility enables users to stream all music wirelessly. Interestingly, you don't need any extra remote to have a control over the soundbar and this can be achieved by utilizing the existing TV remote itself. It can work with today's most of the top TV remotes. Another feature, the JBL SoundShift allow users to switch between sound from your tablet or mobile and sound from your television. The device is well suited for small or even medium sized room and my readers can have a check on this in Amazon via the following link.
Conclusion
Without any doubt, I can say adding a soundbar of suitable features can enhance and upgrade the quality of sound you enjoy at you home cinema setup. I am pretty sure that I have covered the best in the market which suits common man's pocket. Maybe, I would say to go for BlasterX soundbar system as it has some extra features under $300 when compared to others in the list. Since owning BlasterX, I became a great fan of the same due to lighting features. As I always say, understand what your needs are, along with your less bulged pocket.