Today we are discussing an issue which is facing a lot of Apple customers across the world. Unfortunately, nobody hasn't mentioned about this issue anywhere including Apple forums. The error popups while completing a purchase from iTunes especially the storage plan for iCloud. Last day, My iCloud storage got filled and I tried to upgrade the plan. I tried both my Debit card and Credit card to complete the payment. But every time, it showed an error as below.
Pings Item Not Available Secure Connection Make sure your computer's data is set correctly and that it accepts cookies from the iTunes Music Store. For detailed solutions to resolve this issue, click More info. Copyright 2018 Apple Inc. All rights reserved. | Privacy Policy | Terms of Service | Terms of Sale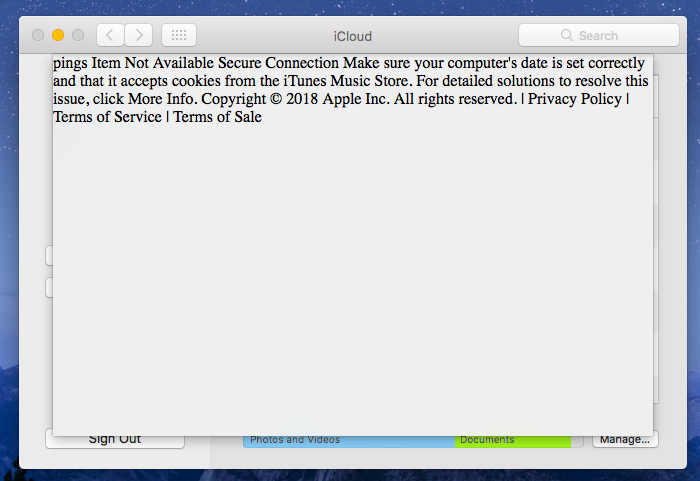 Tried Everything As mentioned in the Warning Message
#1:- Computer's Date:- One recommendation in this warning was to check the Computers Date. Anyway, the date is correct and it is synced with network date and time. I tried both Windows PC and MacBook to complete the payment but show the same issue again and again.
#2:- Cookies from iTunes:- The next recommendation was to accept cookies from the iTunes Music Store. Anyway, I haven't blocked any website from saving cookies on my website. So there was nothing to check with cookies. I again visited iTunes music store and check whether I had mistakenly blocked cookies. But everything was perfect and the warning message may be due to other reasons.
#3:- Change my PC:- I tried changing my PC also. I removed iCloud from my Windows PC and tried using MacBook. But the result was same. Still showed the warning "Pings Item Not Available Secure Connection Make sure your computer's data is set correctly and that it accepts cookies from the iTunes Music Store."
How to Solve "Pings Item Not available Secure Connection" Error in iCloud?
So the one and the only reason behind this issue was incomplete address. Following image shows what all information I provided while giving the Billing address. As you can see, Building details and Street Address along with the Postal Code were missing while giving the order. Apple won't tell you the details are missing and you can continue this section without giving the complete billing details. This is why most people face difficulty in tackling the issue.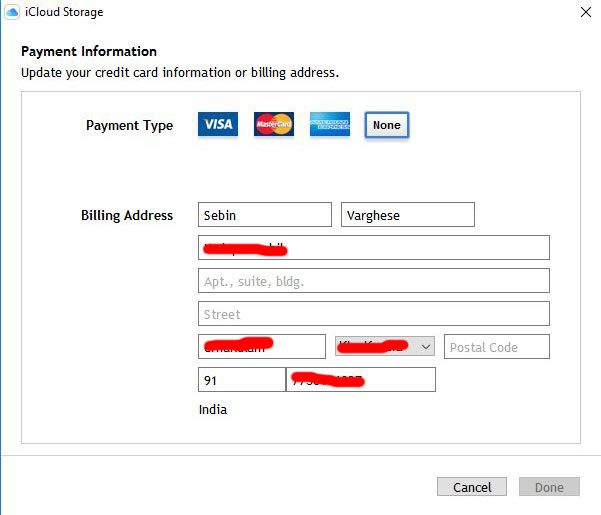 So after finding the issue, I changed the billing address to something which is complete and relevant. I added the building details, Street address and the postal code.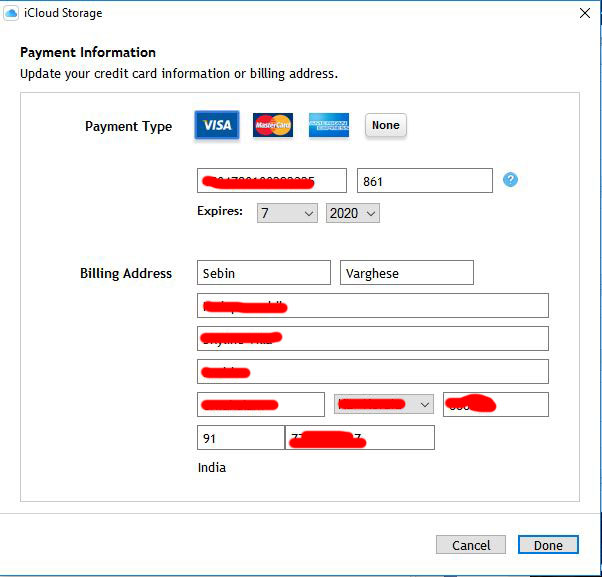 After filling each and every information, press Done button. You will see the message showing purchase complete.
Conclusion
Like the warning message shows, "Pings Item Not available Secure Connection" is not due to computers inaccurate date or due to cookies. It is because you are not giving valid billing address while purchasing the iCloud storage. Anyway, Apple should bring new User interface so that user understand why they are getting this kind of logicless messages. Just fill valid billing address during purchase and avoid this message on both Windows and Mac.