There may be certain occasions that you want to prank your friends or relatives by telling them, you are going abroad. To make sure that they believe in you, a confirmed airline ticket is enough. But is that economically feasible to buy airline ticket only for making prank? Definitely not. Why should you go for original one, if there are some other easy way to generate a boarding pass of flights.
Photoshop is the right way to edit an airline ticket or create an airline ticket. But you need some sort of practical knowledge in using that software. You can definitely create a fake m-ticket or e-ticket of any airline using Photoshop.  But I know you are not here to read what Photoshop do. Don't worry, there are some other way to create tickets without editing skills.
Before starting this, We want to tell you that, these methods shown here for creating fake airline ticket are only for educational purpose. Just for making prank at your friends or relatives. We won't take responsibility of any sort of action, taken against you by officials while entering an airport with fake tickets.
Create FAKE First Class Airline Ticket with Ticket-O-Matic
Ticket-O-Matic is a web application, which helps you to generate First class Airline tickets. Simply telling, it is an automatic ticket generator for flights. You can printout or generate an e-copy of popular airlines in 3 steps. Just choose your desired airline, then give your details and finally share the ticket you generated. Let's have a detailed look at how to generate plane tickets for free.
Step 1:- Go to Ticket-O-Matic ticket generator page.
Step 2:- There you can see the form for entering passenger details. Give the target passenger details.
There are lot of Airlines to be chosen. Make sure that, you choose the airline which have service in your area. Otherwise, your friends won't believe you are leaving and they will catch your game easily.
Step 3:- After providing your details, click on Done button and you can see your tickets on the next page. There are two options with the tickets. You can mail the tickets to your email id or you can download the tickets. Choose whatever options suits your needs.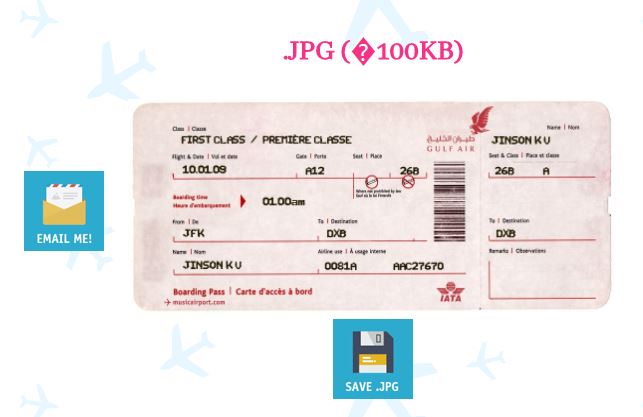 Once again I remember you not use these tickets in any of the airports. There are many changes happened to the Airline tickets including its interface. You will get caught easily.
Return Flights for generating more realistic Fake Airline Ticket
Previously we discussed about Ticket-O-Matic, which is a simple service to generate fake airline ticket. Here is one more service for generating boarding pass for any flights. Return Flights is a free service for printing flight tickets free of cost. The website claims that this service is not for just a prank, but can be used to show at the immigration. This is because, some countries insist that you must carry a return flight ticket upon arrival. Since this service is more realistic and original than Ticket-O-Matic, you can print yourself an onward and return flight ticket.
There are some points to be remember while filling their ticket form.
Be cautious with the dates:- Make sure your return date is in advance. Some people generate fake tickets by providing invalid dates.
Be sure with the airline:- Do a clear study about the airlines that do services in that particular Airport. Not all airlines do services in every airport. There will be clearly mention about the airline on the ticket. So if you choose airline without service, you will get caught.
Highlight your name and flight:- Return Flight Website suggests the users to highlight your name and flight destination with a marker. This makes the printed ticket more real and they assure there will be no further checking.
Like Ticket-O-Matic, Return Flights, won't allow you to send the ticket to email. You need to download the ticket and send email if necessary. But this ticket looks more original and real one. So here are the steps to generate fake airline ticket using Return flight.
Step 1:- Go to Return Flight Webpage.
Step 2:- Provide the details of journey. You can see it on the right side.
Step 3:- Click on Create Ticket at the bottom.
That's all. You now receive a zip file which contains the air ticket. Now open that zip file and look for agent.dll.html file. That is the fake ticket of your journey.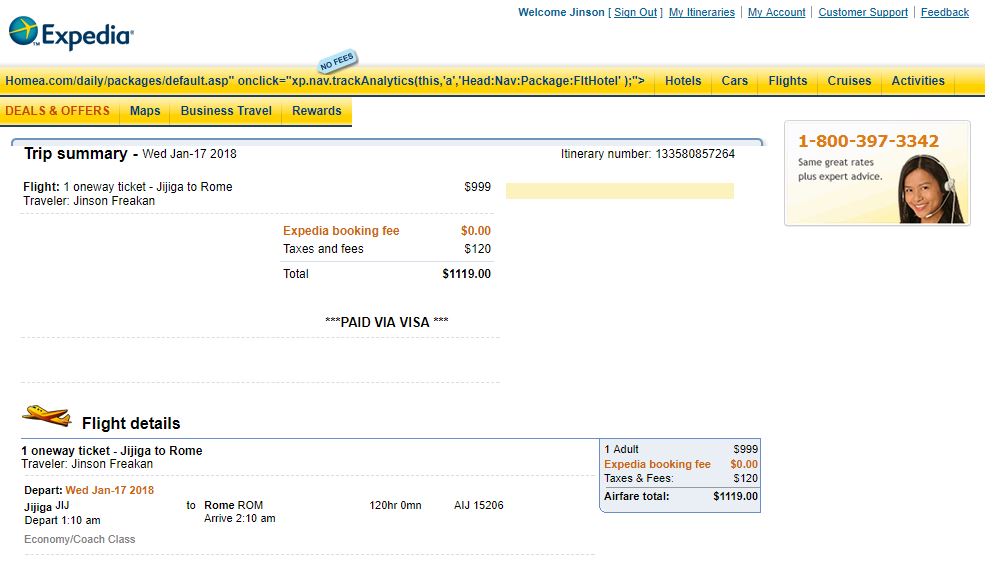 As I said above, this is more realistic and contains more details. The whole interface looks like a real ticket booking portal. They have also mentioned your payment method. Detailed journey information is also printed on the ticket. Have a print out of the e copy and carry with your journey.
Fake Any Airline Ticket using an Original HTML ticket file
This is another way of faking flight tickets. For doing this, you need an HTML copy of any of the airline tickets. Unlike the above two methods, this one looks original and more updated. You will get exactly the same duplicate of any airline tickets you want.
To do this, you need HTML copy of nay airline tickets.
For example, I will show you how to do by editing tickets generated using Return Flights, in the above section.
Step 1:- Open the Ticket in any of the Browsers. Google Chrome preferred.
Step 2:- Now Right click on the portion where you need to edit and choose Inspect option.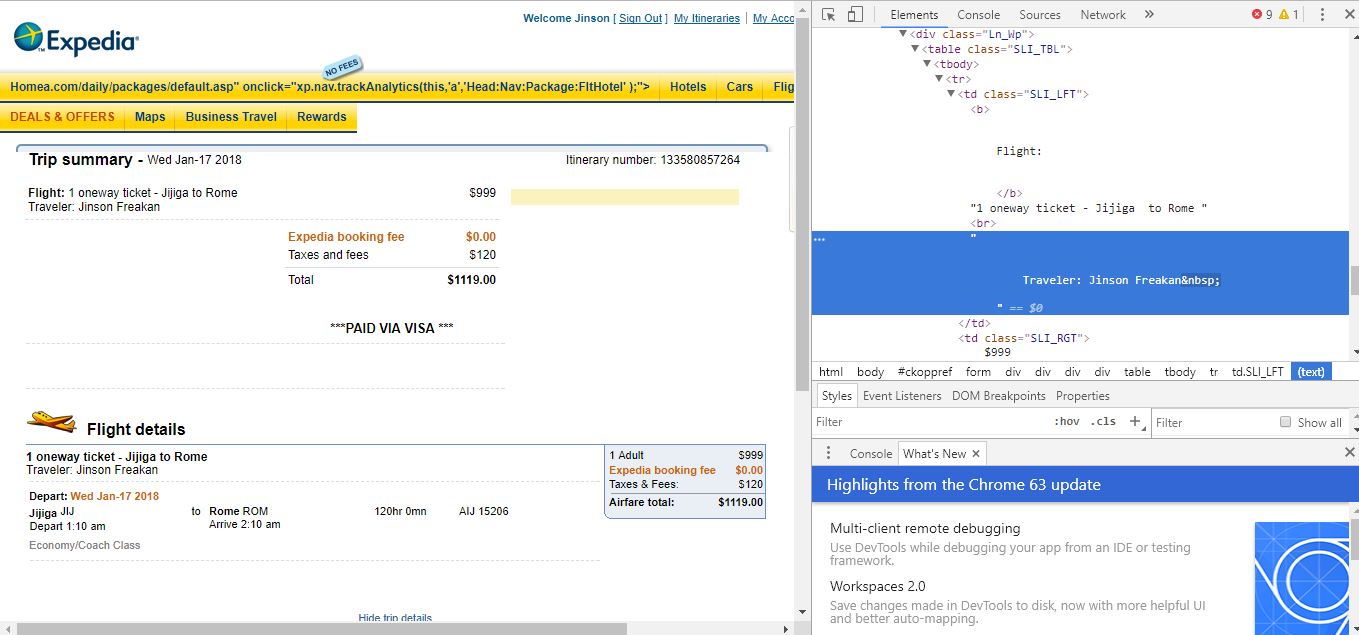 Step 3:- There you can see the fields to be edited. Just change the field values to whatever you want.
You can change the values of the Name, Flight number, Date, Time, Price, and every details using this method. All you should need is an HTML Ticket file. If you book a One Way trip, you can easily create a fake return ticket by editing the One Way tickets HTML file.
During Editing, don't reload the page. Reload only after you save the editing. You can also Convert the HTML File to PDF file using chrome after editing.
NB: Note all Airline provides HTML Ticket. Some of them only gives PDF Files. So This method won't work with PDF Files.
Conclusion
Using Photoshop and modern web applications, it is very easy to create fake airline ticket. You can easily prank your friends and relatives using these methods. There are several online services do the same job. Keep in mind that, these tricks are only for entertainment. Entering airport with these fake tickets will be prosecuted.