Today is a bad day for Bethesda backed game players. They all are receiving an account take down or ban notification for known and unknown reasons. There is no official clarification or news regarding this issue but there is a hot discussion going on a Reddit page. Since this is not an error from the player's side, there is no specific way to solve this issue. All you need to do is to wait until Bethesda release a new patch for the current update. However, we have collected some information regarding this issue which will be useful for you.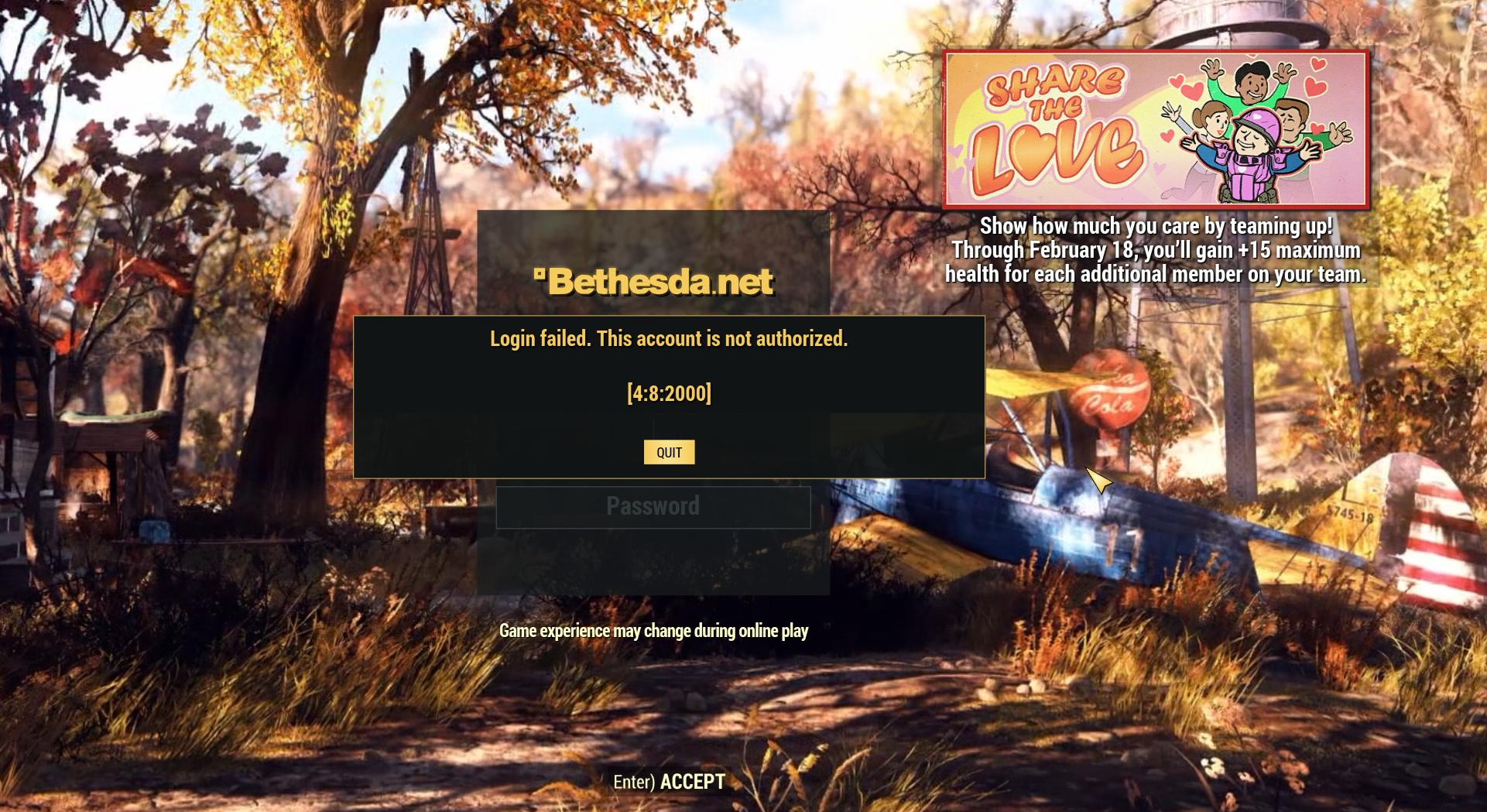 Account Ban message from Bethesda after getting Login Failed. This account is not authorized message
One of the Reddit users reported that he got an account ban message for the reason he is not part of. He forwards the mail to the public and read it here.
Greetings,

This account has violated the Code of Conduct and Terms of Service by exploiting a system issue that results in item duplication. We have determined that this account has acquired over 100,000 (one hundred ) of one or more rare in-game items in the last 30 days.

Due to the extent and scale of the violation, and what the game data shows, this account has been suspended until such time as this issue is fixed in a future patch. Once the fix is live and confirmed, we will reactivate this account and notify you that you are able to access the game again.

This decision is final, and no further appeals will be considered.
In a friendly reply, he mentioned that he doesn't have 1 lakh items on his account and the ban is a mistake. He hasn't even duped an item.
Player's Response after getting "This Account is not Authorized. [4:8:2000]" error
Lots of players have commented over this issue on Reddit and on some other forums. Here we are attaching some of them.
I have played more than 300+ hours using this account. I'm not into exploit/dupe and don't know why this is happening.
– Racon
I have two accounts and this happened to my main account. Already spend more than 30K in the atom shops on this account. I send a mail to the developer team and I didn't received any reply yet. May be due to weekend holidays.
– Peter
My firend has the same issue. Someone mention that this issue was because not registering the product copy. I found similar answer on Bethesda knowledgebase. It was for Fallout. If you are playing the game on beta registration code, please update it to newly purchase code. No problem if you purchase directly using the Play Station or Xbox.
– Mark
Conclusion
Many people are reporting the "[4:8:2000]" error message on Bethesda. Since there is no official statement, we can't say why this is happening. All we have to do is to wait a few more hours. Meanwhile, you can try sending mail to them.
If you know any update on this issue, please comment it below. This will help hundreds of other players who are facing a similar issue.