Basically, we people browse a lot on the internet. Since we are from different fields, it is quite natural to search for information. This can be related to education, research, medical, sports, entertainment, and many more. As a result, we end up some webpage that gives you the desired information. Mostly, people try to save the data of the page or even try to bookmark it. Yes, it is a single step process. But let me ask you one question. Is it easy for you to find and manage your bookmarks? I bet, the answer will be a big No. Even though we all are good at surfing the internet, most of us do not have an idea about bookmarks. To be frank with you, this is an amazing feature which helps you in different ways.
Sometimes, we all feel to come back to a page which gave us the piece of information needed. And in the majority of cases, this is not possible. It is clear that finding stuff from added bookmarks is a tedious task. All common browsers add their bookmark in an unclear and unorganized manner. And as an internet user, we people barely look at it. Now, what if I say, there are certain bookmark tools which can help you in getting the data needed accurately. Yes, I know you are keen to listen to that, as am I. To manipulate today's smorgasbord online information, a precise bookmark tool is always necessary. Here in this article, you can find the leading six bookmark managers in 2019.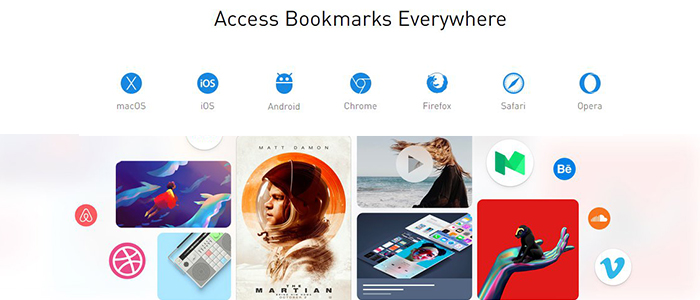 Top 6 Bookmark Managers to Organize your Bookmarks
#1: Diigo – Save and tag your online resources
Diigo is going to be my first best pick. This browser extension can help you in many ways. With this particular one, there are no disgusting moments while looking at your bookmarks. I could say, the extension is simply anytime anywhere. Equally, it is quite versatile and robust. What you have to do is just save and tag your important browsing pages. The rest is all done by this efficient extension. I guarantee it for you. Additionally, Diigo enables you to annotate your webpages and PDFs. Interestingly, this task is done simultaneously while you are on the browser mode.
Through outliner, the users can organize, links, personal inputs, and references for easy access afterward. Likewise, users can create a structured research base. It does not end here. Additionally, one can share their research items with friends, institutions, and more. Moreover, it allows users to highlight text for further collaborations. Besides, one can also add sticky notes (texts, comments) on any webpage. Finally, with the premium feature, it helps users to archive webpages. The pricing starts from $40 dollars per year.
#2: Getpocket – Put knowledge in your Pocket
Pocket is another premium bookmark manager that you can find. Compared to the former one, this has much more interesting features. Also, this stuff is easy to handle. In the first place, I would say that it can store content from every junction you visit. Articles, videos, stories are handled safely in Pocket. It is easy to curate your own space with Pocket. Hence, managing the important data pages are like kids job. Besides, one can also fuel up the bookmarks even offline. Whatever may the device, it is easy to listen and read without any intrusion.
To elaborate on the features of Pocket, I should say the integration feature. It segregates with the browser that you are using. Hence, it works on all your devices, starting from a smartphone to a personal computer. Additionally, one can save with email, twitter, and other numerous apps that have been integrated with. But I should say, the features are limited for free customers. Once you purchase Pocket for $4.99 per month, you can enjoy a suitcase of wonderful and useful features.
#3: Atavi – Your bookmarks are always close at hand!
This is yet another bookmarks manager which caught my attention. Atavi will always securely host all your bookmarks. No question about that part. Once you have performed syncing, it is all easy. It then allows users to use the same from the tablet, PC, smartphone, etc. In short words, I would say, Atavi is free and convenient for a starter. It is now easy for users to save the bookmarks and then to group in a way they wish. It all depends upon the user. Create bookmarks, choose the theme of your interest and then set the number of bookmarks.
To access the bookmarks, it is quite understood that one should sort and group them. Here in Atavi also, the procedure follows the same. To get things done faster, I will always ask to organize things. And with Atavi, the job is quite simple. With all these done, now it is easy to find favorite websites and online dashboards. Moreover, it comes with 100 percent reliable storage. If somehow you experience any hardware fault, never get worried. Just change your browser or reinstall the OS, all bookmarks will be intact. To summarize with another valid feature, Atavi works perfectly with all cross browsers.
#4: Raindrop- All in One Bookmark Manager
This is another interesting extension as a bookmark manager for your browser. Firstly, Raindrop is all in one bookmark manager. You get everything with this simple bookmark manager. As every other mentioned do, this one also allows you to save anything around the web. No matter what the information is. You can easily save articles, videos, photos, presentations, screenshots, and much more. Now comes the other part of organizing the things. It has thematic collections, bulk operations, and auto-suggested tags to help you with.
Another point to mention is the operating speed of the Raindrop bookmark manager. With this, it is quite fast to gather all your stored ones. Besides, one can share things even to the public. Hence working together is an easy job with Raindrop bookmark manager. The sidebar extension is an interesting feature of Raindrop. Without leaving the current tab, all your bookmarks can easily be managed. Distraction free and user-friendly interface also amuses a lot of people. The basic Raindrop is free, but if you want every feature, go for $28 per year.
#5: Google BookMark Manager
I should tell this frankly, I am not a great fan of Google Bookmarks. But I understand that there are people following this, I thought about giving a small description about this. It is a native part of Chrome and allows you to save your internet information in ease. This operates in such a way that, it uses the Google search to manage things for you. Also, users can add images, notes with each of their bookmarks. The interesting part is auto-suggestion. For an orderly arrangement of bookmarks, this stuff gives users some suggestion. That part is really cool.
The smartness of Google search can be used in finding your saved bookmarks. Besides, all your bookmarks are saved with images and a short description. This makes it easy to understand and later to find them. Dragging, dropping can also be used to manage bookmarks with this feature.
https://www.google.com/bookmarks/
#6: Bookmark Ninja – The ultimate online bookmark manager and organizer
This is going to be my final pick from the best. It comes with a wide variety of features. With all these one can easily say bookmark ninja is an ultimate online bookmark manager and organizer. In three words, I can say this is super easy to use, clean and very much powerful. Most importantly, Ninja allows you to access bookmarks from any device, including smartphones, tablet, laptop, and PC. Also, this one values your privacy. All the bookmarks saved are private by default, although you are free to share if you wish. It enables users to import current bookmarks from any other browser or even other bookmark managers. So switching is quite a simple task.
Moreover, the tool also helps to access the most used bookmarks. The tag management facility is also mesmerizing. It gives support for handling and organizing all your large bookmarks. The user interface is quite clean and there is also a dark mode feature for more convenience. Dashboard view, bookmarks view are a very useful tool on this platform. Users can easily add, manage and share bookmarks with ninja. Now about the pricing. It cost $1.99 per month which is billed annually after a 30 day trial period.
Conclusion
So, it is quite clear that you always search for large information on the internet. To remember all those things needed is a hell job. When you are having thousands of things going on your head, I can understand it is tough to memorize where you have found the important article, images, etc. Hence, we people prefer some kind of bookmark manager to help with. Now I have mentioned the six best and hope this will sort out your problems. It is time for the "bookmark manager" to organize everything for you.
Try using any of the above listed. I am using "Raindrop" and "Avati", just in case if you need to know, as my bookmark manager. Comment me if you find another versatile manager so that our team can work on it and include the same on the next article update.